Persian celery stew - also known as khoresht karafs - is a delicious Iranian stew made with celery stalks and herbs. This easy Persian stew can be made vegetarian as well.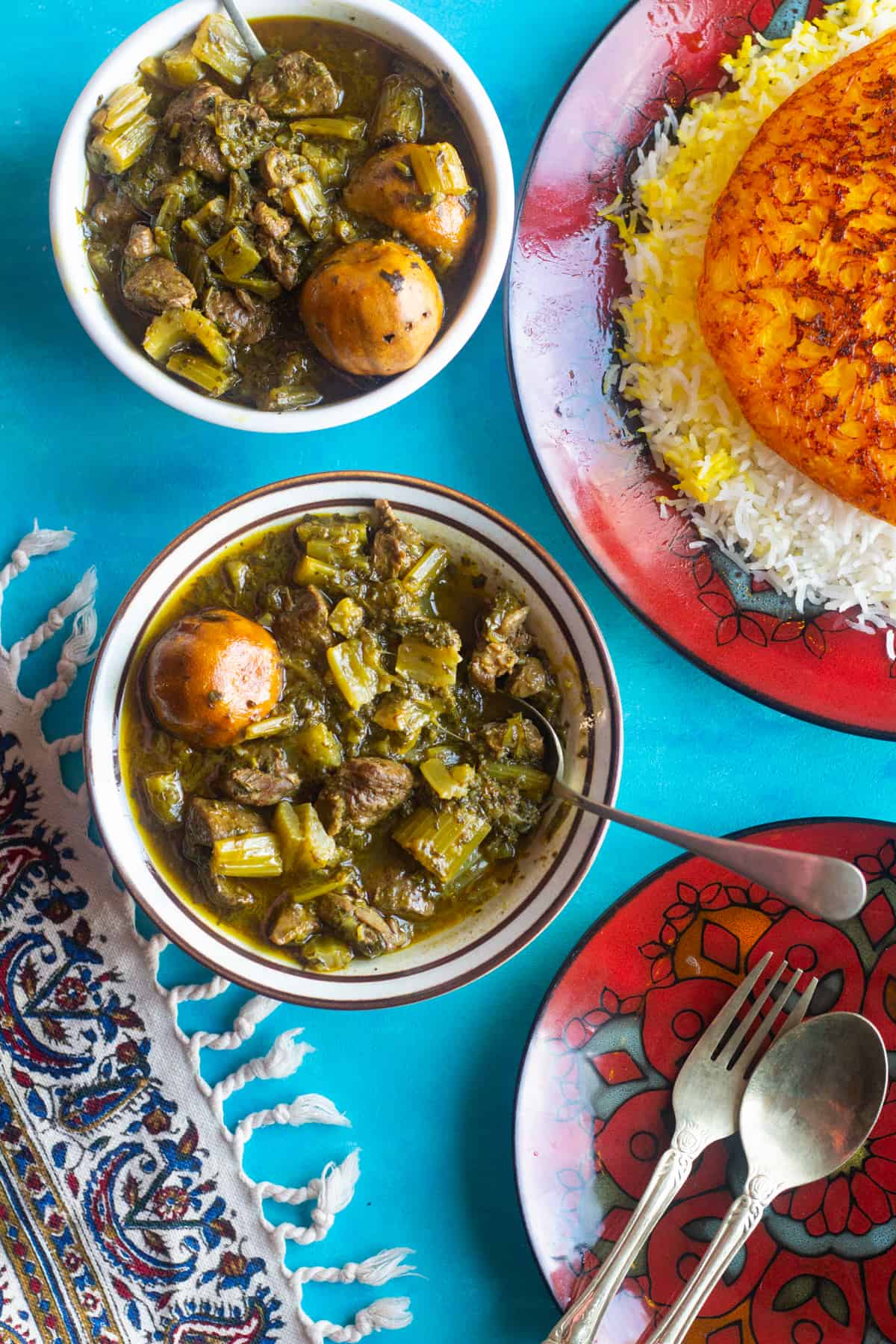 If you've been a long time reader, you probably have seen many Persian recipes around here. From our popular ghormeh sabzi to Persian saffron chicken kabobs (joojeh kabab) and Persian pomegarant walnut stew (fesenjan), Persian recipes always have a special place on this website. Today's recipe is Persian celery stew which is another of my absolute favorites.
Table Of Contents: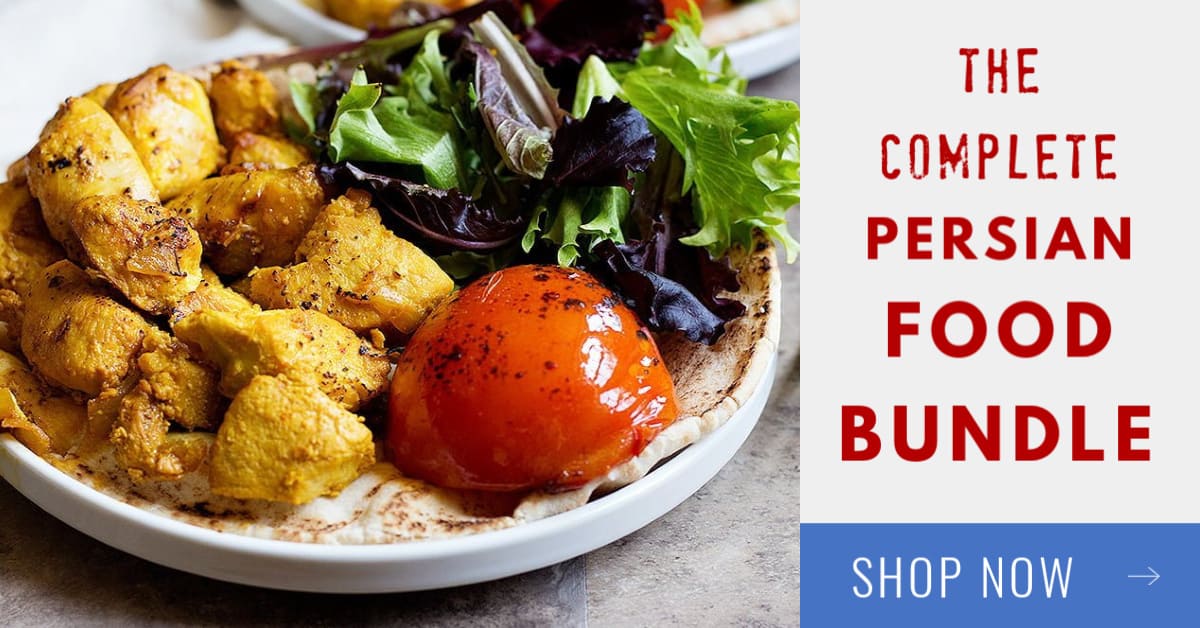 What goes into Persian celery stew
Khoresh karafs is made with onions, parsley, fresh mint, celery stalks and lamb or beef. Spices used in this Persian stew are turmeric, salt, pepper and dried limes which give the stew a subtle sourness. This is one of my very favorite Persian dishes because it doesn't require exotic ingredients and can be made in no time.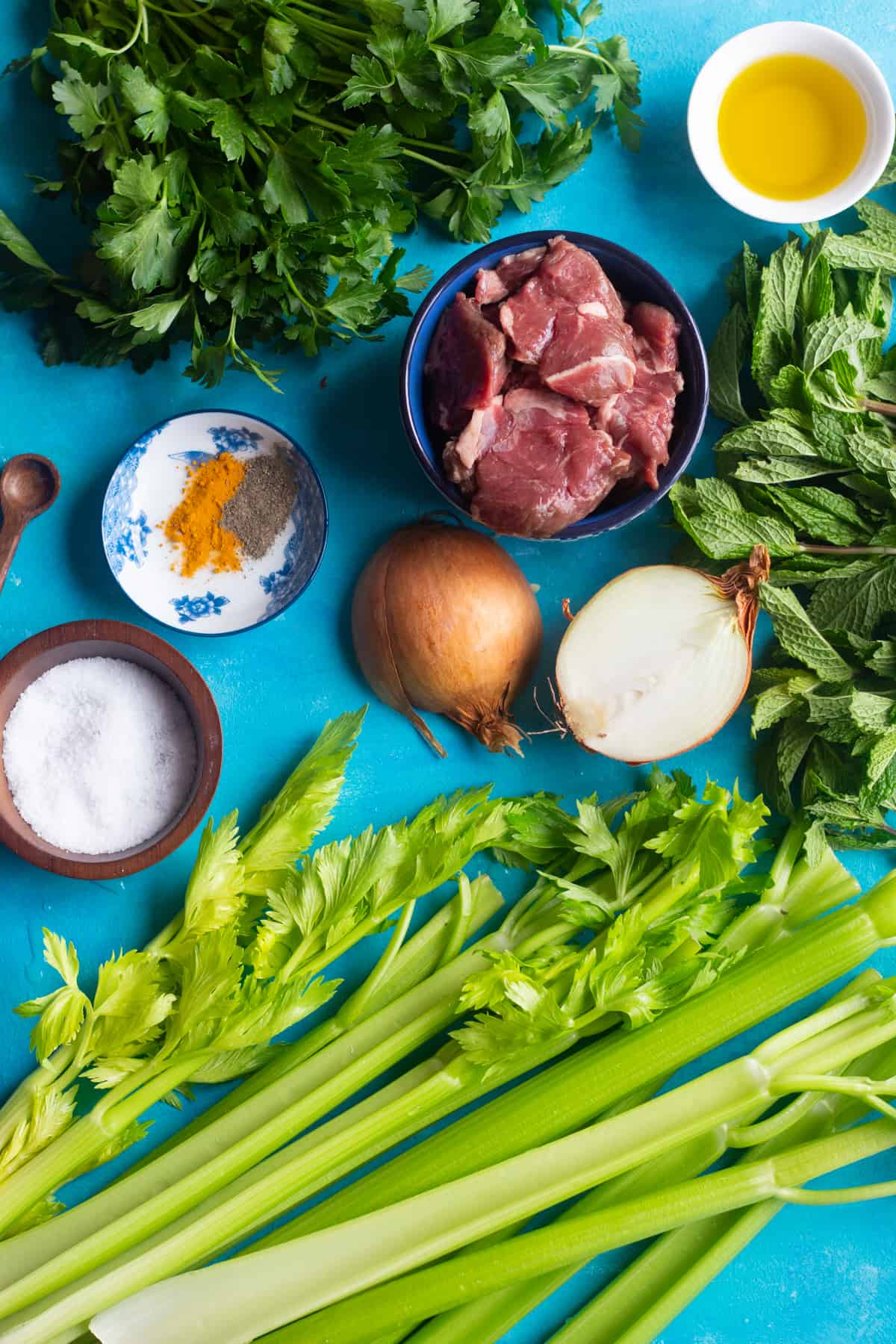 How to make Khoresht karafs (Persian celery stew)
Start by chopping the parsley and mint very finely. If the celery you bought has some leaves, chop them finely as well. Cut the celery stalks into one inch pieces (you can do larger if you prefer) then heat some olive oil in a large pan over medium heat.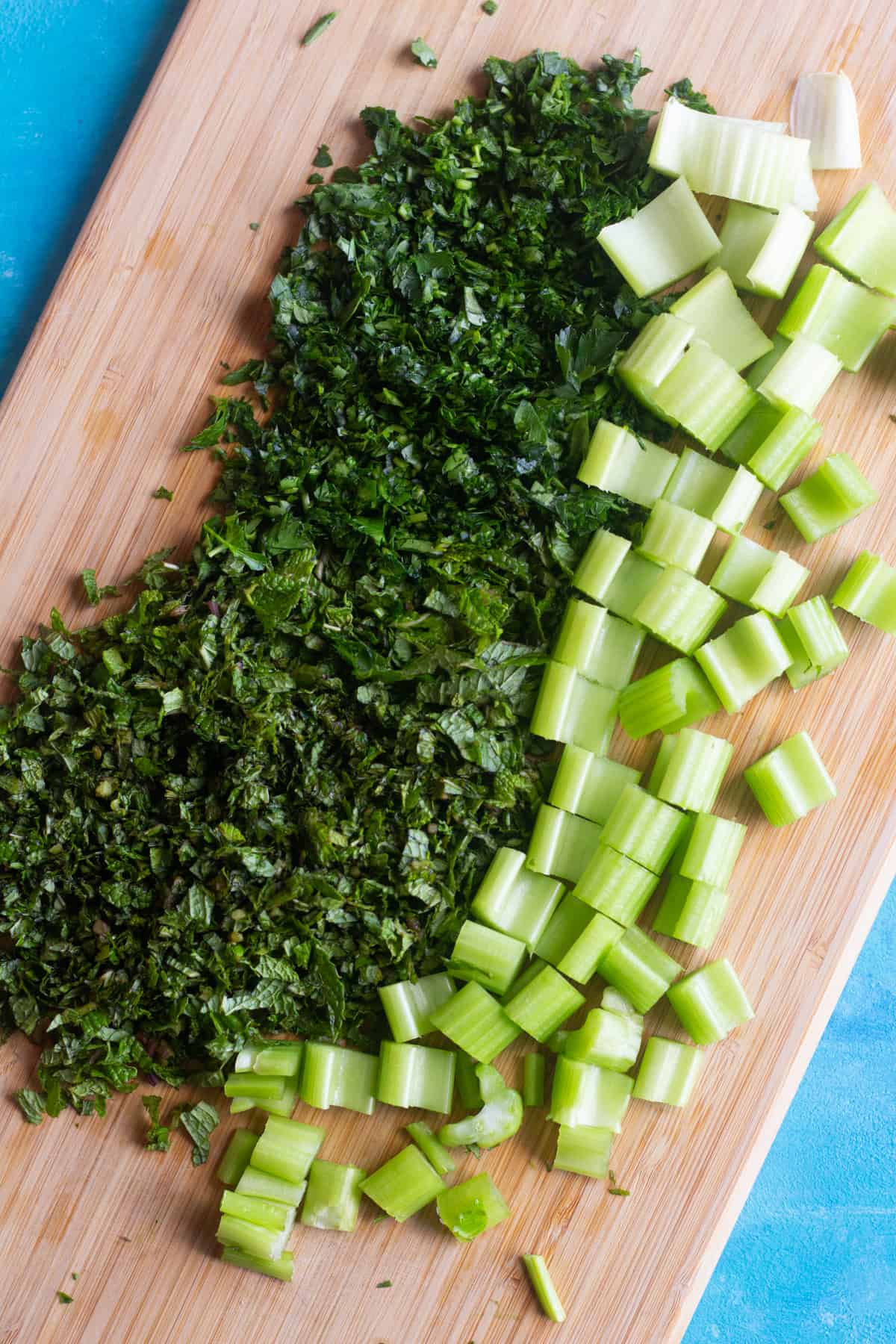 Once the oil is hot, saute chopped celery, parsley and mint until it starts releasing aromas, about 5-8 minutes. You don't want the herbs to burn so make sure the heat is not too high. Once the herbs start getting dark, turn the heat off.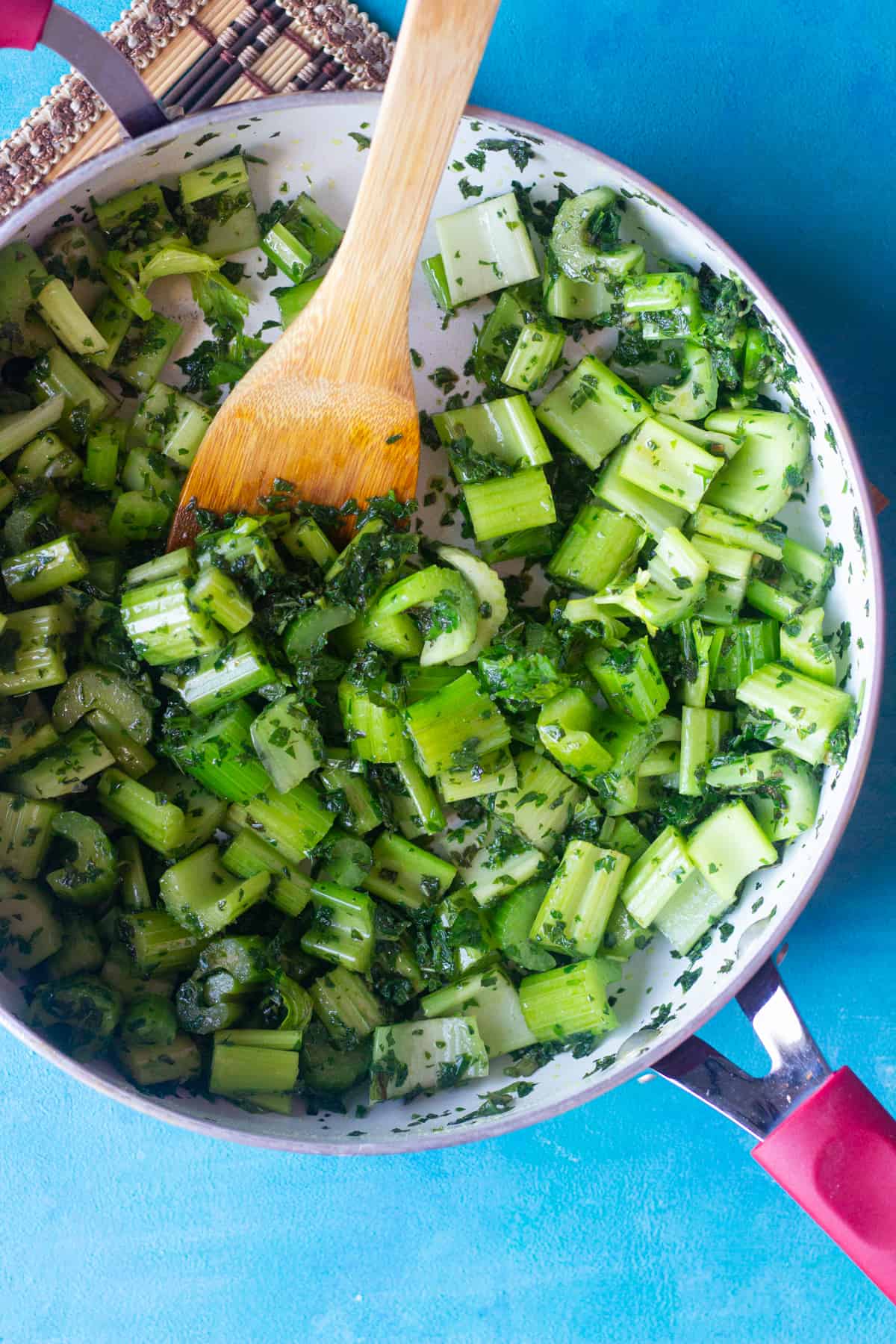 In a large pot or dutch oven, saute chopped onion in olive oil over medium heat until golden brown. Add in chopped lamb and cook until the lamb is brown on all sides, it doesn't need to cook at this stage. Add in turmeric and black pepper. Stir in sauteed celery and herbs. Pour enough water into the pot that it comes about ½ inch above the ingredients in the pot. Turn the heat up and once it starts simmering, lower heat, let it simmer and cover with a lid. Cook for about 40 minutes until the celery is cooked and the lamb is tender.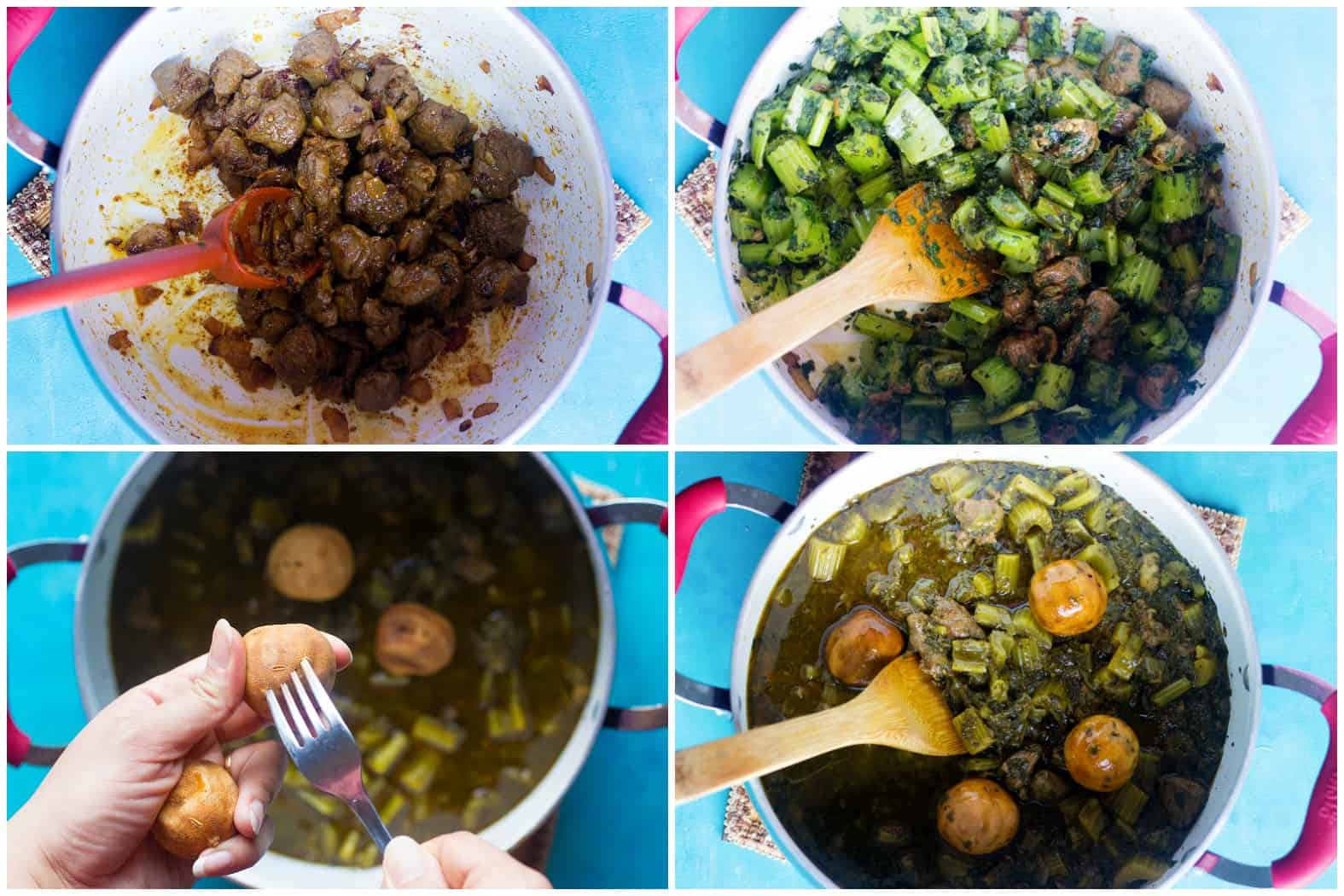 Pierce a few dried limes using a fork and add them to the stew, then cook for another ten minutes until the limes are soft. Gently press them against the pot so they release their juice. Serve khoresh karafs with Persian rice.
Can I make celery stew recipe in instant pot?
Absolutely! It's super easy and very quick. As mentioned in the instructions, saute chopped celery, parsley and mint in a pan and set aside. Using the saute function, saute onion and then sear the lamb until brown. Deglaze using ⅓ cup water and then add sauteed celery and herbs. Add in 2.5 cups water and secure the lid. Press pressure cook or the manual button and set the timer for 25 minutes. Once the cooking time is up, do a quick release, open the lid and press "saute". Add in pierced Persian dried limes and simmer for 5-8 minutes. Serve with Persian white rice.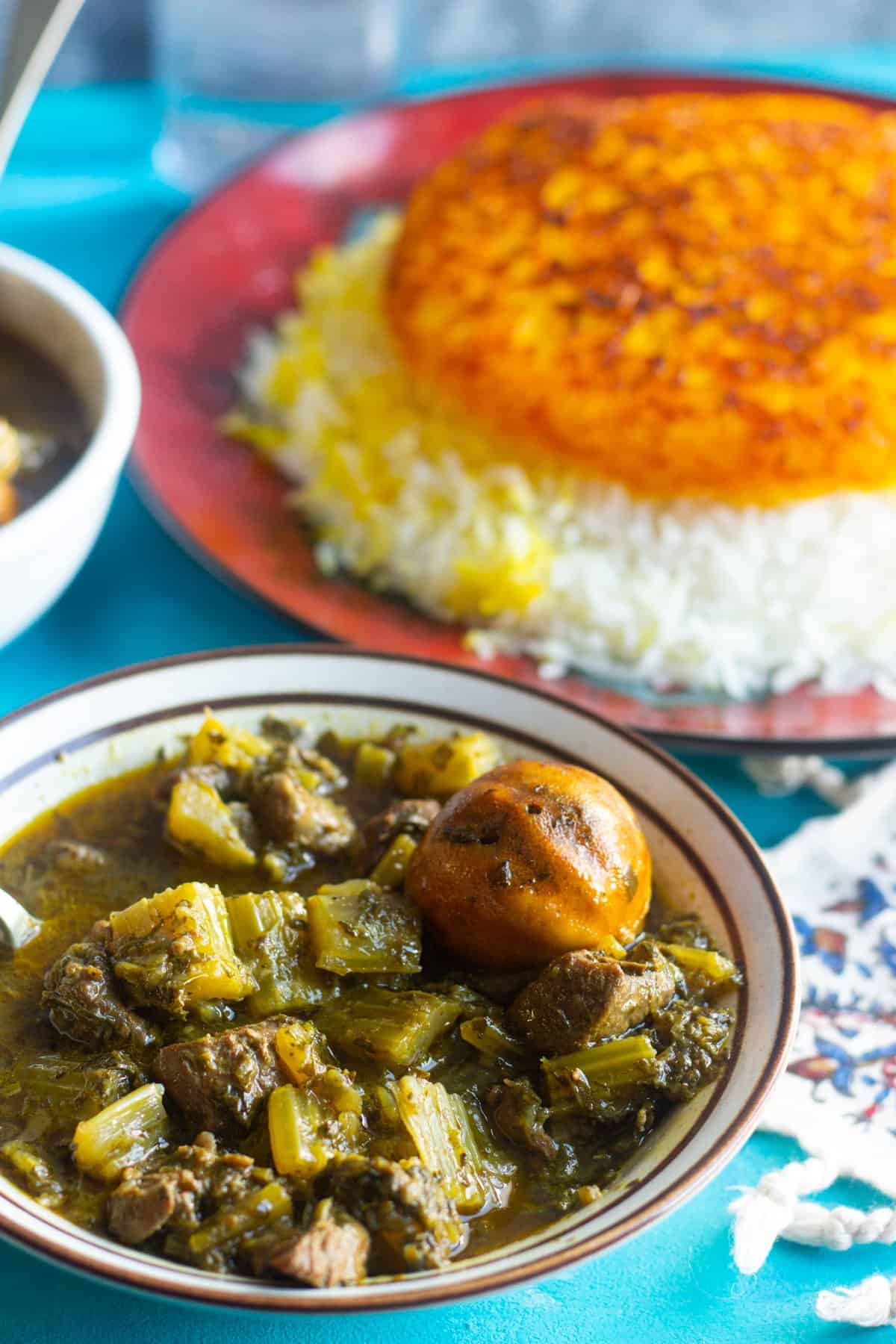 Persian celery stew in the slow cooker
Persian stews are perfect for slow cooker because the longer they cook the better they will taste. Saute chopped celery and herbs in a pan. Saute onion and lamb separately with spices and mix them all in the slow cooker. Add about 2.5 cups water and cook on high for 4 hours or low for 6 hours. Add limes at the end and cook for another 30 minutes on high.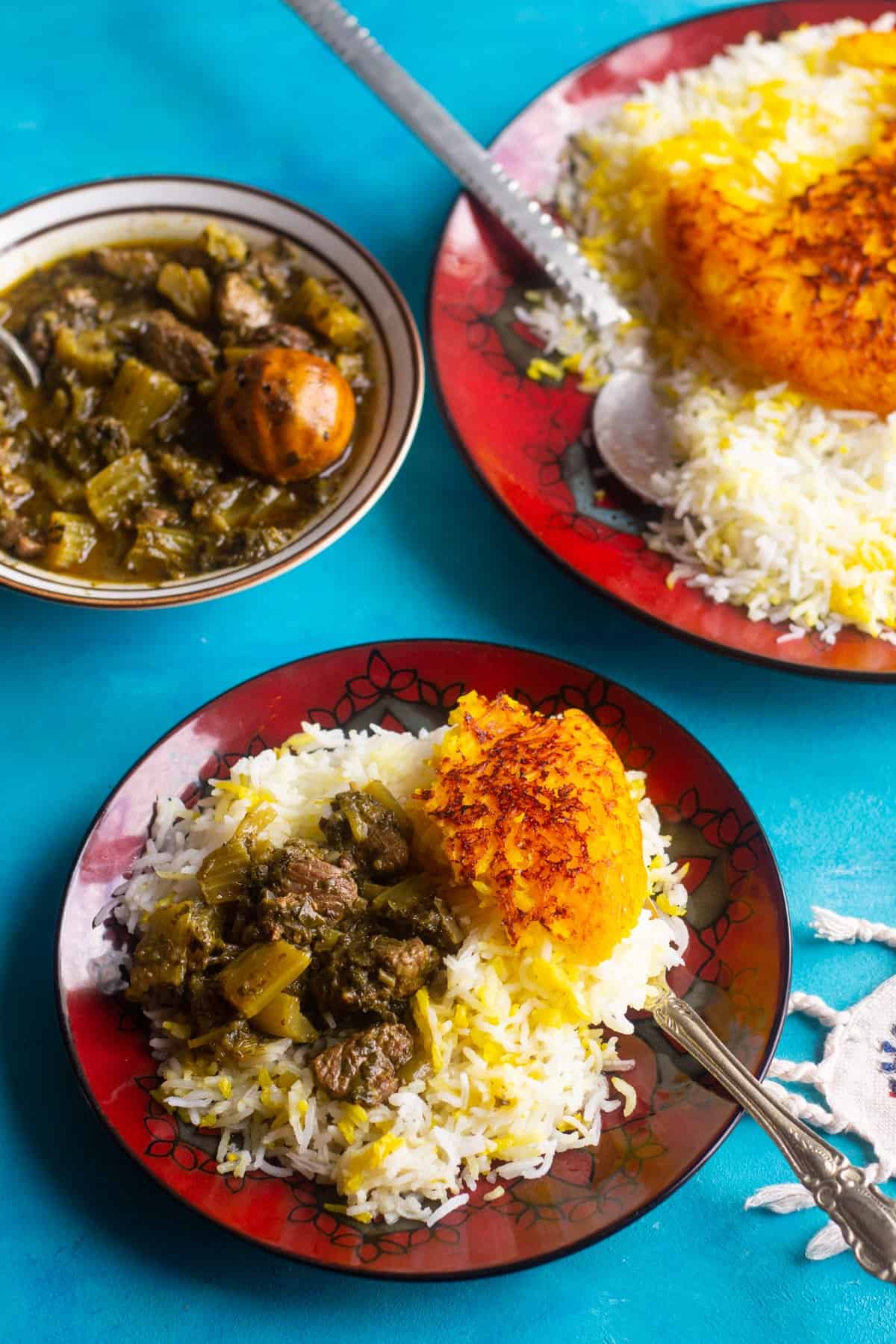 This Persian celery stew was something my mom used to make at least twice a month because we loved it. Around the time of final exams, she would make it even once a week because it had a lot of nutrients and gave our brains some fuel to burn during that time of the year.
Vegetarian celery stew
The full flavor of this Persian stew is in the celery and herbs. You can easily leave out the lamb or beef. You can also add a can of drained red kidney beans at the very end as a substitute for meat. This is also one of our favorite vegetarian Persian recipes.
Notes and tips for making khoresht karafs Persian celery stew
If you can't find Persian dried limes, simply use the juice of one lemon.
Store the leftovers in an airtight container and refrigerate for up to 5 days. This stew is perfect for meal prep.
Iranians usually have stews (khoresht) with white rice, but you can also have them with brown rice or even with bread.
I always add 1 or 2 tablespoons bloomed saffron to this Persian celery stew at the end but this step is completely optional.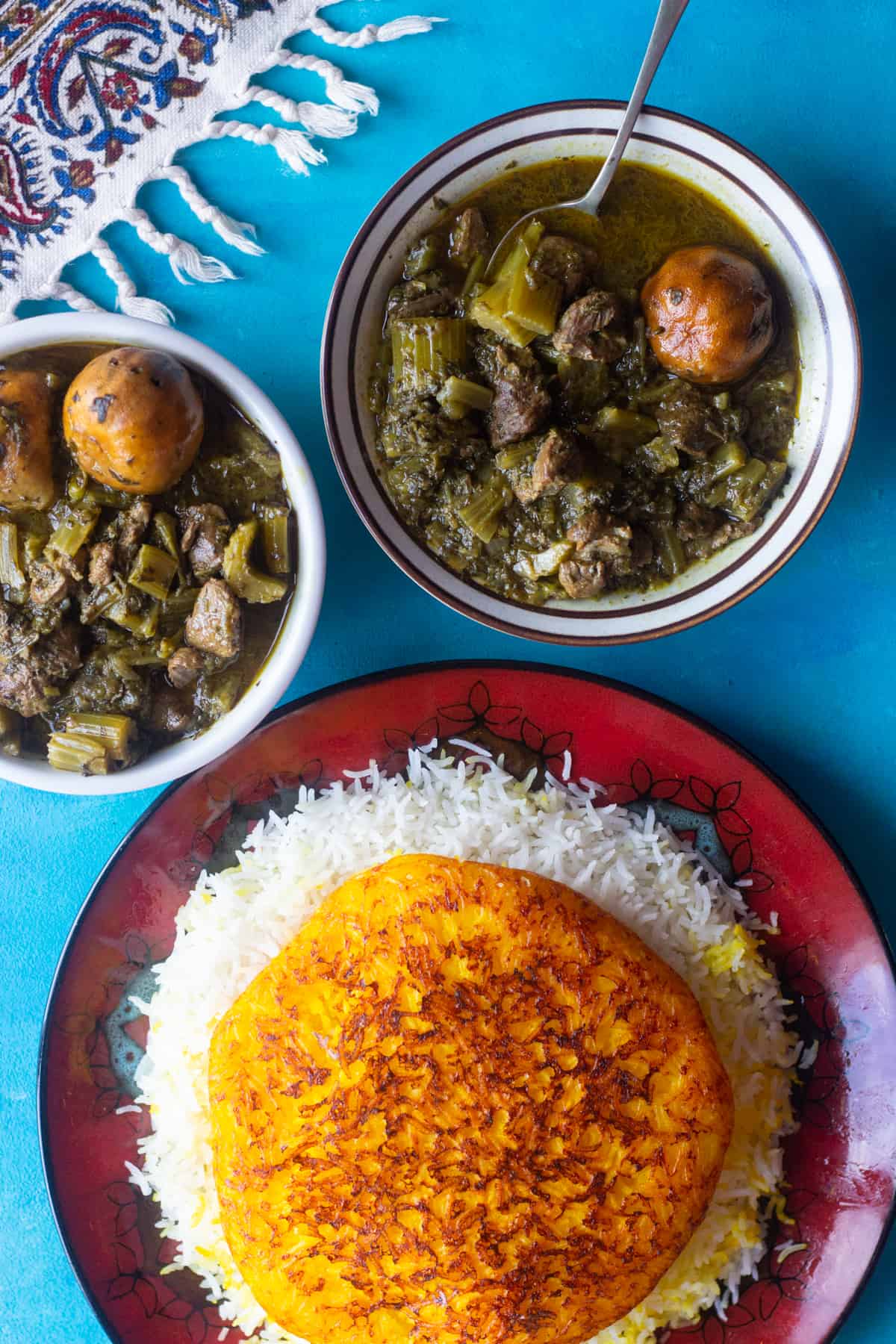 The beauty of Persian cuisine is its diversity. You can see different families make the same food in different ways. The spices may vary, the consistency can be different and yet the result is always a perfect meal for the household! Everyone believes their mom makes the best food ever!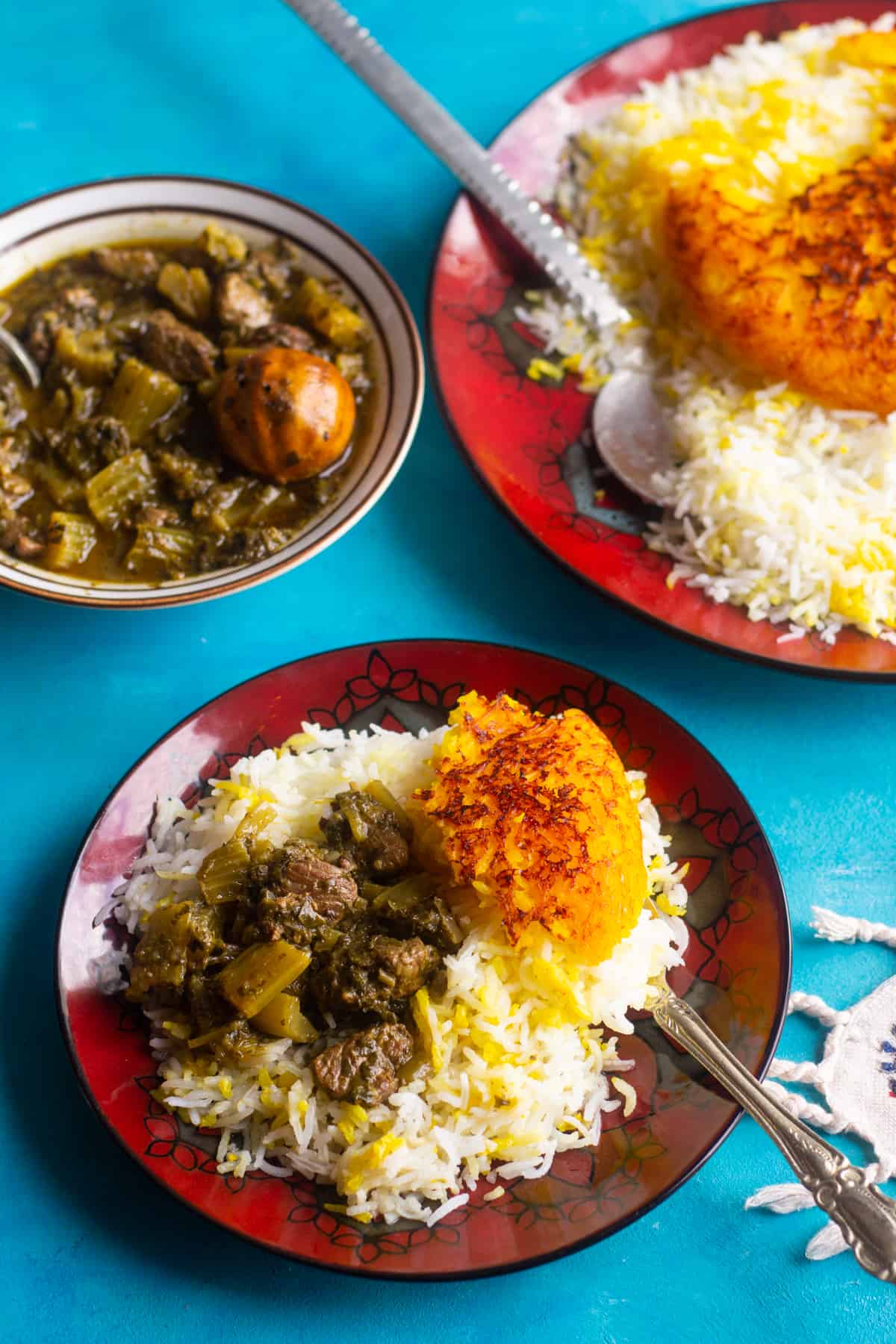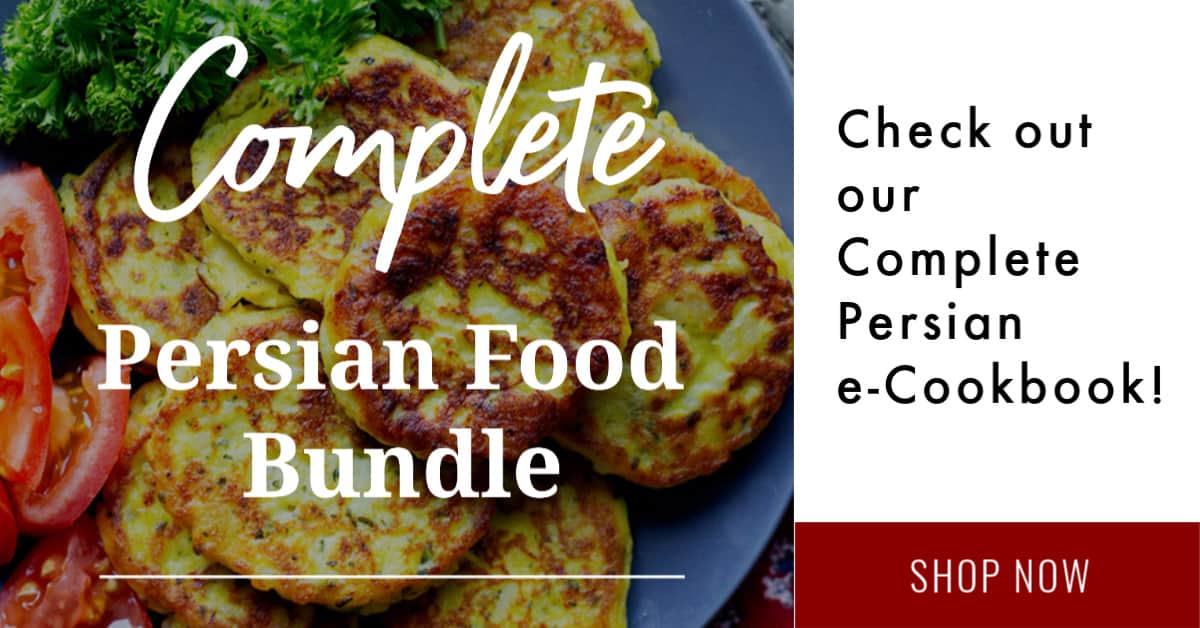 More Recipes
Did you make this recipe? I'd love to hear about it! Please comment and leave a 5-star🌟 rating below. You can also follow us on Instagram, Facebook, Pinterest or subscribe to our newsletter to get a free e-Cookbook!
Step-by-Step Recipe
Persian Celery Stew - Khoreshte Karafs
Persian celery stew also known as khoresht karafs is a delicious Iranian stew made with celery stalks and herbs. This easy Persian stew can be made vegetarian as well.

Ingredients
4

tablespoon

olive oil

divided

7-8

celery stalks

chopped into ½ inch pieces

1

cup

fresh mint

finely chopped*

1 ½

cup

fresh parsley

finely chopped

1

large

yellow onion

finely diced

1

lb

lamb

stew meat (cut into 1 inch pieces)

½

teaspoon

turmeric

½

teaspoon

black pepper

4

cups

water

4

Persian dried limes

1

teaspoon

salt
Instructions
Heat 2 tablespoon olive oil in a pan over medium heat.

Add celery, mint, parsley and saute until herbs start getting dark and release their aroma. Set aside.

In a large pot, heat 2 tablespoon olive oil.

Saute onion until golden.

Add in lamb meat stew with turmeric and black pepper. Saute until lamb is brown.

Add in sauteed celery and herbs to the lamb and onion mixture.

Cook for about a minute. Add in water and bring to simmer.

Cover and cook for about 45 minutes to and hour until the lamb is fully cooked and tender.

Pierce the dried Persian limes with a fork and add them to the stew. Cook for about 10-20 minutes until they soften. Press against the pot so they release their sour juice.

Serve warm with Persian style white rice or saffron rice.
Notes
Too much mint makes the stew bitter, so don't overuse it.
To make this stew vegetarian, use kidney beans or pinto beans instead of lamb. If using canned red kidney beans, rinse them.
If you cannot find dried lime, feel free to use lemon/lime juice.
Nutrition
Calories:
206
kcal
Carbohydrates:
5
g
Protein:
16
g
Fat:
14
g
Saturated Fat:
3
g
Cholesterol:
49
mg
Sodium:
461
mg
Potassium:
389
mg
Fiber:
2
g
Sugar:
1
g
Vitamin A:
1603
IU
Vitamin C:
24
mg
Calcium:
58
mg
Iron:
3
mg
Did you make this recipe?
Let us know how it was by leaving a comment and a 5-star review!