Stuffed Eggplant with Walnuts and Lamb is a family favorite. Juicy eggplants are roasted to perfection, topped with spicy lamb and crunchy walnuts. It's the perfect combination of flavors!
If you're a big fan of bold flavors and aromatic meals, this recipe for you!
As you know, I'm all about Persian, Middle Eastern and Mediterranean cuisines and everything that's inspired by them. My Persian recipes are the most popular ones on the blog and there are always many stories to accompany them. After all, food with stories is always better, right?
And then comes the eggplant. Such a delicious vegetable with so many ways to incorporate it into recipes. Some of our favorites are Persian Eggplant Soup , Middle Eastern Eggplant Recipe and Eggplant Sumac Meatballs. This stuffed eggplant recipe is one of our favorites because it's simple, quick, and I can easily customize it based on what we have at hand.
How to prepare stuffed eggplant?
This is a pretty simple recipe for lamb stuffed eggplants that calls for ingredients you most definitely have on hand. You need some fresh and juicy eggplants with white flesh and not too many seeds. To choose the right eggplant, you should make sure that it's heavy at the bottom. If an eggplant feels hollow or very soft at the bottom, know that it's past its peak freshness.
Cut the eggplant into half lengthwise, cut diamonds into it without cutting into the skin, and brush some olive oil on top. Roast in the oven for 30 minutes until it's golden brown. Meanwhile, make the lamb and walnut mixture by sauteing onion, garlic, lamb, walnuts and a selection of spices. Finish with a touch of pomegranate molasses for a kick of flavor.
Once the eggplant is roasted, top it with the lamb and walnut mixture and serve immediately. The flavor mixture is great for a family dinner or a dinner party.
Of all the stuffed eggplant recipes that I've tried, this one is most definitely my favorite because of the walnuts. Walnuts are one of the most beneficial ingredients that I use on a daily basis. They are great to use in both sweet and savory recipes are give a nice crunch and a new layer of texture to any recipe they're added to. Walnuts are also a healthy source of fat that is good for breakfast, lunch, dinner, dessert or snacks.
What to serve with Stuffed Eggplant with walnuts?
If you want to have a light lunch or dinner, you can serve these stuffed eggplant boats on their own, but you can also serve them with different sides:
Persian rice and tahdig - this is my favorite. The eggplant pairs very well with the rice as it has so much flavor. Stuffed eggplant with rice would be perfect for parties and gatherings, too.
Lavash or any other Middle Eastern/Mediterranean bread such as pita. A little bit of bread makes this dish even more filling and satisfying.
A light green salad, it's easy to make and to pair it well with this Middle Eastern stuffed eggplant, you can top the salad with olives and some crumbled feta cheese. It makes a beautiful flavor combination that everyone loves.
When I make this stuffed eggplant recipe, I always make sure I make some extra lamb and walnut filling because it's so good, I know we would want to have it just with a spoon! It's earthy, crunchy and tastes so familiar. The combination of walnuts and pomegranate molasses resembles the flavors of Fesenjan, which is an all time favorite around here.
Notes and tips to make this stuffed eggplant:
If you're not a big fan of lamb, you can serve this stuffed eggplant with ground beef. I prefer lean ground beef (93% or leaner)
You can leave the meat out completely and use rice instead for vegetarian stuffed eggplants.
This stuffed eggplant is best served on the same day, but of you have leftovers, store them in an airtight container and refrigerate for up to two days.
Cutting diamonds into the eggplant halves will help them roast and cook better. Make sure you don't pierce the skin as you want the juice to stay in the eggplant and avoid drying it out.
If you don't have pomegranate molasses, add some lemon juice right before serving. The acidity of lemon juice balances the flavors of this baked stuffed eggplant.
Flavors and dishes like this stuffed eggplant with ground lamb are perfect for those of you who love to try new cuisines at the comfort of their home. What I love to do here on Unicorns in the Kitchen is to show you that you don't need to travel thousands of miles to find good food from a certain cuisine, you can easily make it at home and enjoy the process of creating a dish that you've never had but are sure is going to taste wonderful. And then, when you serve a dish you've made from scratch, that feeling of "I've made this myself, and it tastes amazing!" is priceless.
So, when you're ready, get into the kitchen and start making this amazing stuffed eggplant. And if you have any questions, send me a message on Instagram, I'm always here to help! <3
This post is sponsored by California Walnuts. As always, all opinions are mine. Thank you for supporting the brands that support Unicorns in the Kitchen.
Related Recipes: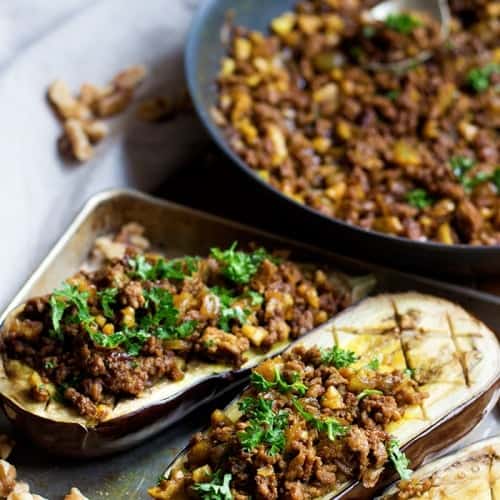 Stuffed Eggplant with Lamb and Walnuts
Stuffed Eggplant with Walnuts and Lamb is a family favorite. Juicy eggplants are roasted to perfection, topped with spicy lamb and crunchy walnuts. It's the perfect combination of flavors!
Ingredients
3

large

Eggplants

¼

cup

Olive Oil

1

large

Onion

Diced

4

cloves

Garlic

Minced

1

lb

Ground Lamb

1

cup

Walnuts

Chopped

½

teaspoon

Cumin

1

teaspoon

Salt

½

teaspoon

Turmeric

½

teaspoon

Black Pepper

⅓

cup

Pomegranate Molasses

See Notes

⅓

cup

Parsley

Chopped
Instructions
Preheat the oven to 375 F. Line a baking sheet with aluminum foil. Coat with non stick spray.

Cut the eggplants in halves lengthwise. Cut diamonds into each eggplant half, make sure not to pierce into the eggplant skin.

Brush the eggplants with olive oil. Place them on a baking sheet and bake for 30 to 40 minutes until they're cooked.

Meanwhile, heat a pan over medium heat and pour the 2 tablespoons olive oil into the pan. Saute onion until translucent. Add in garlic and cook for two minutes.

Add in ground lamb and cook until the meat is golden brown and fully cooked.

Add in walnuts, cumin, turmeric, salt and pepper. Stir well until everything is incorporated.

Mix in the pomegranate molasses. Cook for 5 minutes.

Top the roasted eggplants with the lamb and walnut mixture. Add some parsley. Serve immediately.
Notes
To make pomegranate molasses at home, simmer pomegranate juice over medium heat until it thickens and has the consistency of syrup.
Nutrition
Did you make this recipe?
Let us know how it was by leaving a comment and a 5-star review!
Have you made this recipe? Let us know by commenting and rating on this recipe. Take a picture and tag @unicornsinthekitchen and #unicornsinthekitchen for a chance to be featured!