Sweet and Sour Chicken Wings make you fly! Baked in the oven (so no mess!) and tossed in a sauce that you can literally use for anything! Video included!
Just look at that glaze. This wings, oh my god these sweet and sour chicken wings.
I am saying this. These are the best wings I have ever had in my entire life, and I have tried a lot of wings! They are crispy on the outside and juicy on the inside, they are tasty and sticky, they make you want to fly!
In Iran we usually grill wings and that is delicious, too. (I will post that some day.) Here, as I don't deep fry things, and, well, you can basically bake anything, I decided to bake these wings and was not expecting them to be crisp. But they turned out great. The only key to crisp wings? Pat dry them completely before baking them, and season them with only salt and pepper.
"Sweet and sour chicken wings are super crispy!"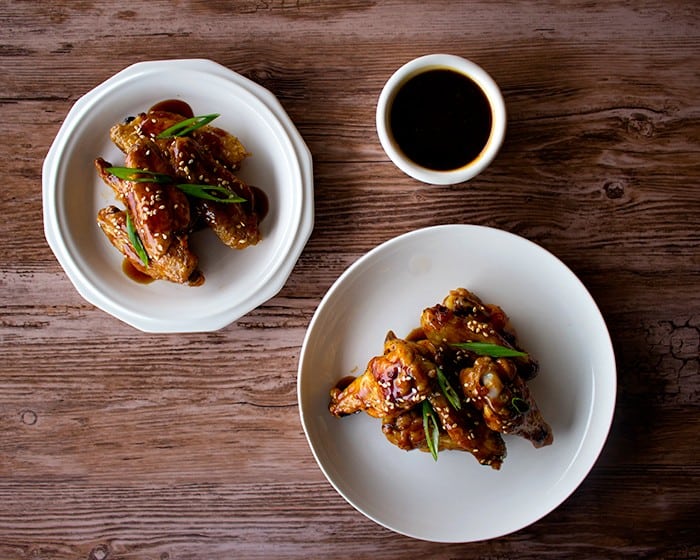 Then toss them in this amazing secret sauce that can be used for EVERYTHING. Now, what is this "secret" sauce and why did I name it "the secret sauce"? It is basically a mixture of all the good sauces in your pantry plus some cornstarch to make it thick. And it's "secret" because I accidentally made it one day to go with some barbecued chicken Kyle's mom had made. The sauce came together through trial and error, I didn't have my notebook with me so I didn't write the recipe and then we had most of it with the chicken and everyone loved it!
I couldn't remember how I made it and all I had was a couple of spoonfuls of the sauce left. The sauce was a secret to me, too.
But a foodie never gives up. It's a great sauce, I really wanted to share it with you so I started making it and after some experiment and taste testing, I was able to make it again. This time, I actually had my notebook with me!
This sauce goes really well with these sweet and sour wings and it's also great for chicken strips, stir fries, mixed rice, marinating, red meat, fish, you name it. It's really forgiving and easy to manipulate so you can easily adjust it to your own taste: If you like it saltier, add more soy sauce, more sugar if you like it sweeter or more pomegranate molasses if you like it more sour. For these sweet and sour chicken wings we preferred it to be a tad bit sweeter.
As I said before, you can make these sweet and sour chicken wings in the oven.These chicken wings are fuss-free and easy. That's all we want from food, right? Oh, we also want food to be delicious, and, well, these are incredibly mouth-watering!
Don't forget to follow us on Instagram, Facebook, Twitter and Pinterest for more food goodness!
Looking for more Game Day recipes?
Step-by-Step Recipe
Sweet and Sour Baked Chicken Wings (with my secret sauce)
Sweet and Sour Baked Chicken Wings make you fly! Baked in the oven (so no mess!) and tossed in a sauce that you can literally use for anything!
Ingredients
Wings:
12

chicken wings

wingettes and drumettes

½

teaspoon

salt

½

teaspoon

pepper
Secret Sauce:
1

tablespoon

olive oil

2

garlic cloves

minced

2

tablespoon

pomegranate molasses

¼

cup

soy sauce

3

tablespoon

teriyaki sauce

3

tablespoon

brown sugar

1

tablespoon

honey

1

tablespoon

ketchup

2

tablespoon

barbecue sauce

1 ½

teaspoon

corn starch

¾

cup

water
Instructions
Wings:
Preheat the oven too 400F. Line a baking sheet with aluminum foil and place a rack on it, coat the rack with non-stick spray.*

Wash the wings, pat dry them so they are completely dry.

Season both sides with salt and pepper, place the wings on the rack.

Bake in the oven for 15 minutes.

Flip the wings and cook for another 15 minutes.**

Toss the wings in a bowl with the secret sauce.

Garnish with some green onions and sesame seeds.

Serve hot.
Secret sauce:
Mix cornstarch and water in a small bowl.

Heat oil in a sauce pan over medium heat.

Saute garlic for one minute.

Add the rest of the ingredients + cornstarch and water to the saute garlic.

Cook for 10-15 minutes until the sauce thickens.

Taste and adjust to your preference. (more soy sauce for saltiness, more brown sugar for sweetness and more pomegranate molasses for sourness)
Notes
Baking the wings on a rack helps them cook evenly. If you don't have a rack, just bake them on the baking sheet that is lined with aluminum foil and coated with non-stick spray.
*Cooking time doesn't change for more wings.
Nutrition
Did you make this recipe?
Let us know how it was by leaving a comment and a 5-star review!