This shakshuka with feta will up your brunch game! Poached eggs in tomato sauce and topped with feta makes a delicious dish that everyone loves.
If you love breakfast as brunch as much as I do, today's shakshuka recipe is for you! We love eggs and enjoy them in recipes such as spinach omelette, menemen (scrambled eggs and tomatoes), cilbir (poached eggs in yogurt sauce) and Italian baked eggs. Today I'm going to show you how to make shakshuka with feta, an easy breakfast that's perfect with some crusty bread. You can enjoy it for breakfast or brunch and it's a crowd pleaser.
Table Of Contents:
What is shakshuka?
Shakshuka is a classic dish consisting of poached eggs in a tomato sauce that's flavored with onions, pepper and spices such as cumin and paprika. It originated in Ottoman North Africa, many believe it's from Tunisia but there are also claims from Morocco, Turkey and Yemen.
Depending on the region and recipe, the ingredients of shakshuka can vary but the base is a combination tomatoes and eggs. Some add preserved lemons or cayenne for more flavor and it's also common to add minced lamb or even potatoes.
Ingredients and substitutions
Tomatoes - It's best to use canned diced tomatoes to make shakshuka because they have enough liquid that would deliver the texture and consistency we're looking for.
Onion, garlic and pepper - This is the base of the sauce. It's best to use red bell pepper for this recipe but you can also use orange, yellow or green bell pepper.
Spices - I used a combination of cumin, paprika, salt and tomato paste which is optional. I love it for the depth of color and flavor it gives to the dish. If you'd like it to be spicy, add ¼ to ½ teaspoon cayenne pepper.
Eggs - The recipe calls for large eggs which are going to be poached in the tomato sauce. You can have the eggs runny or completely cooked.
Feta - As I've mentioned in other recipes such as cucumber tomato feta salad, it's always best to get a block of feta and crumble it yourself because it'll keep its moister and will have better flavor and texture.
Instructions
Sauté the vegetables: Sauté onion in the olive oil until translucent. Then add the garlic and the red bell pepper. Once the pepper starts to soften, add in the tomato paste and cook for a few minutes so it starts releasing its color and flavor. Add in the tomatoes and the spices.
Cook the tomato sauce: Bring the sauce to a low simmer. Let the sauce simmer for some minutes so it starts to thicken. You want the consistency of a stew and not a runny sauce.
Add the eggs: Using a spoon, make a few wells in the sauce to crack the eggs in. Break the eggs directly into those wells. Alternatively, you can break the eggs one by one in a small bowl and add them to the sauce. Cover with a lid and cook until the eggs are done. If you like the eggs runny, cook them for about 4 minutes and if you like them cooked completely, cook for about 8 minutes.
Final touches: Top the shakshuka with feta and parsley. Serve immediately.
Serving suggestions
Since Shakshuka with feta contains eggs, it's mostly known as a breakfast or brunch dish around the world. But in the Mediterranean and Middle Eastern countries, people serve it as lunch or dinner as well.
You can serve shakshuka with some bread such as pita, lavash, barbari or pide. If having this dish for lunch or dinner, serve it with a side salad such as fattoush, Mediterranean salad or Greek salad.
Frequently asked questions
Can I make shakshuka ahead of time?
Shakshuka is best served immediately. However, you can prepare the sauce a day in advance and once you're ready to serve, simply heat it over medium heat and once it's simmering, add in the eggs, cover and cook until the eggs are set.
Can I use fresh tomatoes instead of canned?
You can use fresh tomatoes to make this dish, however, I always prefer canned tomatoes because they have enough juice to give the shakshuka a good consistency (like a thick stew).
What other veggies can I add?
You can use other peppers such as green bell pepper. Zucchinis and mushrooms would also be a great addition to shakshuka.
Can I make this in the oven?
Yes. To do so, form the nests and break in the eggs. Then transfer the pan to the preheated oven and bake at 400 degrees F for 8 minutes or until the eggs are set as you like.
More breakfast and brunch recipes
Did you make this recipe? I'd love to hear about it! Please comment and leave a 5-star🌟 rating below. You can also follow us on Instagram, Facebook, Pinterest or subscribe to our newsletter to get a free e-Cookbook!
Step-by-Step Recipe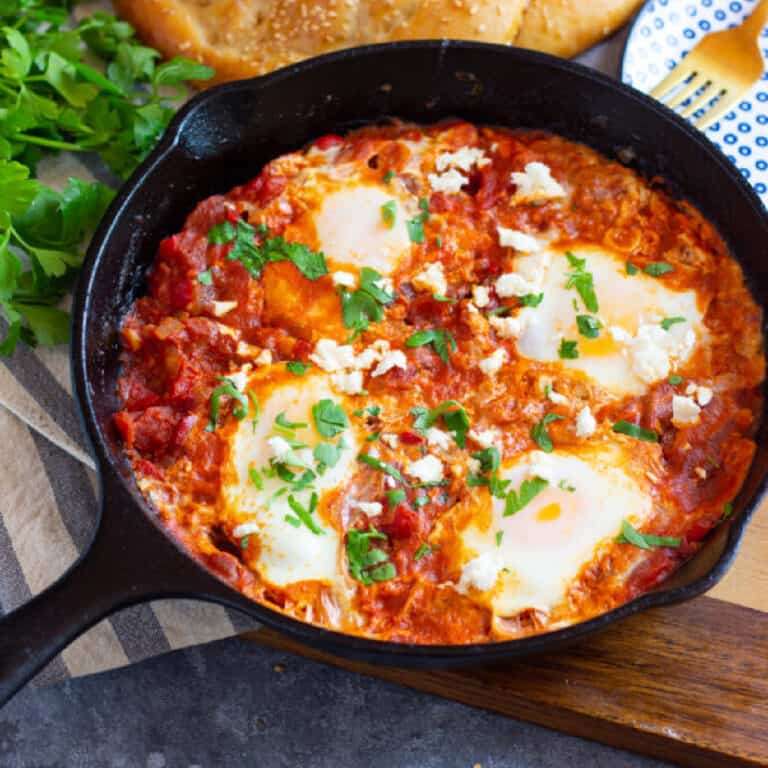 Easy Shakshuka With Feta
Shakshuka with feta is great for brunch. Eggs are poached in a delicious tomato sauce flavored with warm spices and vegetables and then topped with creamy feta. Learn how to make this easy one skillet breakfast recipe and enjoy it any day of the week.
Ingredients
2

tablespoon

olive oil

1

medium

onion

diced

1

red bell pepper

diced

2

cloves

garlic

minced

2

tablespoon

tomato paste

1

15 oz can

diced tomatoes

½

teaspoon

cumin

1

tsp

paprika

1

teaspoon

kosher salt

4

large

eggs

4

oz

feta cheese
Instructions
Heat the olive oil in a pan (cast iron would be ideal) over medium heat.

Once the oil is shimmery, add in the diced onion and sauté for a few minutes until it's translucent. Add in the garlic followed by the bell pepper and cook for a few more minutes until the peppers start to soften.

Add in the tomato paste and cook for a couple of minutes so it starts releasing its color.

Add in the canned tomatoes, cumin, paprika and salt. Bring it to a simmer, lower the heat and let the mixture cook until it thickens and resembles stew.

Using a wooden spoon, create 4 wells in the sauce and break the eggs into the wells.

Cover and cook over medium low heat for 5 to 8 minutes until the eggs are to your preferred doneness. If you like them fully cooked, cook for longer and if you like the eggs runny, cook them for a shorter time.
Top with crumbled feta and serve with fresh bread.
Notes
If red bell pepper isn't available, use green, yellow or orange bell pepper.
I love adding some tomato paste to this dish to enhance the tomato flavor and give it a nice red color, but you can leave it out.
It's possible to use fresh tomatoes for this recipe, however, my preference is canned because they already have a enough juice and give the shakshuka a better consistency.
If desired, you can stir the feta into the shakshuka right before adding the eggs.
Make ahead: Shakshuka is best served fresh, however, if you'd like to save time, you can make the sauce a day in advance and when you're ready to serve, heat it in a pan and break the eggs into it.
Storage: Store the leftovers in an airtight container and refrigerate for up to 2 days.
Nutrition
Calories:
240
kcal
Carbohydrates:
8
g
Protein:
11
g
Fat:
18
g
Saturated Fat:
7
g
Polyunsaturated Fat:
2
g
Monounsaturated Fat:
8
g
Trans Fat:
1
g
Cholesterol:
211
mg
Sodium:
1035
mg
Potassium:
293
mg
Fiber:
2
g
Sugar:
5
g
Vitamin A:
1694
IU
Vitamin C:
42
mg
Calcium:
186
mg
Iron:
2
mg
Did you make this recipe?
Let us know how it was by leaving a comment and a 5-star review!