A delicious no mayo Greek shrimp salad recipe that's ready in only 20 minutes. This healthy and quick salad is made with fresh ingredients and is perfect for a light lunch.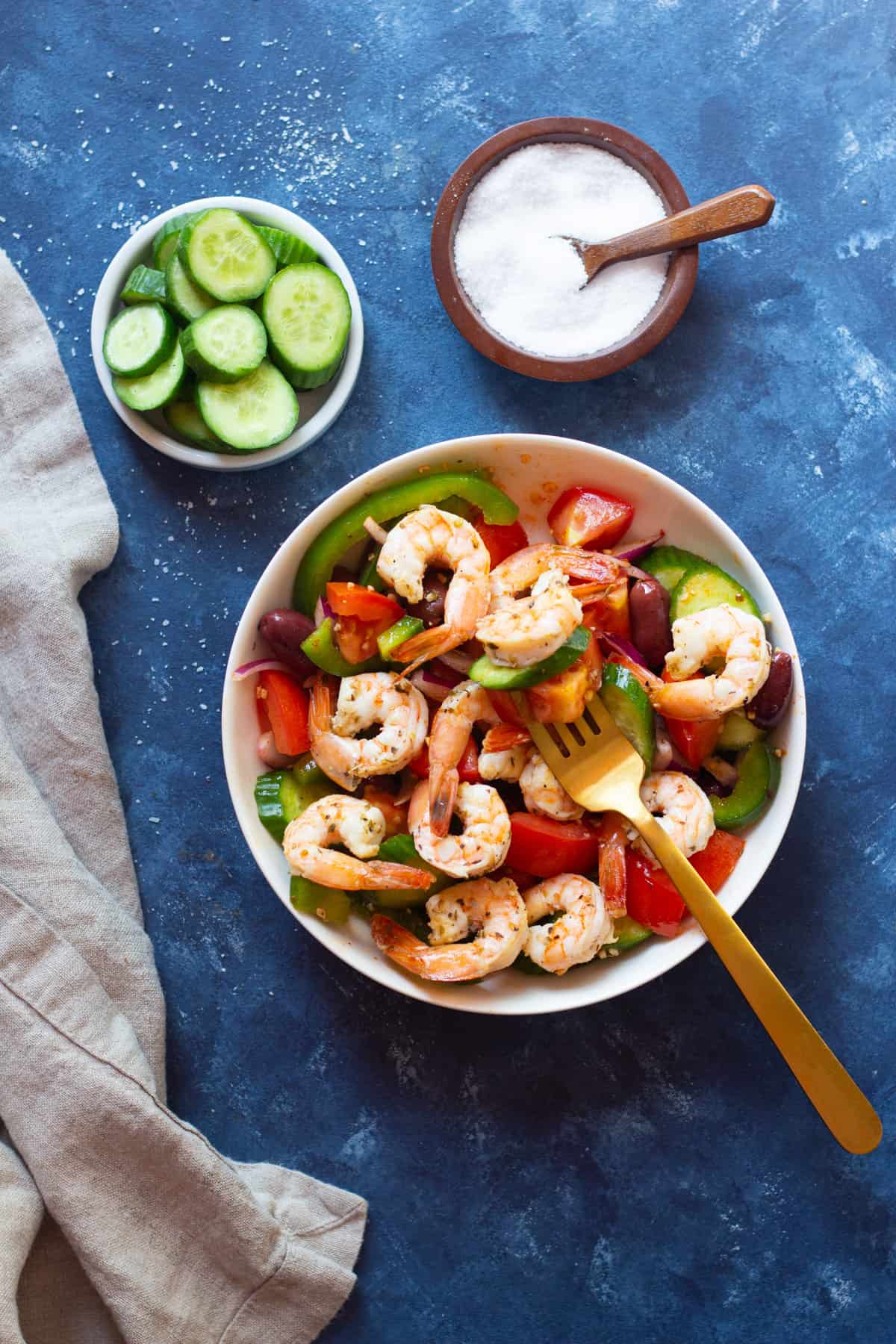 I love all Mediterranean recipes but Mediterranean salads are one of my absolute favorites. They're always healthy, made with quality fresh ingredients and are packed with delicious flavors of lemon and oregano. Some like Greek salmon salad and bulgur salad can be served as a light meal and others like Mediterranean salad, fattoush and tabouli would make the perfect side dish.
Table Of Contents: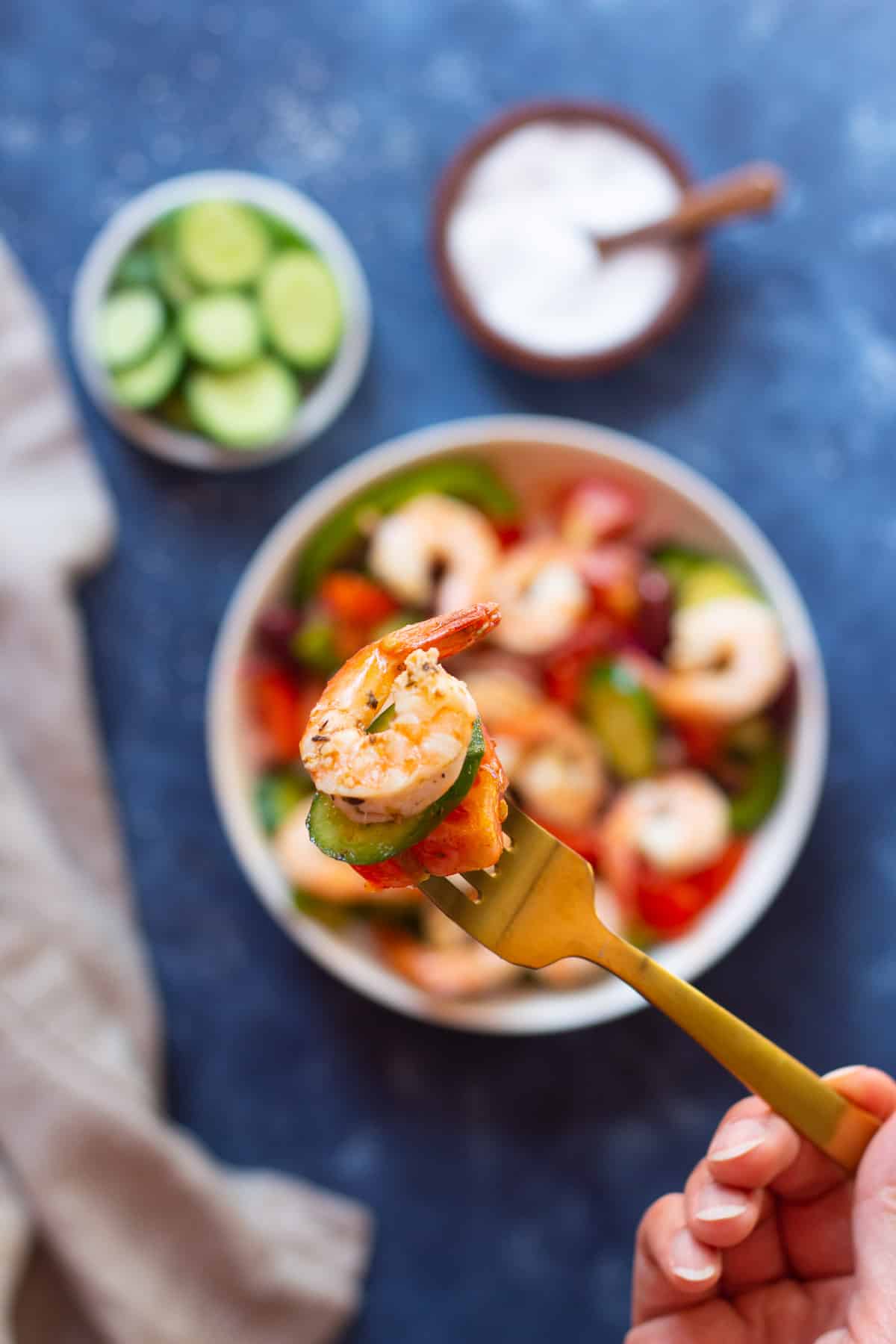 Why this recipe works
No mayo salad: Like this Mediterranean tuna salad, our Greek style shrimp salad is also made without a dollop of mayonnaise which makes it so light and delicious.
Dressing works as marinate too: What I love the most about this salad is that the marinade works as the dressing too! Use half to marinate the shrimp and another half to flavor the salad. The combination of herbs and garlic makes this salad dressing super tasty and delicious.
Perfect fort summer: This salad makes a whole meal and is perfect for those hot summer days when all you want is a light, refreshing lunch.
Only 20 minutes: The shrimp only needs a few minutes to marinate and the whole salad will be ready in only 20 minutes.
Ingredients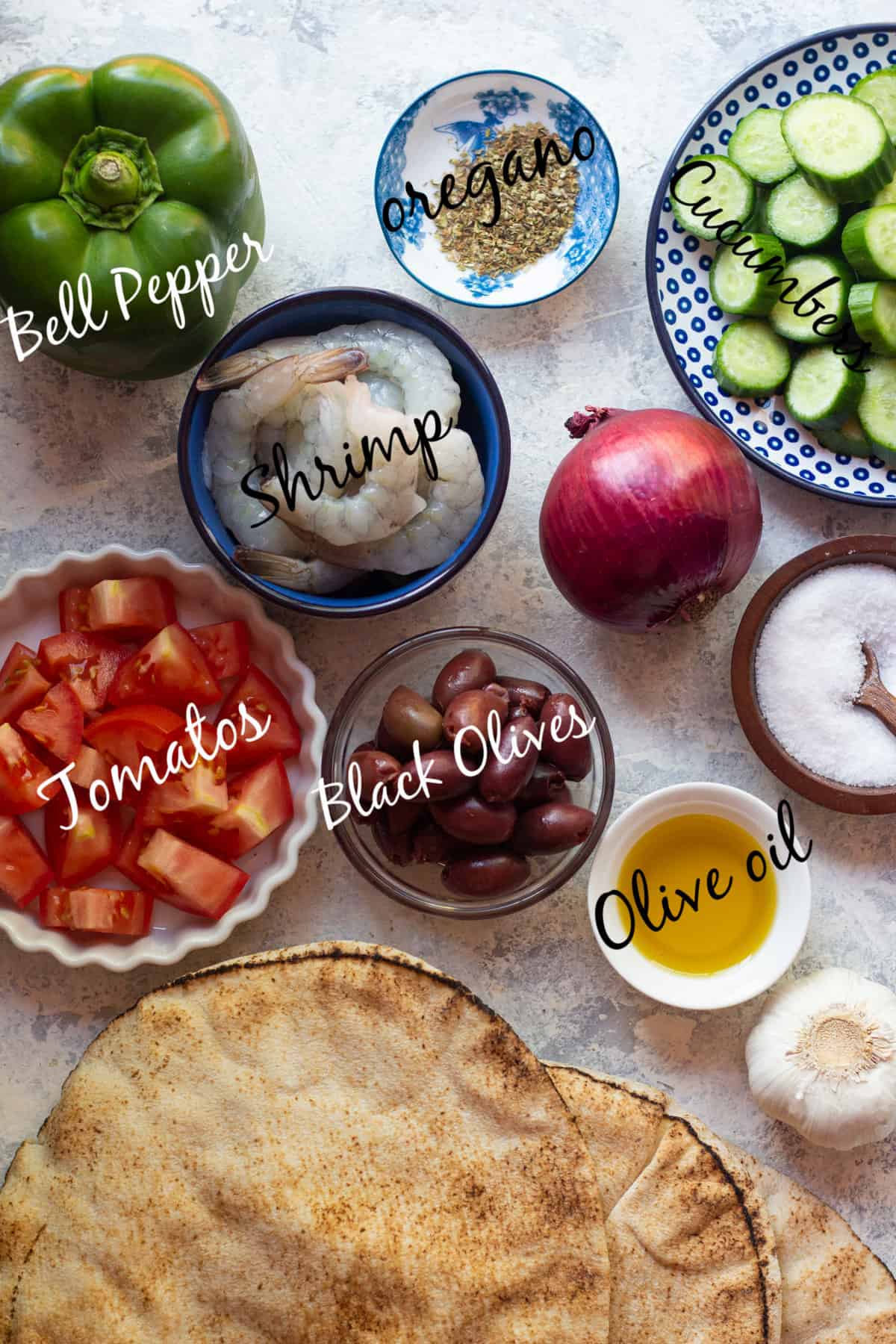 This Greek shrimp salad contains two parts: The marinade which is also used as the dressing and then salad. To make the marinade, you need garlic, olive oil, lemon juice, a combination of spices and some sugar to balance the acidity. For the salad you need:
Shrimp: Make sure to use raw shrimp and not the cooked ones. As for fresh or frozen, unless you live by the ocean, it's best to get frozen ones and thaw when you're ready. The shrimp has to be clean, peeled and deveined before you start cooking. Here is a complete tutorial on how to clean shrimp by The Kitchn.
Cucumbers: I love using Persian cucumbers for salads since they have no seed and are very crisp.
Kalamata olives: These add some nice flavor to the salad. It's best to use pitted olives, you can keep them whole or cut in half.
Tomato: A good firm roma tomato would be perfect for this salad.
Green pepper: Bell pepper works just fine for this salad. If green is not available, use red or orange bell peppers.
Red onion: To add some kick to the salad, don't skip!
Instructions
In a bowl, mix dried oregano, minced garlic, lemon juice, olive oil, salt, pepper and sugar. Save half of the marinade in another bowl to use as dressing.
Place the shrimp in the bowl and marinate for 10 to 15 minutes.
Meanwhile, chop the cucumber, tomatoes, green pepper and red onion.
Cook the shrimp in a pan over medium heat. This would take about 6 to 8 minutes. Make sure not to overcook the shrimp.
Add the shrimp to the salad and toss with the dressing.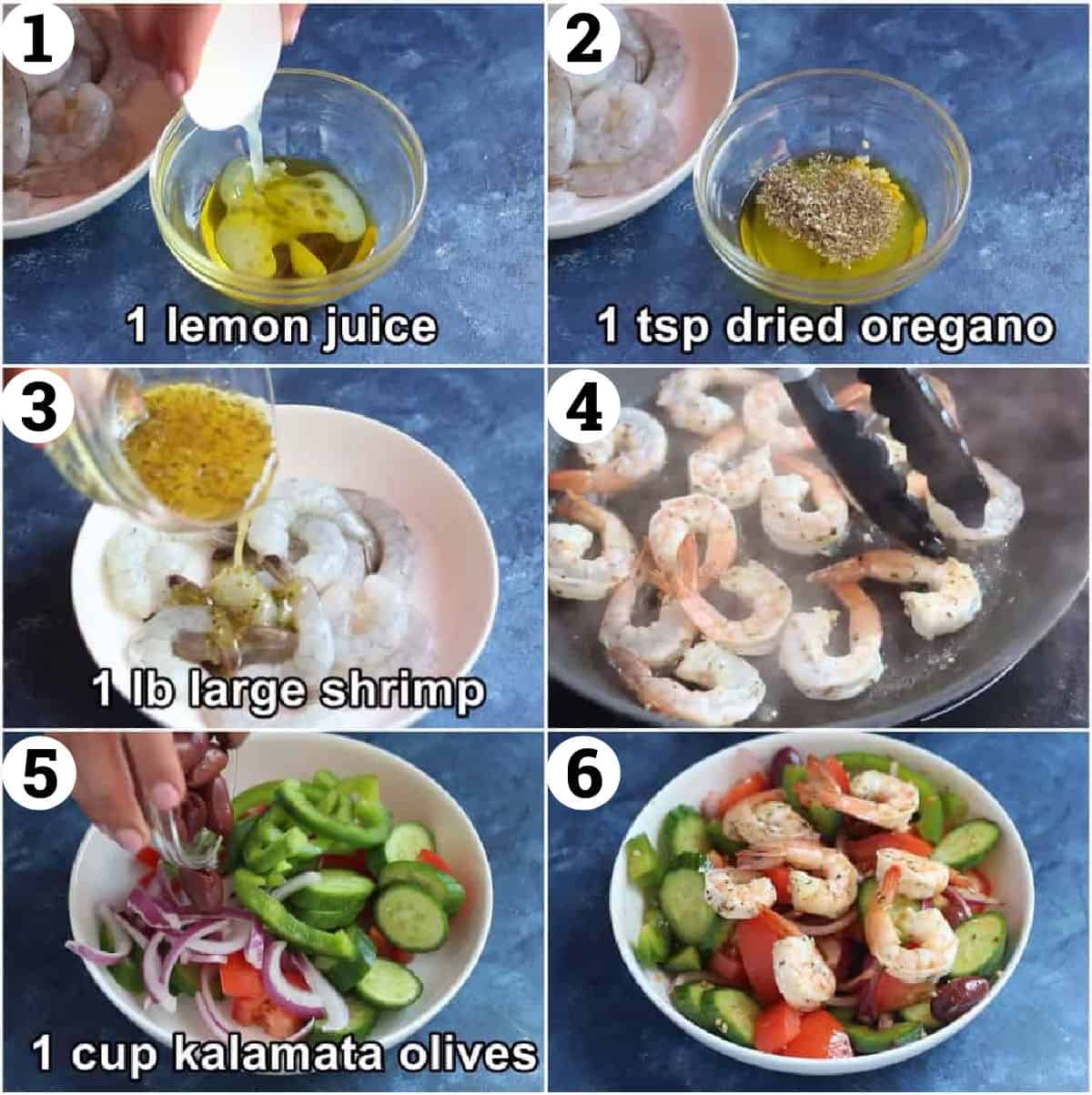 Additions and variations
The best thing about this shrimp salad is that there are no limitations on what ingredients to use. Here are a few suggestions:
Add lettuce, salad greens or spinach to this salad.
Corn makes this salad even more perfect for summer!
Feeling spicy? Add a few drops of hot sauce to the marinade.
You can add artichoke hearts or radishes as well.
Looking for a bit of crunch? Add some homemade pita chips!
Make it even better with herbs such as parsley, dill, cilantro or basil.
Frequently asked questions
Should I keep the tail of the shrimp on?
This depends on your preference. I usually keep the tail on so the shrimp looks nicer on the salad.
What size shrimp should I use?
Shrimp comes in different sizes and to use it in salads, I usually opt for medium or large. Small shrimp can shrink a lot after cooking and jumbo shrimp can be too big for a bite in salad.
Can I grill the shrimp?
Absolutely. To make grilled shrimp salad, simply marinade the shrimp for 10 to 15 minutes. Heat up the grill and thread the shrimp on wooden skewers. Grill for about 4 minutes per side until it's pink and cooked through. Toss it with the salad and serve immediately. This would be perfect if you already have the grill running for a meal.
How long does this salad keep?
I love serving salads like this fresh. So my suggestion is to make sure you make enough to eat in one sitting. However, if you have leftovers, please store them in an airtight glass container and refrigerate for up to two days.
More Salad Recipes
Did you make this recipe? I'd love to hear about it! Please comment and leave a 5-star🌟 rating below. You can also follow us on Instagram, Facebook, Pinterest or subscribe to our newsletter to get a free e-Cookbook!
Step-by-Step Recipe
20-minute Greek Shrimp Salad
A delicious no mayo Greek shrimp salad recipe that's ready in only 20 minutes. This healthy shrimp salad made with fresh ingredients and is perfect for a light lunch.
Ingredients
Garlic oregano dressing/marinade
1

teaspoon

dried oregano

3

cloves

garlic

minced

1

lemon

juice of

4

tablespoon

olive oil

½

tsp

salt

¼

teaspoon

pepper

½

teaspoon

granulated sugar
Greek shrimp salad
1

lb

large shrimp

thawed

2

Persian cucumbers

1

cup

kalamata olives

1

Roma tomato

1

green bell pepper

½

red onion
Instructions
In a bowl, mix oregano, mined garlic, lemon juice, olive oil, salt, pepper and sugar.

Set aside half of the mixture to use as dressing. Mix the other half with thawed, peeled shrimp and let it marinate for 10 minutes.

Meanwhile, cut the Persian cucumbers in half lengthwise and then cut each half into pieces. Add it to a large bowl.

Dice the tomato and add it to the cucumbers.

Slice the bell pepper and the onion, add them to the bowl as well. Toss the vegetables until they're combined.

Heat a pan over medium heat and cook the shrimp for about 6 to 8 minutes until it's fully cooked.

Add the cooked shrimp to the salad.

Pour the reserved dressing over the salad and toss well.
Notes
Make sure you're using raw shrimp and not pre-cooked. It's possible to use them tail-on or tail-off depending on your preference.
It's best to use frozen shrimp and thaw as needed.
Shrimp cooks in about 6 to 8 minutes, please don't overcook the shrimp otherwise it'll become rubbery.
You can also grill the shrimp for this recipe if you already have the grill running. Simply thread them on a skewer and grill for 4 to 5 minutes until firm and pink.
You can use honey or stevia instead of sugar to make the dressing.
Store the leftovers in an airtight container and refrigerate for up to 2 days.
Nutrition
Calories:
319
kcal
Carbohydrates:
10
g
Protein:
25
g
Fat:
21
g
Saturated Fat:
3
g
Polyunsaturated Fat:
3
g
Monounsaturated Fat:
14
g
Cholesterol:
286
mg
Sodium:
1701
mg
Potassium:
309
mg
Fiber:
3
g
Sugar:
4
g
Vitamin A:
417
IU
Vitamin C:
48
mg
Calcium:
214
mg
Iron:
3
mg
Did you make this recipe?
Let us know how it was by leaving a comment and a 5-star review!