Learn how to cook couscous in only 15 minutes! This easy couscous recipes calls for a few ingredients and makes a delicious side for protein or stews.
Table Of Contents:
What Is Couscous?
Couscous is a staple in the Moroccan cuisine that's generally served as a side for hearty stews or added to salads to make them more filling.
When speaking of couscous, a few questions come to mind: what is couscous made of? Is it a grain like bulgur and freekeh? And of course, how to cook couscous that's fluffy? Well, you're in the right place. I'm going to answer all these questions here, starting with what this Mediterranean kitchen staple is made of.
While it's usually mistaken for grain, couscous is actually a kind of pasta made with semolina flour and water. You can usually find two types of couscous in the supermarket: Pearl and fine.
Pearl couscous is larger and can be used for salads or prepared as I did for this Moroccan chicken and couscous. Today we're working with fine couscous, which is a lot smaller and since it's already been steamed and dried, making it very easy to prepare.
How To Cook Couscous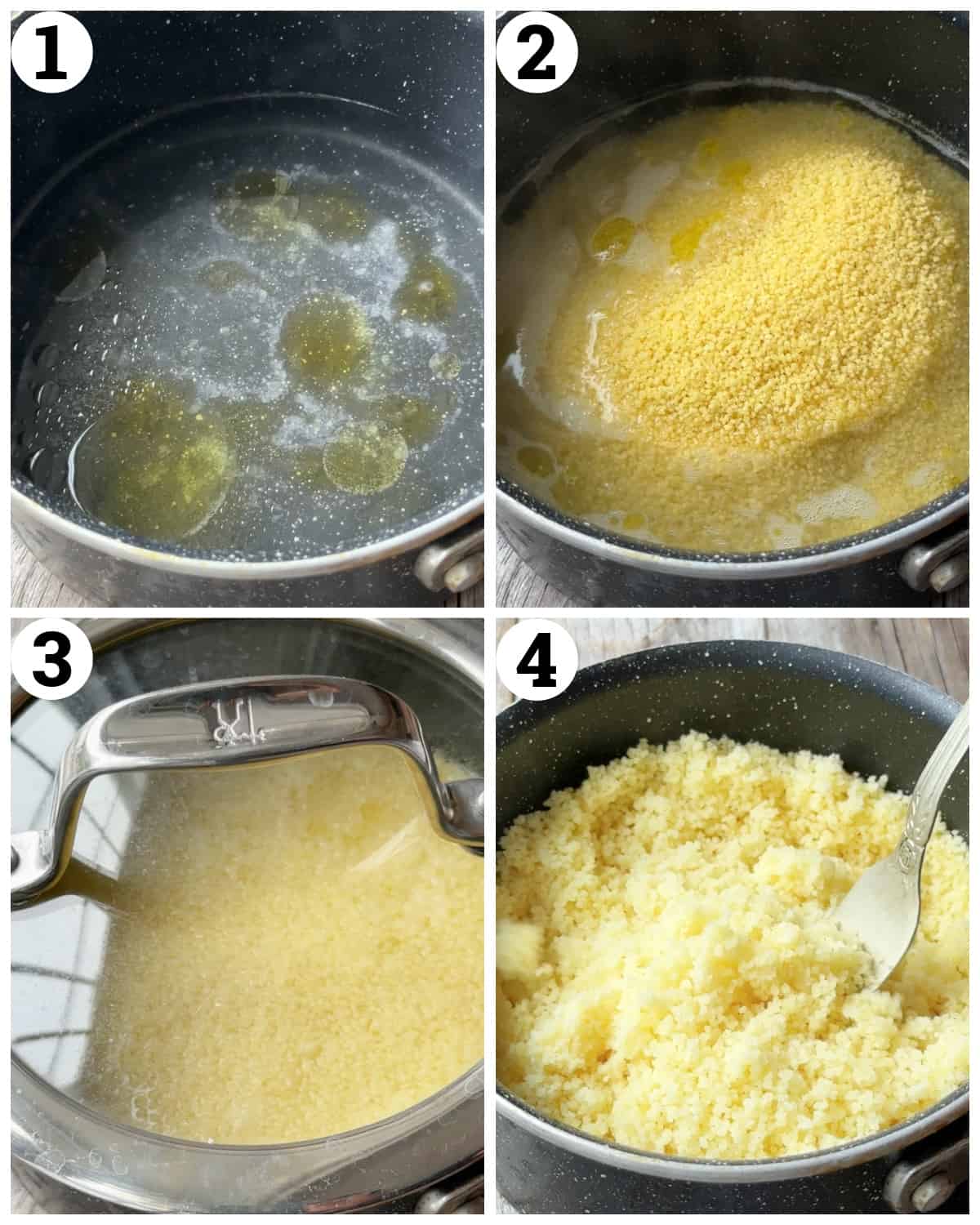 Bring 1 cup of water to a boil.
Add in the salt and olive oil.
Add in the dry couscous and give it a stir. Cover the pot, turn the heat off and let it sit for 15 minutes until it absorbs the water.
Fluff with a fork and transfer to a serving plate.
Tips To Make The Best Couscous
Purchase the right couscous: For this recipe, you're looking for fine couscous and not the pearl version. You can find it in many supermarkets as well as Middle Eastern and Mediterranean shops.
Measure and keep the ratio: The ratio of water to couscous is 1:1, meaning for every one cup of dry couscous, you need one cup of hot water.
Fluff before serving: Using a fork, fluff the couscous once it's ready, this would separate the pieces and makes the texture better!
Jazz Up Your Couscous
You can use chicken, beef or vegetable broth to cook this Moroccan staple for more flavor. It's also possible to add some lemon juice and herbs right before serving to brighten up the flavors. If feeling adventurous, check out my saffron couscous recipe, it's a keeper!
Frequently Asked Questions
Does couscous have gluten?
Yes, since it's made with semolina made from durum wheat, couscous has gluten.
Do you need to wash couscous?
There is no need to wash couscous prior to cooking.
How do you make couscous not mushy?
Keep the water to couscous ratio at 1:1, leave it to absorb all the water and then gently fluff it using a fork.
Can I use the microwave to make couscous?
Yes. Simply heat the water or broth in the microwave until it's very hot, then add the couscous. Cover and let it sit for 15 minutes. Fluff and serve.
How much does 1 cup dry couscous yield?
1 cup of dry couscous makes about 2 to 2 ½ cups of cooked couscous which would be enough for 4 people.
You'll Like: Basic Recipes To Try
Did you make this recipe? I'd love to hear about it! Please comment and leave a 5-star🌟 rating below. You can also follow us on Instagram, Facebook, Pinterest or subscribe to our newsletter to get a free e-Cookbook!
Step-by-Step Recipe
How To Cook Couscous
Learn how to cook couscous in only 15 minutes! This easy couscous recipes calls for a few ingredients and makes a delicious side for protein or stews.
Ingredients
1

cup

water

1

tablespoon

olive oil

extra virgin

½

tsp

salt

1

cup

couscous
Instructions
Place the water in a small saucepan and bring it to a boil.

Add in the olive oil and salt.

Add the dry couscous and give it a stir. Cover with a lid and let the couscous sit for 15 minutes, undisturbed.

Uncover and fluff using a fork. Transfer to a plate and serve.
Notes
To make this recipe, you need fine couscous and not pearl couscous.
Store the leftovers in an airtight container and refrigerate for up to 3 days. You can reheat in in a small saucepan over medium heat. Add 2 tablespoon water to avoid the couscous getting too dry.
Serve couscous with Moroccan tagine, saffron chicken or eggplant chickpea stew.
Nutrition
Calories:
194
kcal
Carbohydrates:
33
g
Protein:
6
g
Fat:
4
g
Saturated Fat:
1
g
Polyunsaturated Fat:
0.5
g
Monounsaturated Fat:
3
g
Sodium:
298
mg
Potassium:
72
mg
Fiber:
2
g
Calcium:
12
mg
Iron:
0.5
mg
Did you make this recipe?
Let us know how it was by leaving a comment and a 5-star review!