Peanut Butter Chocolate Chip Banana Waffles are great for breakfast or brunch. You can make the waffle batter in a blender in no time and enjoy!
Waffles are one of our favorite breakfast and brunch recipes. Our churro waffles are killing it on Pinterest and these waffles are a family favorite. Other breakfast favorites are croissant bread pudding and banana bread muffins.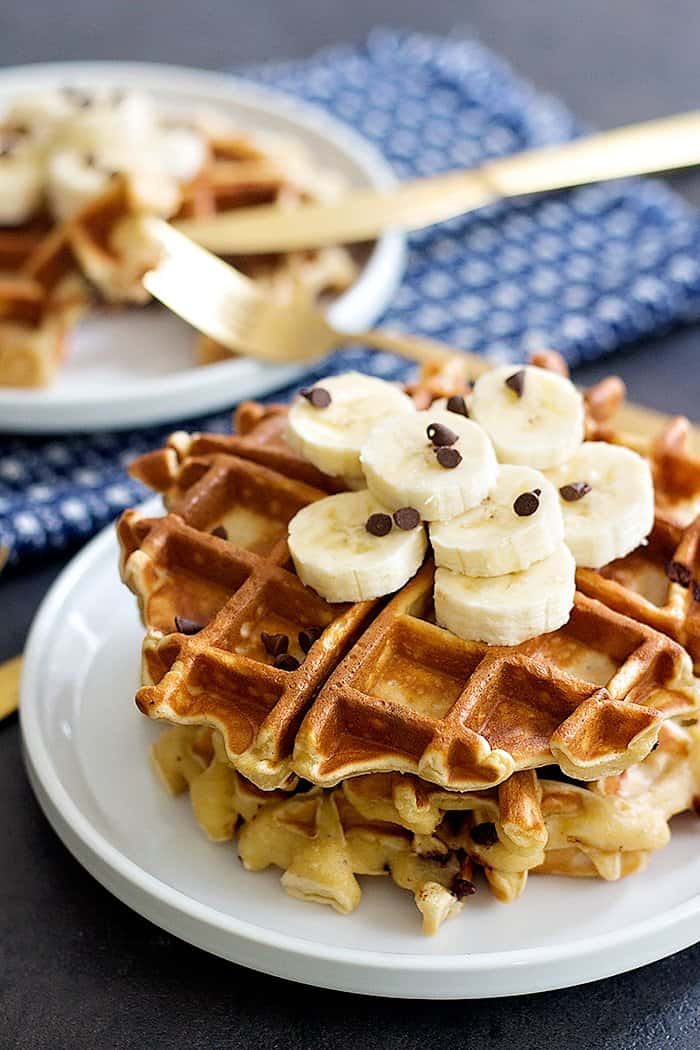 Banana waffles with peanut butter and chocolate!
What's your favorite breakfast? For me, I usually like something sweet. There are these times of year that I'm all about peanut butter and banana and/or chocolate. No specific reason for that, just a matter of craving!
For those times, I definitely make these banana peanut butter chocolate chip waffles because they have all my favorite ingredients and they're also super quick to make because I blend all the ingredients in a blender! I love this banana chocolate chip waffles because they taste like banana bread turned into waffles!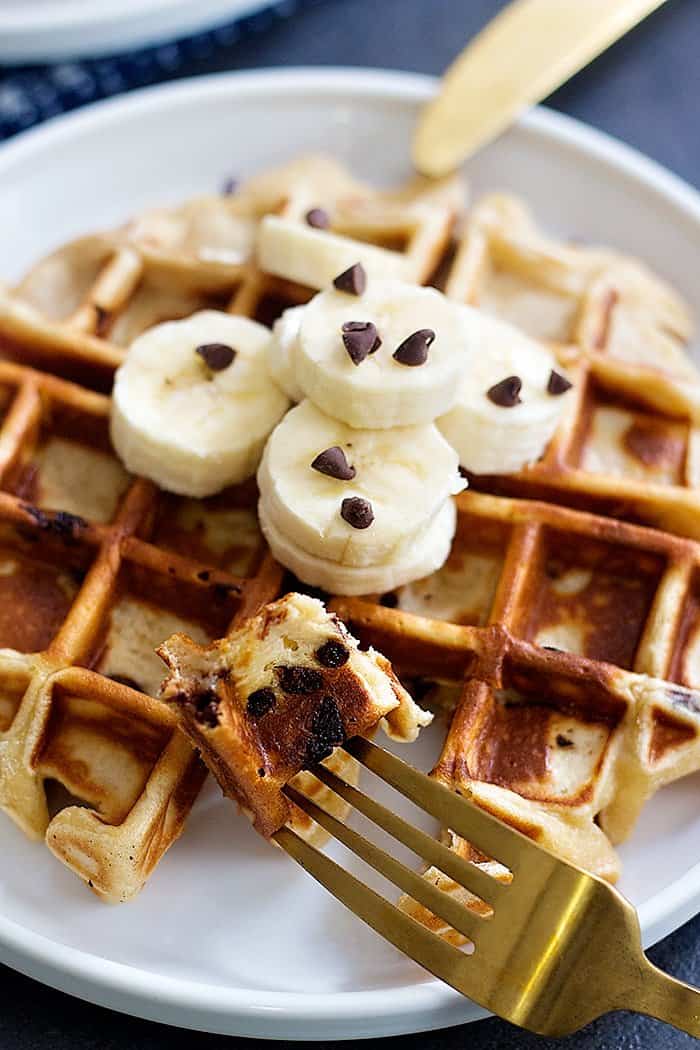 What do you need to make banana waffles
To make these peanut butter banana waffles you need ripe bananas. The riper your bananas, the tastier your waffles will be so try not to use firm, very fresh bananas. However, make sure your bananas aren't too ripe or black. If your bananas are sweet enough, you can leave the sugar out. I had to add 2 tablespoons sugar as my bananas weren't as sweet.
To make these waffles, I also used Greek yogurt and almond milk which give a smooth, fluffy texture. I just used peanut butter and didn't use butter at all. You can always leave the chocolate chips out if you like to have banana peanut butter waffles.
How to make banana waffles
This banana waffles recipe is super simple. All you need to is to heat your waffle maker and place bananas, eggs, Greek yogurt, almond milk, sugar, peanut butter, flour and baking powder in a blender jar and blend until everything is well combined. Add in the chocolate chips (optional) ad stir using a spatula.
Coat the waffle iron with nonstick spray. Pour about ⅓ cup waffles into the waffle iron and close it. Cook for about 3-4 minutes according to the waffle iron instructions. Repeat with the remaining batter. Once the waffles are ready and golden brown, serve warm waffles with maple syrup and banana slices.
Can I use nuts in this waffles recipe?
Yes! Simply leave out the chocolate chips and use the same amount of walnuts or pecans and make yourself some banana nut waffles which are going to be so tasty and delicious.
How to store waffles
Waffles are best if they're served immediately. However, if you have extra waffles, wrap each in a plastic wrap and refrigerate for up to 3 days. To reheat, my preferred approach is oven. Start heating the oven to 250F and once you turn the oven on, place the waffles on a baking sheet and place it in the oven, once the oven is at 250F, check the waffles to see if they're warm enough and then serve them.
I love making breakfast a more special meal and something beyond a grab and go cup of yogurt. I like breakfast to be long and full of conversation and these chocolate chip banana waffles are that kind of breakfast. Here are some of my favorite breakfast items - which you can also make for brunch:
How do you like your waffles? Crispy or soft? I like mine crispy and crunchy on the outside and soft and chewy on the inside! This way when I pour maple syrup on my waffles, they absorb the syrup well and are full of flavor when I bite into them! Oh so good, I'm craving some peanut butter chocolate chip banana waffles now!
Tools and ingredients used to make Peanut Butter Chocolate Chip Banana Waffles:
Blender: Hands down, Blendtec is my all time favorite blender. It's perfect for any purpose!
Waffle Iron: This one is a favorite. Great quality and always gives the best waffles!
Spatula: Definitely recommend this one.
Step-by-Step Recipe
Peanut Butter Chocolate Chip Banana Waffles
Peanut Butter Chocolate Chip Banana Waffles are great for breakfast or brunch. You can make the batter in a blender in no time and enjoy!

Ingredients
2

Ripe bananas

2

Eggs

½

cup

Greek Yogurt

½

cup

Almond Milk

2

tablespoon

Sugar

⅓

cup

Peanut Butter

1 ⅓

cup

All Purpose Flour

1 ½

teaspoon

Baking Powder

½

cup

Mini Chocolate Chips
Instructions
Start heating the waffle iron.

Put all the ingredients except chocolate chips in a blender.

Blend well until smooth.

Add chocolate chips and fold using a spatula.

Pour some of the batter in the waffle iron per instructions of the iron (it's usually ⅓ cup batter) and cook the waffles.

Serve with maple syrup or any syrup/sauce of your choice.
Nutrition
Did you make this recipe?
Let us know how it was by leaving a comment and a 5-star review!