Stuffed Eggplant Parmesan is a great dinner option for any night of the week. Meaty eggplants are filled with ground beef and topped with two types of cheese - they're absolutely delicious!
Do you like eggplants? If so, you need to check out all our eggplant recipes because we have so many of them! From classics such as eggplant caponata and moussaka to delicious creations like Cheese Stuffed Eggplant Meatballs and Karniyarik Turkish Stuffed Eggplant, we have all here on the blog. Today's recipe is one of our favorites. I think you'll agree that this stuffed eggplant parmesan recipe is a classic.
Easy stuffed eggplant parmesan with ground beef
When it comes to cooking with eggplant, stuffing it is one of my favorite methods. Making stuffed eggplant is very common in the Middle East and the Mediterranean. This eggplant recipe that I'm showing you today is inspired by the flavors of the Mediterranean and offers so much flavor in each bite.
Stuffed vegetables are an easy way to add more veggies into your family's weekly meals. We love a good stuffed pepper recipe and this stuffed acorn squash recipe is absolutely tasty but stuffed eggplant parmesan is one of our favorite recipes to make for dinner because you can make it ahead of time and simply reheat it when ready. It's low carb, gluten free and also pretty on the plate. Eggplants are perfect summer vegetables and there is so much you can do with them and stuffing them with a tasty beef and veggies mixture can be one of them.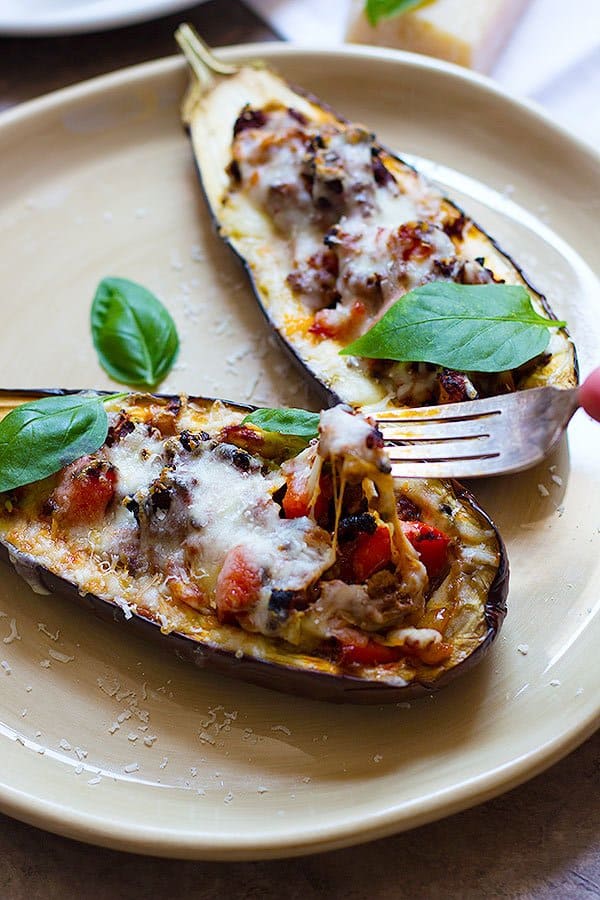 Why is this stuffed eggplant parmesan a winner?
Usually stuffed eggplants call for roasting the eggplants in the oven and then stuffing them with a filling. However, this eggplant recipe is different because you actually take out the flesh and cook it into the filling with ground beef and then stuff the eggplant with the filling and bake it in the oven. This will result in less cooking time and fewer dishes to clean.
I like to fill the eggplants and then bake them for two reasons:
First, they will keep their shape better and therefore look prettier for serving.
Second, all the flavors of the filling is mixed with eggplant which makes it more delicious.
How to make baked stuffed eggplant
This is such as simple and easy way to make stuffed eggplant parmesan and you only need to take a few steps:
Prepare the eggplants: Wash the eggplants and dry them using a paper towel. Cut each eggplant in half lengthwise and take the flesh in the center of each piece out using a spoon. Set the hollowed eggplant pieces aside. Chop the scooped out eggplant flesh to add to the filling.
Make the filling: Start by sauteing some chopped onion and garlic in a pan over medium heat. You can use olive oil or vegetable oil for sauteing. Add in the ground beef and cook it until brown. Make sure to break the ground beef into smaller pieces as it cooks. Next, add red bell pepper and chopped eggplant flesh to the meat mixture and cook until they're soft. Add the spices, tomato paste and water. Cook for a few minutes to incorporate the flavors.
Stuff the eggplants and bake: Using a spoon, fill the hollowed eggplants with the ground beef filling. Bake in the oven at 400°F until the eggplants are fully cooked. Top with parmesan and mozzarella cheese and broil until the cheese is melted.
Can I make this stuffed eggplant parmesan recipe ahead of time?
You can indeed make this recipe beforehand and freeze it easily. To do so, you need to cook the recipe completely without the cheese and then freeze it since it will taste better compared to freezing raw eggplants. When the stuffed eggplant parmesan is ready, let it cool completely and place the stuffed eggplants next to each other in a casserole dish. Cover tightly with 3 layers of plastic wrap and one layer aluminum foil. Freeze for up to 2 months.
To reheat: Take the frozen casserole dish out of the freeze and uncover. Let it sit on the counter for 30 minutes as you preheat the oven to 350°F. Cover the dish loosly with foil and heat in the oven for about 40 minutes until they are soft and completely heated through.
What goes with stuffed eggplant
This eggplant dish is ideal for weeknight dinners or gatherings. It pairs so well with fresh salads such as Mediterranean salad, cucumber tomato avocado salad or a simple tomato salad. You can also simply serve this dish with some crusty bread like sour dough.
Notes and tips to make baked stuffed eggplant parmesan
The best type of eggplant to use for this recipe is Italian eggplants that are small and meaty. However, you can also use globe eggplants for this recipe. I don't recommend Chinese eggplants as they're not as meaty and large.
Since these stuffed eggplants are going to be baked in the oven, you don't need to actually peel them or sprinkle them with salt before cooking.
Cooking time depends on the size of the eggplants so check them after 25 minutes. If you can insert a knife into the eggplant easily, consider it fully cooked. If the eggplant isn't baked completely, place it back in the oven and check again after 10 minutes.
You can substitute ground beef with more eggplants or other vegetables such as carrots and mushrooms for a vegetarian stuffed eggplant parmesan.
It's best to purchase and use a block of parmesan cheese and grate it yourself instead of using pre-grated parmesan. You can ask the person at the cheese section of your supermarket to help you choose a good quality parmesan cheese.
Looking for more eggplant recipes?
Step-by-Step Recipe
Stuffed Eggplant Parmesan
Stuffed Eggplant Parmesan is a great choice for dinner. Meaty eggplants that are filled with ground beef and topped with two types of cheese, who can say no to this?
Ingredients
4

Eggplants

3

tablespoon

olive oil

1

onion

chopped

2

garlic cloves

minced

½

lb

ground beef

1

red bell pepper

diced

½

teaspoon

salt

1

teaspoon

freshly ground pepper

½

teaspoon

turmeric

1

tablespoon

tomato paste

¼

cup

water

⅓

cup

grated parmesan

1

cup

grated mozzarella
Instructions
Preheat the oven to 400F. Line a baking sheet with parchment paper.

Cut the eggplants into half lengthwise and take the flesh from the center of the eggplants out and chop them into small pieces, set aside.

Heat olive oil in a large pan over medium heat, saute onion and garlic until translucent, add ground beef and cook until brown. Using a spatula, break it into small pieces while cooking.

add in red bell pepper and the eggplant flesh.

Add in salt, pepper and turmeric. Stir and cook for 7 to 10 minutes until flavors are combined.

Add tomato paste and water, stir and cook for 10 minutes.

Fill the eggplants with the filling and bake them in the oven for 25 to 30 minutes until eggplants are cooked.

Top the eggplants with parmesan and mozzarella. Turn the broil on and broil for 3-5 minutes until cheese is melted.
Nutrition
Did you make this recipe?
Let us know how it was by leaving a comment and a 5-star review!