Gavurdagi is a Turkish tomato salad that's ready in 15 minutes. Made with fresh tomatoes, cucumbers and crunchy walnuts and flavored with pomegranate molasses, this salad is the perfect side dish.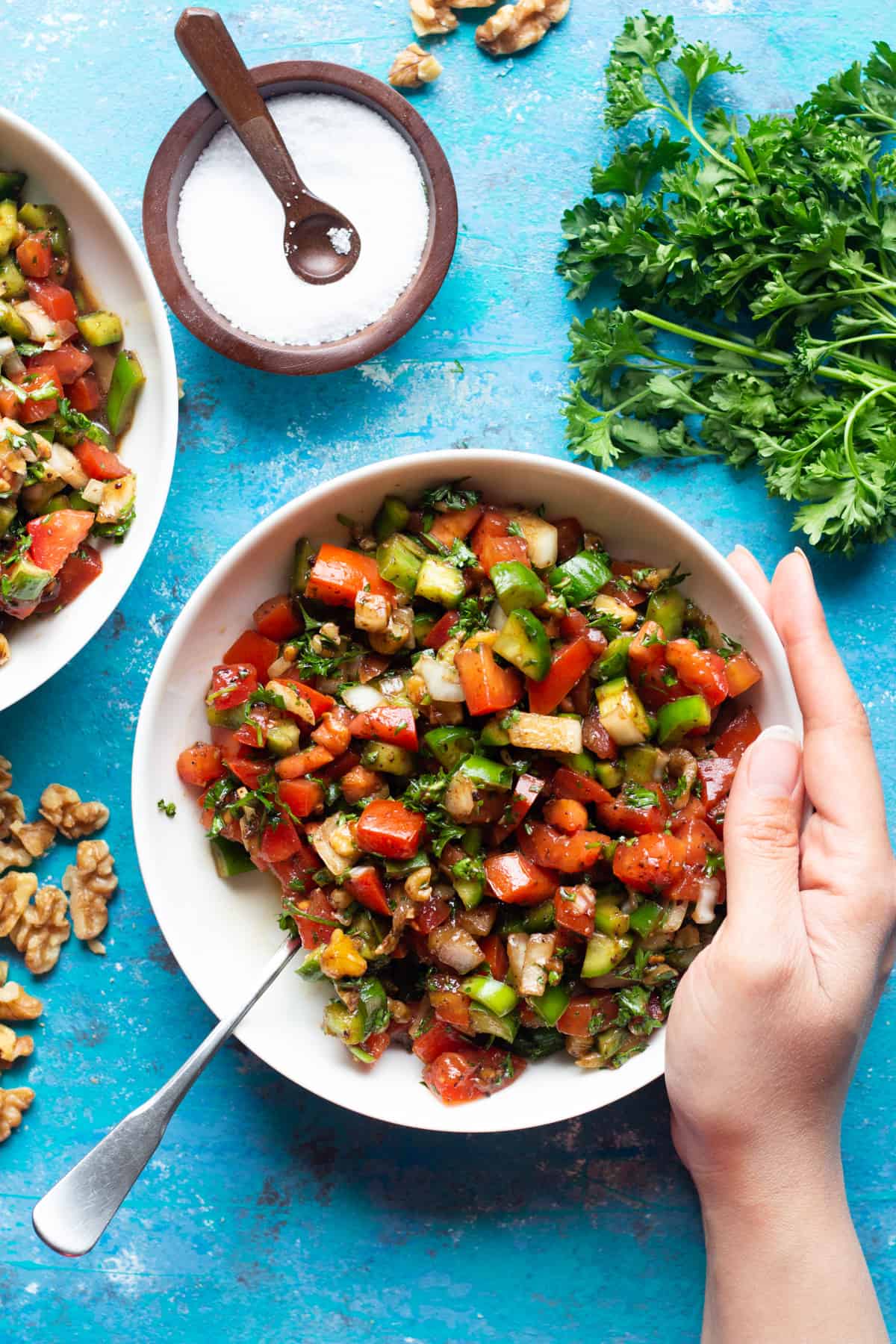 I love sharing tasty Turkish recipes here with you. From Turkish smoky eggplant salad and potato salad to ezme, Turkish cuisine always calls for fresh and seasonal ingredients that make the dishes light and bright. Today I'm going to show you how to make my favorite Turkish tomato salad, also known as gavurdagi.
Table Of Contents:
Why This Recipe Works
Gavurdagi Salad (gavurdağı salatası) is a delicious Turkish classic salad that's made mainly with tomatoes and is packed with amazing flavors. This salad is from the Gaziantep region in Turkey where it's popular for delicious food. Here are a few reasons for you to try this recipe:
Flavor: What's special about this recipe is the dressing. The combination of pomegranate molasses and sumac gives this salad a nice flavor that's tart and bright.
Easy: This is a simple salad recipe that doesn't require much work. Simply chop all and mix!
Quick: Ready in only 15 minutes, you can make this salad on a whim and serve it as a side dish.
Best Tomatoes For Salads
Heirloom tomatoes are the best for salads because of their delicious and bright flavor. However, since they're not available year round and in every supermarket, my second choice is roma tomatoes because of their thin skin and bright flavor. Tomatoes are widely used in Mediterranean salads such as fattoush Salad and Greek salad.
Ingredients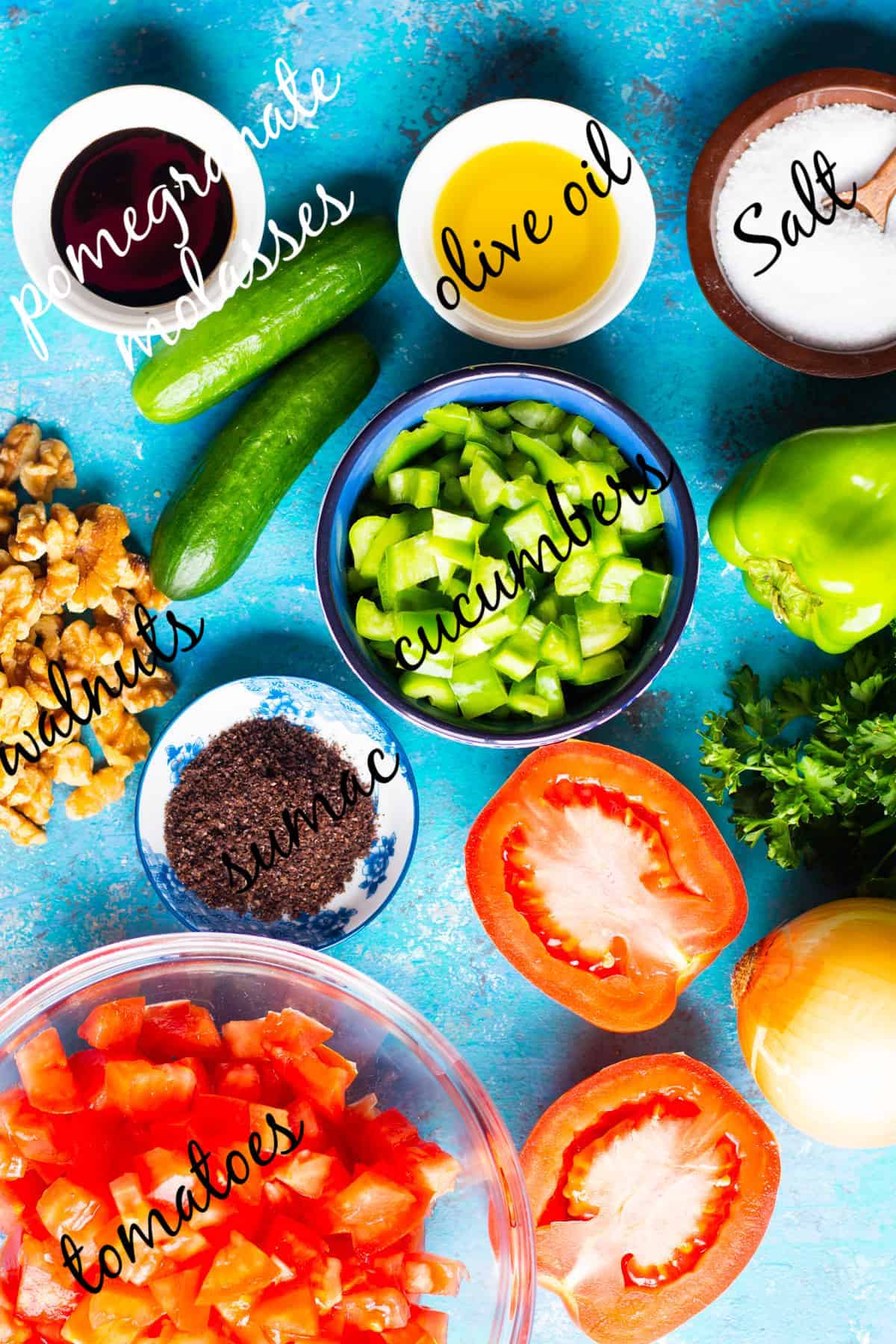 Tomatoes: I prefer roma tomatoes because of their firmness and flavor. If available, heirloom tomatoes would work too.
Green Italian pepper: This type of pepper has a light flavor and texture. You could also use green bell pepper.
Onion: White onion is best for this salad.
Cucumbers: Persian cucumbers are preferred because they don't have seeds. If not available, use English cucumber.
Walnuts: They add a nice crunch and pair so well with the vegetables.
Olive oil: Always try to get high quality extra virgin olive oil.
Pomegranate molasses: Adds so much flavor to the salad. You can find pomegranate molasses in supermarkets or Middle Eastern and Mediterranean shops. You can also make it at home.
Sumac: If you have never used sumac, it's a spice made from sumac berries and it's tart.
How To Make Gavurdagi
Chop the tomatoes and place them in a large bow. Add chopped green peppers to the tomatoes. Add chopped white onion, cucumber and chopped parsley.
Add in the chopped walnuts as well and give it a nice toss so all ingredients are combined.
Season the salad with sumac, salt, olive oil and pomegranate molasses.
Mix until all is well combined. refrigerate for 30 minutes before serving.
Storage
Because tomatoes tend to release their juice pretty soon after they're chopped, this salad is best served right away. However, you can keep the leftovers in an airtight container for up to 24 hours.
Frequently Asked Questions
Can I use cherry tomatoes for this recipe?
Turkish salads are usually made large tomatoes and cherry tomatoes are normally served for breakfast. Since cherry tomatoes have thinner flesh, they're not suitable for this salad recipe.
How long does this salad keep?
Because tomatoes tend to release their juice pretty soon after they're chopped, this salad is best served right away. However, you can keep the leftovers in an airtight container for up to 24 hours.
Can I make this salad ahead of time?
It's best to serve this salad within a few hours of making as the tomatoes would start releasing their juices. You can make this salad up to one hour before serving.
Can I use anything else instead of walnuts?
You can use pecans. If you're allergic to nuts in general, you can just leave the walnuts out.
More Salad Recipes
Did you make this recipe? I'd love to hear about it! Please comment and leave a 5-star🌟 rating below. You can also follow us on Instagram, Facebook, Pinterest or subscribe to our newsletter to get a free e-Cookbook!
Step-by-Step Recipe
Turkish Tomato Salad Gavurdagi
Turkish tomato salad made with fresh, plump tomatoes, cucumbers and crunchy walnuts is absolutely delicious. Flavored with pomegranate molasses and ready in 15 minutes, this is the perfect side dish.
Ingredients
4

roma tomatoes

chopped

1

Italian green pepper

diced

1

white onion

diced

2

Persian cucumbers

diced

¾

cup

walnuts

chopped

1

cup

parsley

chopped

¼

cup

olive oil

extra virgin

4

tablespoon

pomegranate molasses

1

teaspoon

sumac

½

teaspoon

salt
Instructions
Place the chopped tomatoes, green Italian pepper, onion, cucumbers, walnuts and parsley in a large bowl and mix well.

Mix olive oil, pomegranate molasses, sumac and salt in a small bowl and pour it over the salad.

Mix well and cover the salad with a plastic wrap. Refrigerate for 30 minutes before serving.
Notes
Persian cucumbers have less seed than English cucumbers therefore they're perfect for this tomato salad.
The tomatoes you're going to use for this recipe should be firm and plump. Soft tomatoes will release their juice easier.
If pomegranate molasses is not available, a splash of balsamic vinegar would work, too.
You can add more chopped walnuts to this tomato salad if you would like it to be more crunchy.
Nutrition
Calories:
357
kcal
Carbohydrates:
25
g
Protein:
5
g
Fat:
28
g
Saturated Fat:
3
g
Polyunsaturated Fat:
12
g
Monounsaturated Fat:
12
g
Sodium:
311
mg
Potassium:
477
mg
Fiber:
4
g
Sugar:
15
g
Vitamin A:
2746
IU
Vitamin C:
70
mg
Calcium:
63
mg
Iron:
2
mg
Did you make this recipe?
Let us know how it was by leaving a comment and a 5-star review!