This shop has been compensated by Collective Bias, Inc. and its advertiser. All opinions are mine alone. #ProgressIsPerfection #CollectiveBias #cbias
Nothing beats a delicious Challah Bread Pudding for breakfast or brunch! Soft Challah bread mixed with pears and raisins with a touch of cardamom brings a feast of flavors to your table!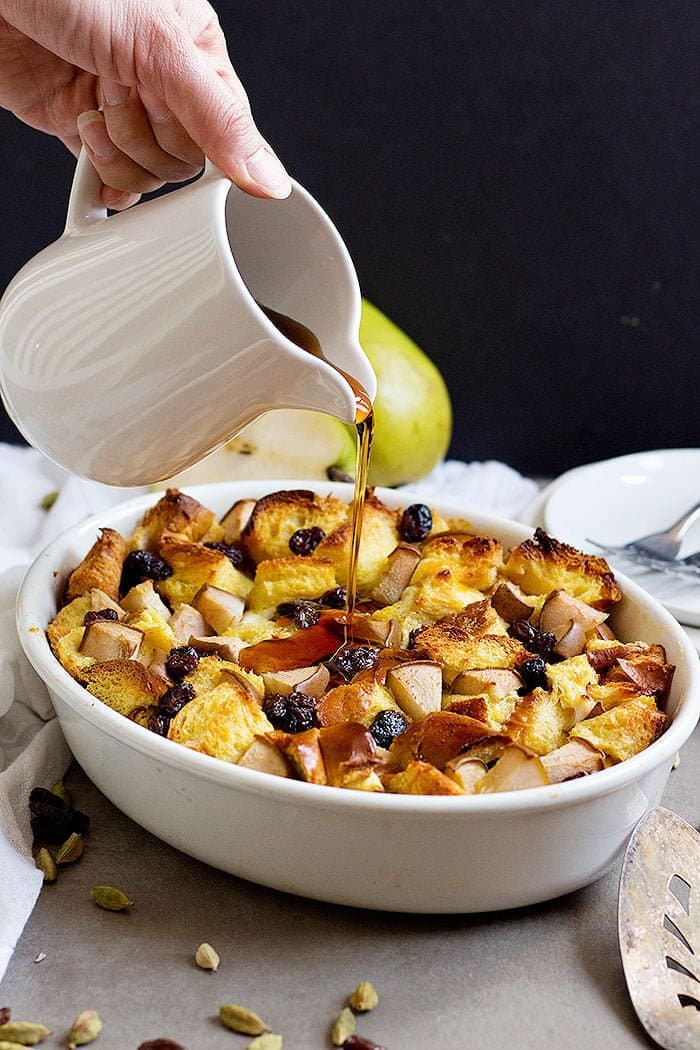 Warm, ooey gooey bread pudding with some warm maple syrup on a lazy morning is just perfect.
There is something very comforting about bread pudding for breakfast that makes everyone get out of bed and be at the table in no time. I don't know if it's the flavor, the soft, gooey center or what, but this good old treat is so hard to resist, especially if it's for Christmas breakfast!
With the new year being here and all the resolutions, it's a good idea to find ways to lighten up our favorite recipes and bring more flavor into our dishes!
There are many recipes out there to make bread pudding but challah bread pudding recipe is my favorite. It's warm, gooey, satisfying and with a hint of cardamom, it's so heart-warming!
How to make bread pudding with challah from scratch
Start with the bread. It's best to have the challah bread a day or two old. If the bread is a bit stale, it'll cut better and mix better with the wet ingredients. The fluffy yet firm texture of challah bread pieces helps them keep their shape after they're cooked even though they're moist and have all the flavors in each bite. Place a layer of bread pieces in a baking dish and top with some chopped pears and raisins. Top with more bread, pears and raisins.
To make this challah bread pudding, I used Silk Almond Unsweet Original Half Gallon and mixed it with eggs, maple syrup and ground cardamom. Pour the almond milk into the eggs and mix well. Then add the cardamom and maple syrup for a touch of sweetness. Maple syrup gives just the right amount of sweetness to the bread pudding without overpowering other flavors. Next, pour the wet ingredients on the bread pudding's dry ingredients and make sure they're all soaked in the mixture.
Cover with aluminum foil and bake in the oven for one hour, uncover and cook for another ten minutes so the top is golden and a little bit crispy. I love pouring some more maple syrup while serving this challah bread pudding. The pears and raisins go very well with cardamom and bring such a light and fresh taste to the good old bread pudding.
This bread pudding recipe is lightened up by using Silk almond milk. It has 50% more calcium than milk and is low in calories. It's produced without GMOs and is an excellent source of antioxidants. Silk is very creamy and is perfect to use in any type of recipe to make it lighter and simpler. To be healthier this year, plant based options are the way to go. Feeling healthier doesn't have to be hard. Silk helps you create "lightened up" version recipes to help with small victories on your path to a better you.
The pears are cooked perfectly in this bread pudding. They're soft, a little chunky and oh-so-juicy! The raisins are juicy and plump and burst with every bite of this amazing bread pudding! We love having this bread pudding on the weekends for breakfast or brunch with a large cup of coffee, some light music and a good, fun talk!
Notes and tips to make challah bread pudding:
Make sure you're bread is not oven-fresh. Fresh breads tend to be much softer and they won't absorb much liquid.
You can make this bread pudding overnight. To do so, take all the steps of the recipe but don't bake the bread pudding. Cover and refrigerate overnight. When you're ready to bake the bread pudding, take the dish out of the fridge and place it on the counter top. Preheat the oven to 350F and once the oven is hot, bake the bread pudding.
For a little bit of crunch, add some slivered almonds or some walnuts to the pears and raisins.
You can use half pears and half apple chunks to play with the flavors a bit.
Store the leftovers in an airtight container and refrigerate for up to 3 days. Use the microwave or oven to reheat the bread pudding.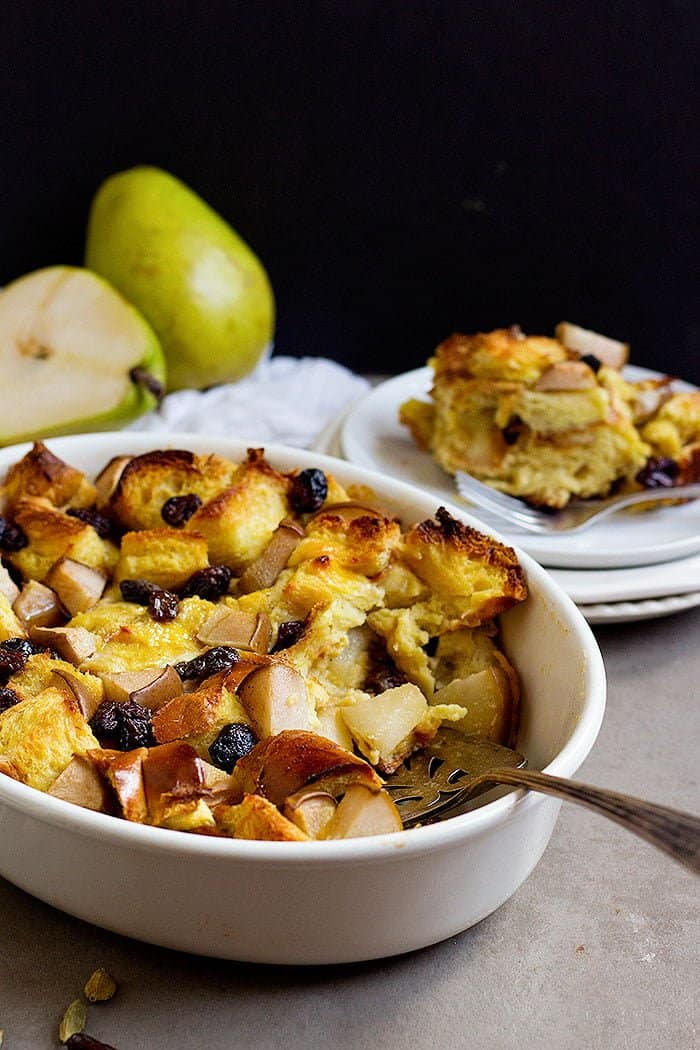 Hope you love this challah bread pudding recipe as much as we do and make it soon! Don't forget the ground cardamom as it's the main flavor of this breakfast deliciousness!
Looking for more delicious brunch recipes?
Step-by-Step Recipe
Challah Bread Pudding with Pears
Nothing beats a delicious Challah Bread Pudding for breakfast or brunch! Soft Challah bread mixed with pears and raisins with a touch of cardamom brings a feast of flavors to your table!
Ingredients
1

tablespoon

Unsalted Butter

1

Challah Bread

2 ½

cups

Silk Almond Unsweet Original Half Gallon

⅓

cup

Maple Syrup

4

Eggs

1 ½

teaspoon

Ground Cardamom

⅓

cup

Raisins

2

Pears

Cut into 1" pieces
Instructions
Preheat the oven to 350F. Butter an oven safe dish using one tablespoon of unsalted butter. Set aside.

Cut challah bread into 1 ½ inch pieces. Set aside.

Mix Silk Almond Unsweet Original, maple syrup, eggs and cardamom in a small bowl.

Place ⅓ of the challah pieces in the dish. Top with raisins and pears. Repeat with the remaining challah, raisins and pears.

Once it's done, pour the egg and almond milk mixture on the bread.

Cover with aluminum foil and bake in the oven for 45 minutes to one hour.

Uncover and bake for another 10 minutes until the top is nice and crispy.

Serve warm with more maple syrup.
Nutrition
Did you make this recipe?
Let us know how it was by leaving a comment and a 5-star review!