Everything you need to know about saffron and its uses. Learn how to bloom saffron in 20 minutes using this no fail technique that will let you get the most out of saffron and use it in numerous recipes. I've used this technique for years and years!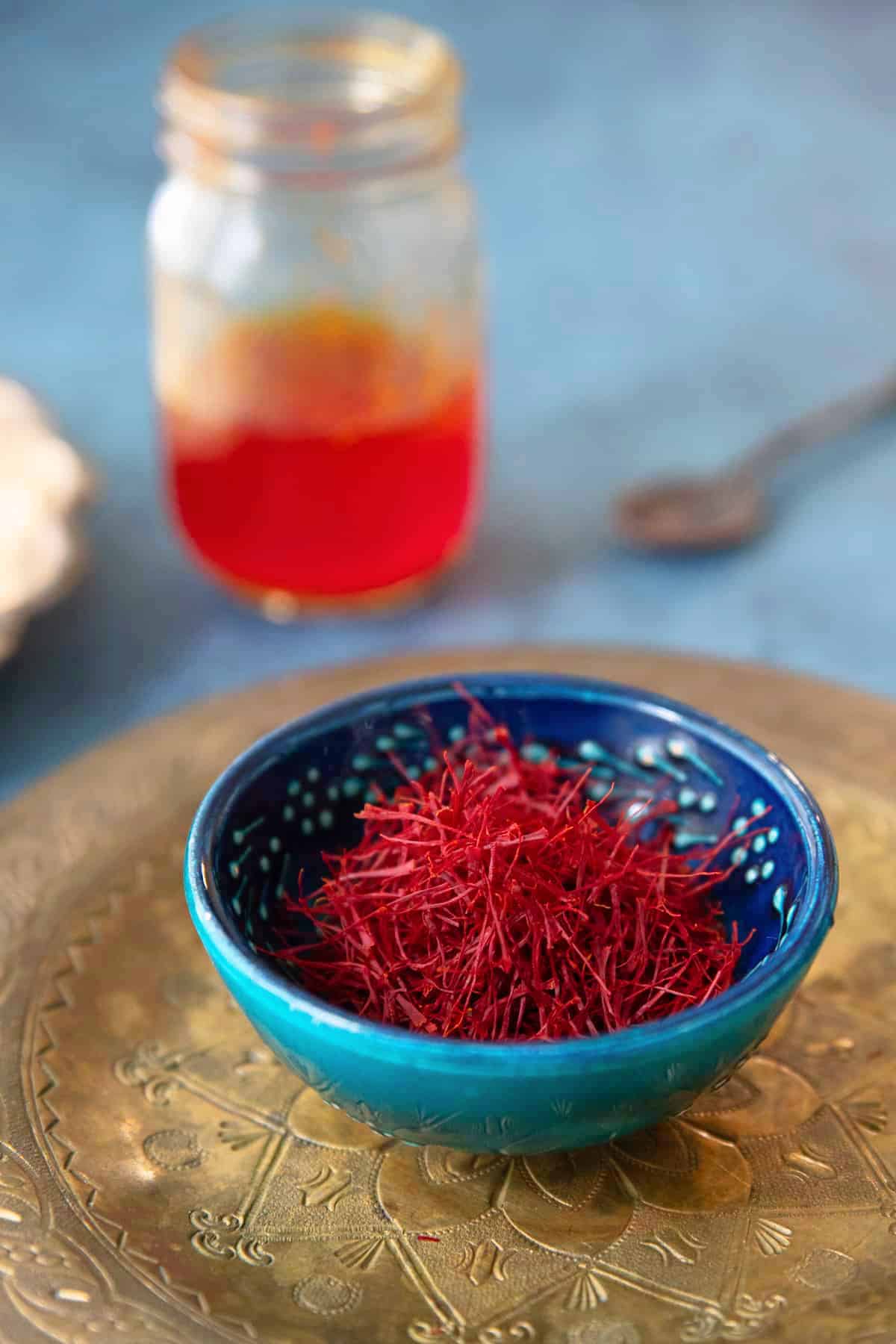 Saffron is one of the must-have items in your Persian pantry and is used regularly in Persian recipes such as saffron rice, saffron chicken, sholeh zard (saffron rice pudding), and of course, saffron ice cream. In order to make the most out of this expensive spice, I'm going to show you how to bloom it. My method is easy to follow and results in a golden and aromatic saffron concentrate that you can use in lots of different recipes.
Table Of Contents:
What Is Saffron?
Saffron is a precious spice obtained from the vibrant red stigmas of the Crocus sativus flower. It is known for its rich color, distinct taste, and strong aroma, holding significance in global culinary and cultural practices.
Iran holds the position of a primary producer of top-quality saffron, accounting for 90% of the world's production and making a substantial contribution to the global saffron market.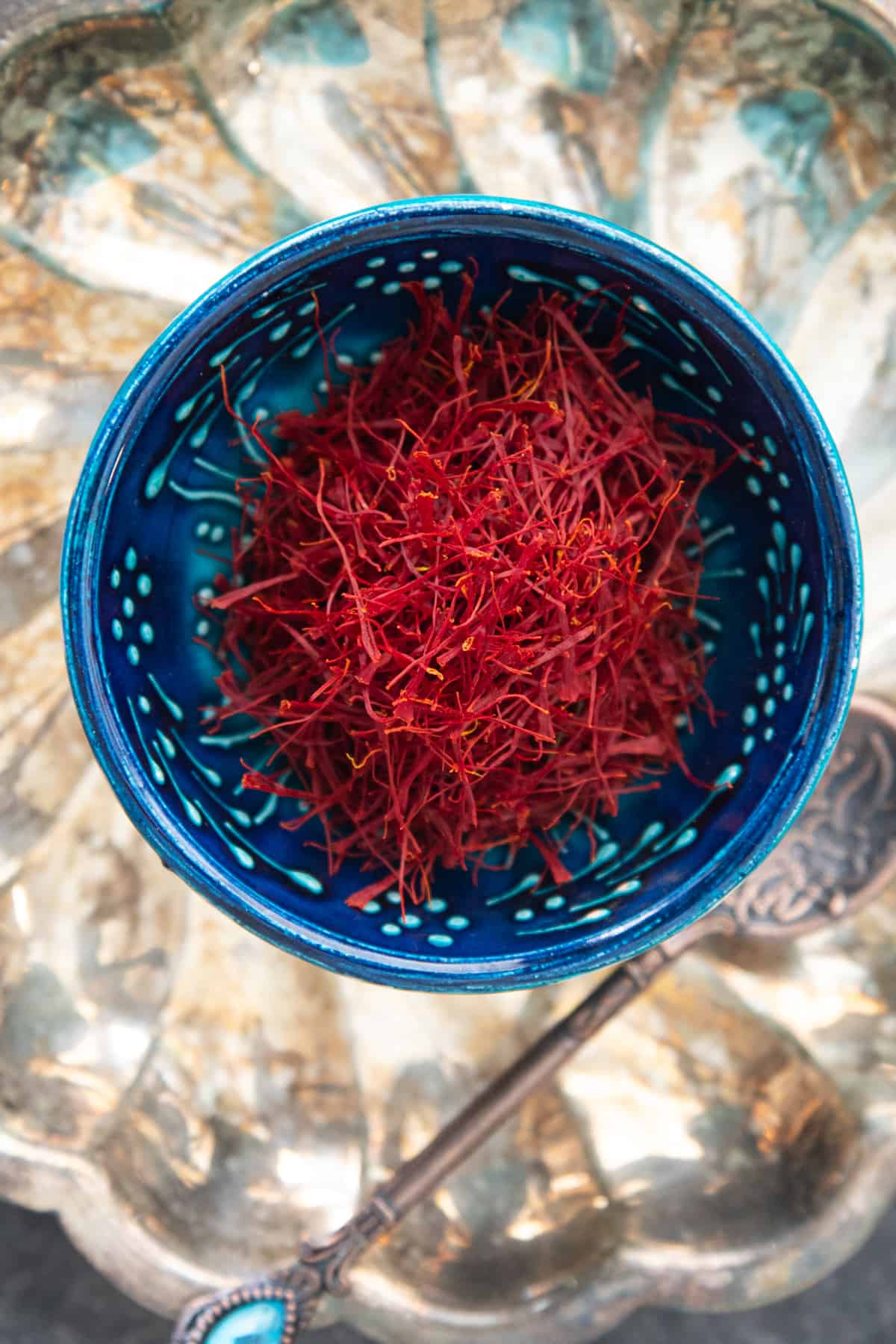 The meticulous harvesting process involves hand-plucking delicate stigmas, which are then dried. This labor-intensive method has earned saffron the nickname "red gold." This spice is usually sold in small quantities (1 to 10 grams per container) and you can find them in many Persian, Middle Eastern and Mediterranean stores as well as online.
Why Is Saffron So Expensive?
Harvesting saffron in an extremely labor intensive task. Each saffron flower (known as crocus sativus) produces only 3 stigmas which are the saffron threads we use. The whole process should be done by hand because of the delicacy of the flowers. To make one ounce of saffron, 4000 saffron flowers need to be harvested.
How To Choose Good Saffron
There are a few characteristics to good saffron that you should keep in mind when shopping:
Origin: Make sure the country of origin is Iran, if you can't find Iranian saffron, Spanish would be the next best saffron.
Color: High-quality saffron should have vibrant, deep red stigmas. A strong, intense color indicates the presence of valuable pigments.
Appearance: Saffron threads should be long, thick, and uniform in size. They should be free of any impurities, such as yellow or white parts, which can indicate lower quality or adulteration.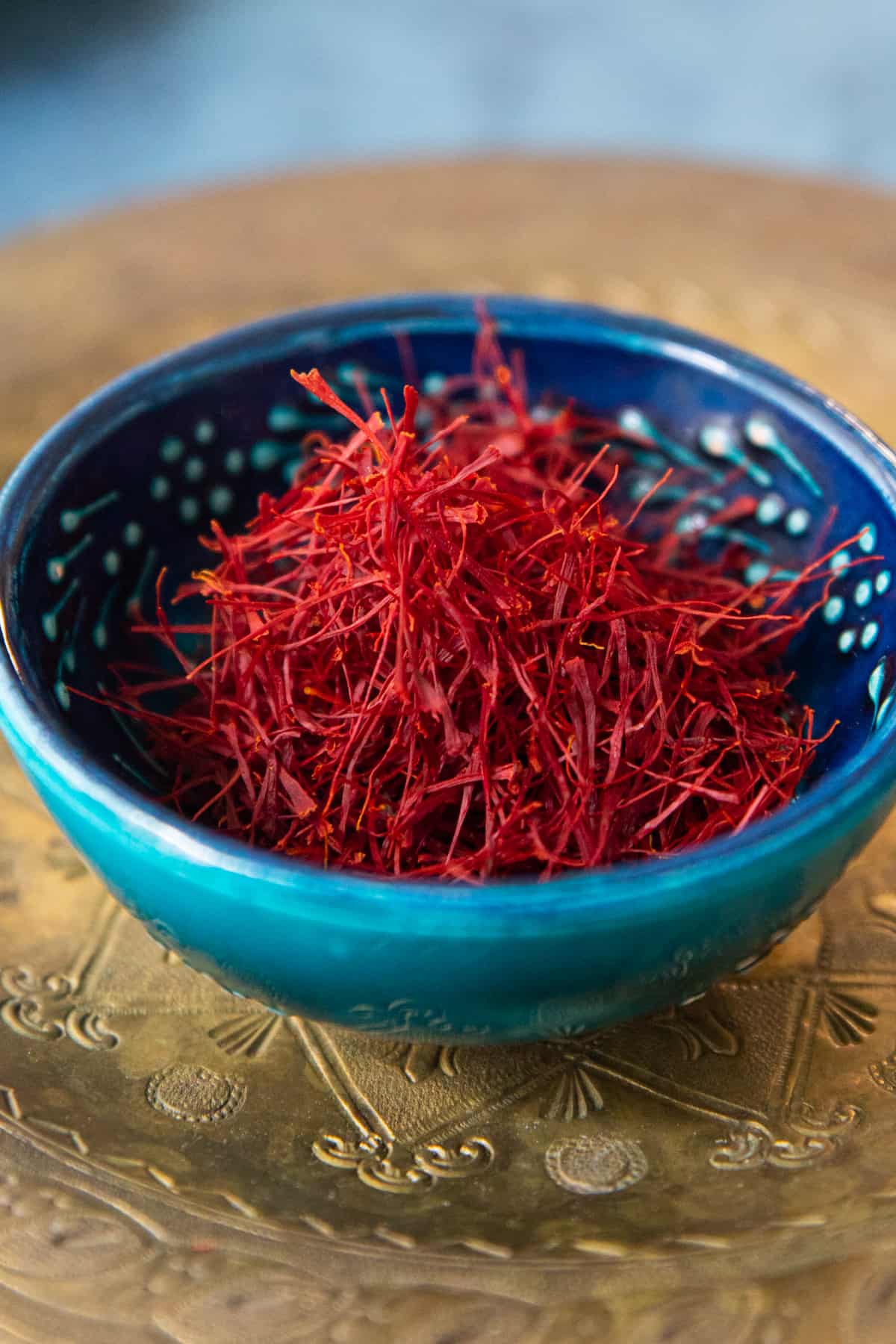 Where To Buy Saffron
As the popularity of this exquisite spice continues to grow, saffron can now be found in nearly every major supermarket. Nevertheless, I highly advise buying saffron from Persian or Middle Eastern stores, as they consistently provide their customers with high-quality options.
Saffron is also available online from different retailers and distributors. Make sure to do your research and read reviews before purchasing.
How To Use Saffron
To enhance the flavor, color and aroma of saffron, you need to bloom it, or as some say, brew it. To do so, you should always use ground saffron and never the threads. The traditional way to grind it is to use a small pestle and mortar.
The way we bloom saffron in my family could be surprising for many. A common approach is to bloom it with hot water, which, in my opinion, shocks the saffron and doesn't give it enough time to bloom well which means it won't have the chance to deliver all its flavor, color and aroma.
To bloom saffron, I sprinkle it on a few ice cubes and let it melt at room temperature. The reason for doing so is to give the saffron enough time to release its color and aroma as the ice melts. This is a no-fail method that I've been using for years and it always results in the best concentrated saffron.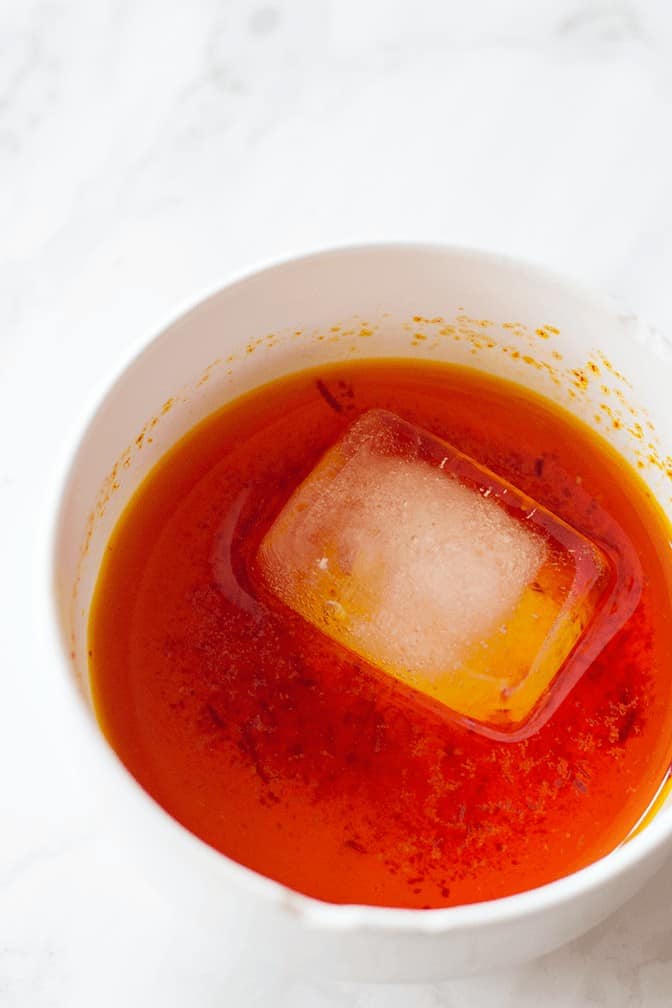 What Can I Make With Saffron?
Persian saffron is my one and only "must have" spice. I grew up in a home where my maman started making food early in the morning and the mesmerizing aroma of saffron always surrounded me, making me run into the kitchen while hypnotized by the gorgeous show of ingredients, aromas and my maman's magical hands and all the love that held us together.
There is so much you can make with just a little bit of bloomed saffron. Here are a few of our favorite savory and sweet recipes using saffron: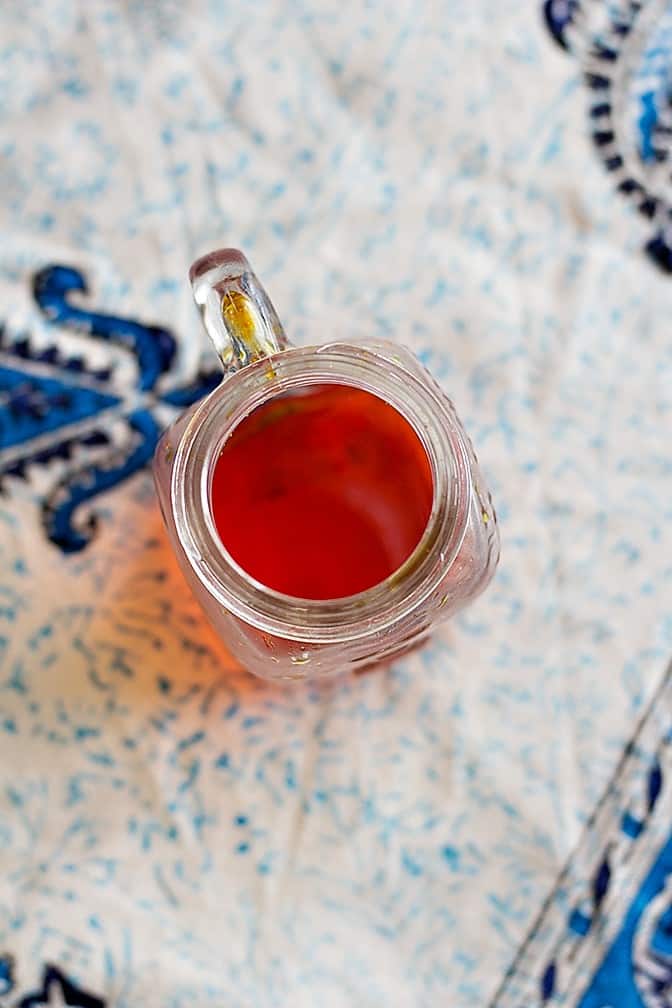 Frequently Asked Questions
Why is saffron so expensive?
Saffron's flavor profile is distinctive, offering a delicate balance of floral and earthy notes, creating a complex and luxurious taste.
How to store saffron?
Store saffron in a cool, dry and dark place. Make sure there is no moisture. You can keep saffron up to 2 years if stored properly.
How long can I keep the saffron concentrate?
You can keep bloomed saffron in the fridge for up to 3 days. It's best to use it by day 3, otherwise it'll start losing its flavor and aroma.
What can I use instead of saffron in a recipe?
Saffron cannot be substituted with any other spice because of its unique flavor profile. Therefore it's best to invest in a small container and use it as recommended.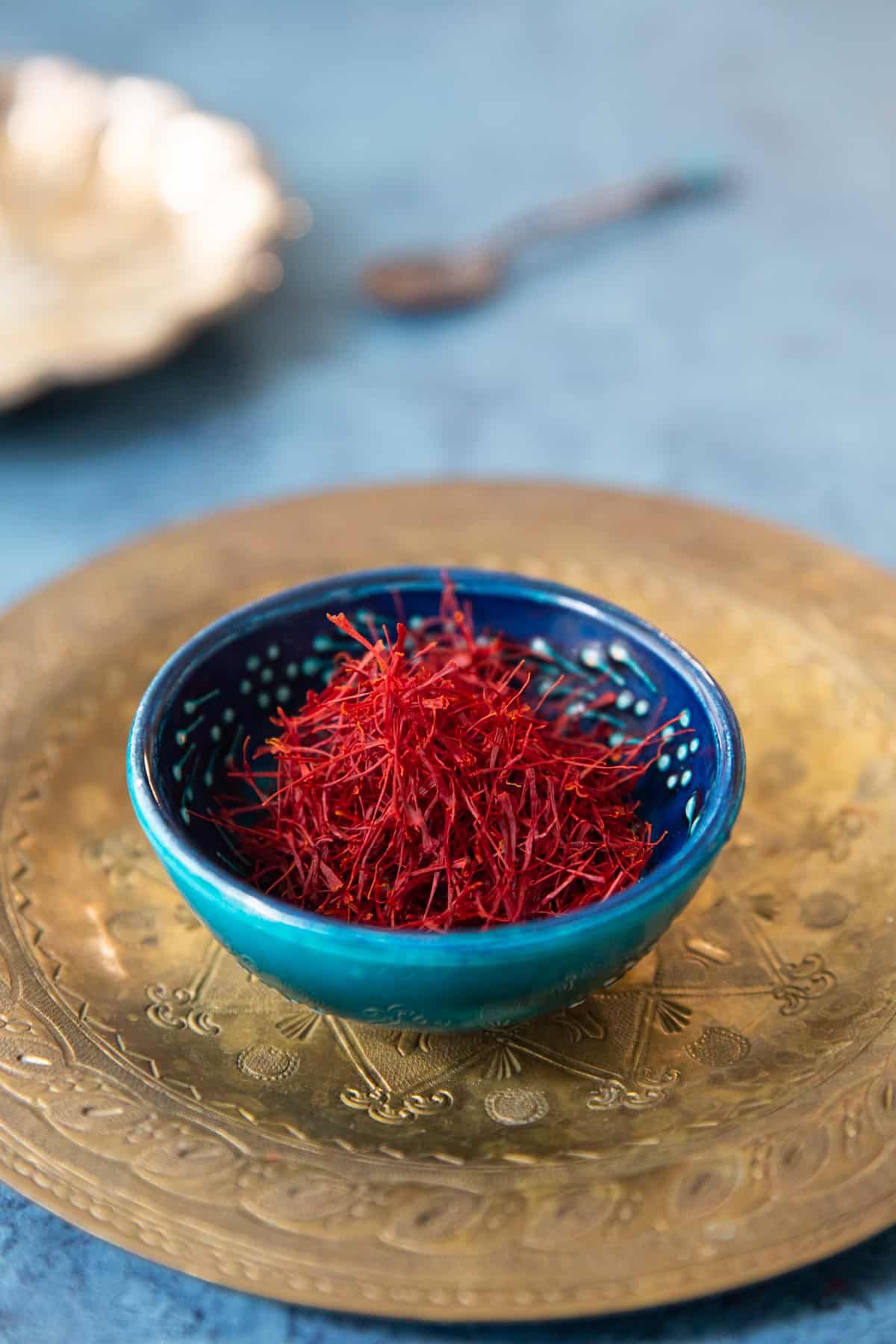 More Recipes Using Saffron
Did you make this recipe? I'd love to hear about it! Please comment and leave a 5-star🌟 rating below. You can also follow us on Instagram, Facebook, Pinterest or subscribe to our newsletter to get a free e-Cookbook!
Step-by-Step Recipe
How To Bloom Saffron
Learn how to bloom saffron in 20 minutes. This no fail technique lets you get the most out of saffron and use it in numerous recipes.
Ingredients
¼

teaspoon

ground saffron

never use the threads without grinding them

2

ice cubes
Instructions
Place the ice cubes in a small bowl or jar. Sprinkle ground saffron on top of the ice cubes and let it sit in room temperature until the ice is fully melted.

Use immediately or cover the bowl or jar and keep it in the fridge for up to a week.
Notes
You can use saffron in different recipes such as saffron chicken, saffron rice or saffron ice cream.
Saffron is usually available in strands, you can use a small pestle and mortar to ground saffron.
It's advised not to use saffron during pregnancy. Please consult with your doctor before consuming saffron if you're pregnant.
Nutrition
Serving:
1
g
Calories:
1
kcal
Carbohydrates:
1
g
Sodium:
1
mg
Potassium:
1
mg
Vitamin A:
1
IU
Vitamin C:
1
mg
Calcium:
1
mg
Did you make this recipe?
Let us know how it was by leaving a comment and a 5-star review!