Here you can find the best Mediterranean recipes made with fresh and real ingredients. Mediterranean diet offers healthy recipes that are easy to make and are packed with flavor.
The Mediterranean diet is known for its healthiness. It's based on the healthy lifestyles practiced by residents of the countries surrounding the Mediterranean sea. Mediterranean cuisine offers plenty of recipes that are made with vegetables, legumes (including beans and chickpeas), whole grains and, of course, extra virgin olive oil. Herbs and nuts also maintain a serious presence in this healthy lifestyle. Fish, seafood and poultry are consumed once to twice a week and red meat is used occasionally.
Top Mediterranean Recipes
Here I have gathered 15 top Mediterranean recipes that you can make at home. These are simple recipes, yet each is packed with delicious Mediterranean flavors. Each recipe comes with complete step-by-step instructions and ingredient lists and most of them also have a video tutorial!
If you're looking for a delicious Mediterranean soup, this green lentil soup is the answer. Flavored with spices such as cumin and paprika, this soup is definitely a fan favorite.
Mezze platters are a common part of in-home entertaining throughout the Mediterranean. It's one of those Mediterranean recipes that you will make over and over again.
This simple sheet pan chicken with Mediterranean flavors such as lemon and oregano is the perfect dinner for busy nights. With just a few ingredients, you can have dinner on the table in no time!
Simit is the most popular bread in Turkey. A sesame crusted ring that is soft inside and is usually served with cheese. Making simit at home is easier than what you think and could be a fun weekend project.
This is our go-to salad because it's simple, yet absolutely tasty and fresh. You can serve it as a side dish for many Mediterranean dishes. This simple salad is a delicious alternative to your usual salads.
A Greek classic, this eggplant moussaka is a labor of love. It takes some time to put it together but much of the work can be done ahead of time to make the process smoother.
Vegetables are an essential component of Mediterranean cooking and these roasted vegetables are a great way to add them to your meals. You can have them as a side dish or even appetizer with some homemade tzatziki.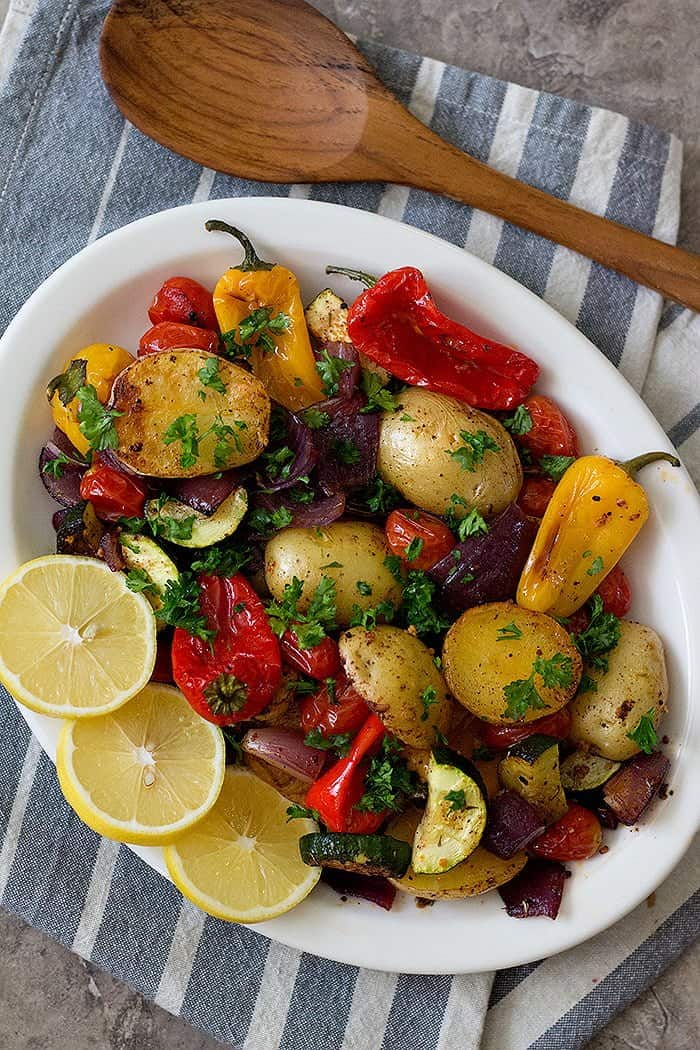 Fire up the grill and make these kofta kebabs in no time! These koftas are packed with spices and herbs, perfect with some green salad and yogurt.
This easy Italian side dish is perfect with some crusty bread. If you have doubts about cooking with eggplant, you'll start loving it after you make this recipe.
Salmon is so versatile and this Mediterranean salmon recipe is definitely on top of our list. If you are looking for a quick recipe that's fancy enough for a date night as well, you've got to try this recipe!
Cooking bulgur is very common in the Mediterranean region, especially in Turkey. This is the traditional Turkish bulgur pilaf recipe that's simple yet so delicious. You can serve this dish with chicken or beef.
You can make your favorite chicken wrap at home! This is an easy Mediterraean chicken wrap recipe that's so simple to make. Stuff your wrap with some tahini sauce and cucumber tomato salad for more flavor!
Are you looking for a delicious Mediterranean vegetarian recipe? This Lebanse lentil rice is one of our popular recipes. It's packed with so much flavor thanks to caramelized onion and spices!
With a delicious and healthy combination of veggies and mozzarella cheese, this pizza is a fun twist on an Italian classic.
One of the most popular Mediterranean salads, fattoush is a simple combination of fresh vegetables with crispy pita and a fabulous dressing. Trust me, the flavors are bright and delicious!