Vanilla milkshake is probably the most-loved milkshake in the world. Learn how to make the best homemade vanilla milkshake that's rich and creamy in 5 minutes.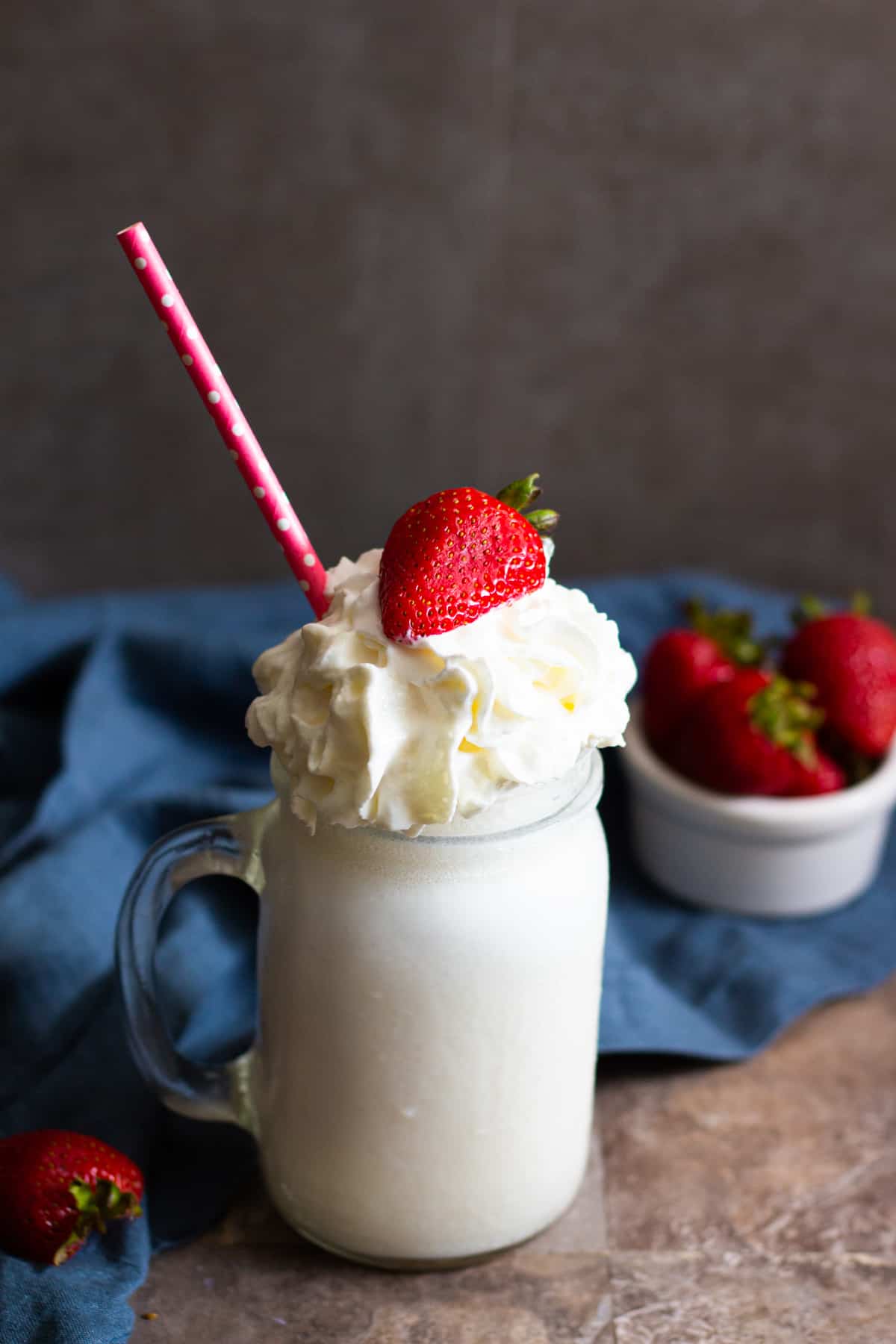 You know we love our milkshake recipes, from mango milkshake to chocolate milkshake, coconut milkshake and everything in between, we always have time and appetite for delicious milkshakes. This classic vanilla milkshake is one that we love because it's so simple and always tastes excellent. Creamy and delicious, this vanilla milkshake is anything but basic! Make sure to check out my complete tutorial on how to make a milkshake to learn everything about this delicious treat!
Table Of Contents:
Why this recipe works
When it comes to milkshakes, we all have our own favorites but I bet there's no one out there who would say no to a classic vanilla milkshake topped with heaps of whipped cream and a strawberry. This milkshake is so good and creamy, and it's very easy to make.
If you own a blender and love ice cream, you can make any milkshake at home. It takes less than 2 minutes to make a killer milkshake and it would save you a lot of time and money compared to getting one at the store around the corner. Plus, you can get all creative with additional ingredients and flavors.
Today's simple and easy milkshake is indeed a classic. Made with only three ingredients, this is a simple summer treat that both adults and kids love. Keep reading for more information about how to make the best milkshake at home.
Tips to make a good milkshake
Keep the glasses cold: To do so, place the clean glasses in the freezer for 10 minutes. Once you pour the milkshake into the glasses, they would make it even colder and tastier. Try not to skip this step when making a milkshake at home.
Use the good stuff: Milkshake is an indulgent treat. It's best to use whole milk and full fat ice cream so you can get that rich and creamy texture.
Serve immediately: You need to serve the milkshake right away, therefore it's best to make it when you're ready to serve.
Ingredients and substitutions
Ice cream: I prefer using vanilla bean ice cream for more flavor. The specks of vanilla you see in the ice cream, that's where all the flavor is. You can also use regular vanilla ice cream.
Milk: Using cold whole milk helps make the milkshake creamy. I don't recommend using 1% or skim milk for this recipe.
Vanilla extract: This is an optional and extra step but using a high quality vanilla extract gives a bold flavor to the vanilla shake. Check out this article to learn more about vanilla and how to store it.
Sometimes, I use a cup of ice in my milkshake as well to make it frothy. This is not a necessary ingredient and you can absolutely skip it.
How to make vanilla milkshake
Place the milkshake glasses in the freezer for about 10 minutes.
Make sure the ice cream is frozen cold. The colder the ice cream, the creamier and thicker the vanilla milkshake will be.
Place the ice cream, milk and vanilla extract in a blender and blend for twenty to thirty seconds until the shake is ready and creamy.
Pour into chilled glasses, top with whipped cream if desired and serve immediately.
Variations
You can add some interesting ingredients to make this classic vanilla milkshake differently every time:
Add a chocolate chip cookie to the rest of the ingredients and blend everything together for a chocolate chip cookie milkshake.
Sprinkles will give you a birthday cake milkshake!
Some chocolate syrup inside the glass to make marble milkshake.
How to serve
For a classic vanilla milkshake you can top it with some whipped cream. You can also add different toppings such as a cookie straw or berries. A dash of cinnamon would give a nice flavor to the milkshake. Or, you can be more adventurous and top the vanilla milkshake with an actual cookie!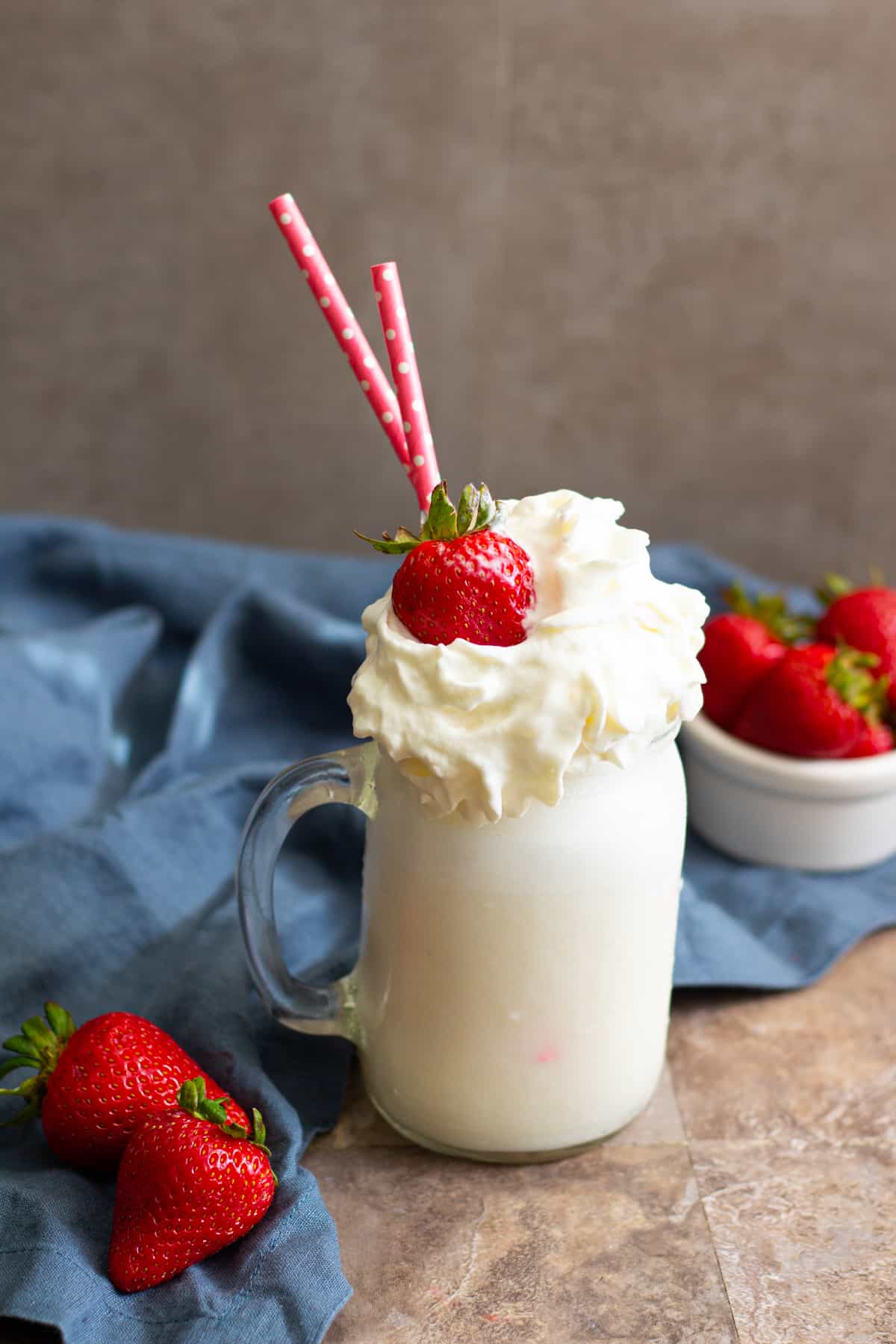 Frequently Asked Questions
How do you make a vanilla milkshake without ice cream?
You can simply use vanilla frozen yogurt or dairy free frozen dessert instead of ice cream. And, if you like your milkshake on the thick side, add a cup of ice to your blender and pulse four or five times.
Can I use dairy free ice cream and milk?
Yes , you can use dairy free ice cream and milk such as almond, cashew or oat milk. The texture might change a bit, but it'll still be delicious.
How to make a healthy vanilla milkshake?
To make a healthier version, use frozen yogurt and low fat ice cream and 1% milk. The milkshake will probably be less thick and creamy.
How to make the milkshake even creamier?
Use half whole milk and half heavy cream or half and half to make your milkshake super creamy and thick.
More milkshake recipes
Did you make this recipe? I'd love to hear about it! Please comment and leave a 5-star🌟 rating below. You can also follow us on Instagram, Facebook, Pinterest or subscribe to our newsletter to get a free e-Cookbook!
Step-by-Step Recipe
Classic Vanilla Milkshake
Vanilla milkshake is probably the most-loved milkshake in the world. Learn how to make the best homemade vanilla milkshake that's rich and creamy in 5 minutes.
Ingredients
1 ½

cup

vanilla ice cream

1

cup

whole milk

½

teaspoon

vanilla extract

whipped cream

(optional)
Instructions
Place the milkshake glasses in the freezer for up to 10 minutes.

Make sure vanilla ice cream and milk are completely cold.

Place the cold vanilla ice cream and whole milk in the blender.

Blend for 20 to 30 seconds.

Divide between two very cold glasses. Top with whipped cream and serve immediately.
Notes
For a creamy milkshake, make sure you use full fat ice cream and whole milk.
For a thicker milkshake, add 1 cup of ice to the ingredients in the blender. If doing so, serve the milkshake immediately.
To make this recipe a bit healthier, use frozen yogurt instead of ice cream.
For dairy free vanilla milkshake, use dairy free ice cream and milk such as almond, cashew or oat milk.
Nutrition
Calories:
282
kcal
Carbohydrates:
29
g
Protein:
7
g
Fat:
15
g
Saturated Fat:
9
g
Polyunsaturated Fat:
1
g
Monounsaturated Fat:
4
g
Cholesterol:
56
mg
Sodium:
132
mg
Potassium:
360
mg
Fiber:
1
g
Sugar:
27
g
Vitamin A:
614
IU
Vitamin C:
1
mg
Calcium:
265
mg
Iron:
1
mg
Did you make this recipe?
Let us know how it was by leaving a comment and a 5-star review!