Grilled cheese chicken Parmesan sandwich is the best of both worlds! Delicious chicken smothered in tomato sauce, pressed between two slices of bread with a lot of cheese!
A big warm sandwich can turn a bad day into a good day. Some of our popular sandwich recipes are avocado caprese sandwich, Greek avocado egg sandwich and Hawaiian chicken sandwich. Today we have a combination of two favorite sandwiches: grilled cheese + chicken parmesan!
What goes into this sandwich?
A delicious chicken parmesan sandwich is made with breaded chicken smothered in a delicious tomato sauce and nestled between two pieces of buttered and toasted bread. This grilled cheese chicken parmesan sandwich also has a layer of creamy mozzarella cheese for extra comfort and flavor. We love this sandwich so much and I bet you will, too!
How to make grilled cheese chicken parmesan sandwich
Prepare the chicken first. I used frozen grilled chicken strips so all I needed to do was thawing them in the pan. You can simply grill some chicken or bake chicken breasts at 400F for 25 minutes and then slice them. Butter one side of the sandwich breads and place them buttered side down on the panini press or a pan over medium heat. Spread some marinara sauce on the bread and top with shredded mozzarella. Top with sliced grilled chicken breast and top with more cheese and marinara.
Place the other piece of bread on the sandwich, buttered side up. Cook for a few minutes until the cheese starts to melt. Flip and grill the other side as well. Serve warm.
What to serve with chicken parmesan sandwich?
This sandwich is an absolute favorite of ours and we usually have it as a quick lunch or dinner. It's best when it's served with a salad such as cucumber tomato avocado salad or a light Greek salad since these fresh salads compliment the sandwich pretty well.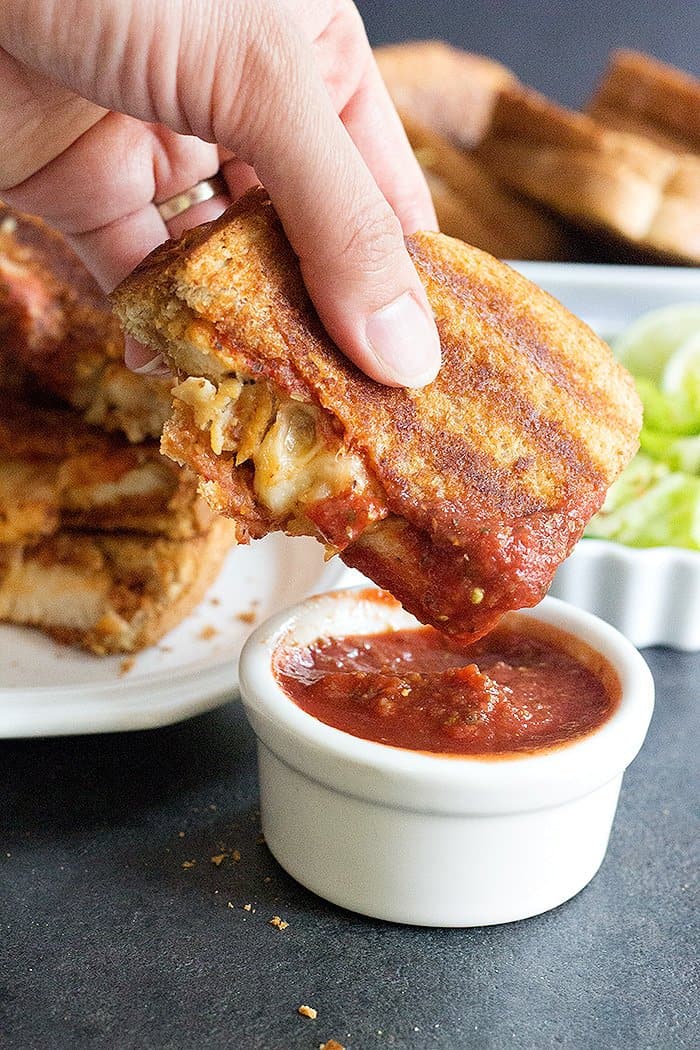 Looking for more recipes?
Notes and tips to make chicken Parmesan grilled cheese:
You can use homemade or store bought marinara sauce, or any tomato based sauce of your choice. My recommendation is homemade marinara.

Choose the bread based on your family's preference. I normally use French bread or whole grain.

To make this recipe even easier, make the sandwich in a panini press or a waffle maker.

You can use either sliced or shredded mozzarella.

Fresh Parmesan cheese would make a huge difference.
WP Recipe Maker #4016

remove

Chicken Parmesan Grilled Cheese Sandwich

Chicken Parmesan Grilled Cheese Sandwich is the best of both worlds! Delicious chicken smothered in tomato sauce, pressed between two slices of bread with a lot of cheese!

Course: Main Course

Cuisine: American

Keyword: chicken parmesan sandwich, grilled chicken parmesan sandwich

Prep Time: 10m

Cook Time: 10m

Total Time: 20m

Servings: 4

Author: Shadi HasanzadeNemati

- 8 slices Sandwich bread

- 1 stick Unsalted butter

- 1 cup Marinara sauce

You can use homemade or store bought

- 1 pack Tyson® Grilled & Ready® Frozen Chicken Strips

- 1 cup Mozzarella cheese

- ½ cup Parmesan cheese

1) Butter one side of each bread slice, set aside.

2) Thaw Tyson® Grilled & Ready® Frozen Chicken strips according to the package (either stove top or microwave)

3) Place one piece of bread, butter side down, on a grilling pan or a panini press.

4) Spread marinara sauce on the bread.

5) Top with mozzarella cheese.

6) Place 2-3 Tyson® Grilled & Ready® Frozen Chicken strips on mozzarella cheese.

7) Top with parmesan and mozzarella cheese.

8) Spread some more marinara sauce.

9) Place another buttered slice of bread on the sauce, butter side up.

10) Turn the heat one, once one side is golden brown, flip and cook the other side until the cheese is melted.

11) Repeat with the remaining ingredients.

12) Serve warm.

calories 180