Enjoy a warm bowl of one pan jambalaya pasta any day of the year. This dish is full of flavors and takes less than an hour to prepare. It's the perfect comfort food for a family weeknight dinner.
As you know, we do like pasta a lot. Some of our favorites are one pan chicken parmesan pasta, easy spicy shrimp marinara linguine and mushroom pesto penne. One pan jambalaya pasta brings together lots of tasty ingredients and is simple enough for a weeknight dinner.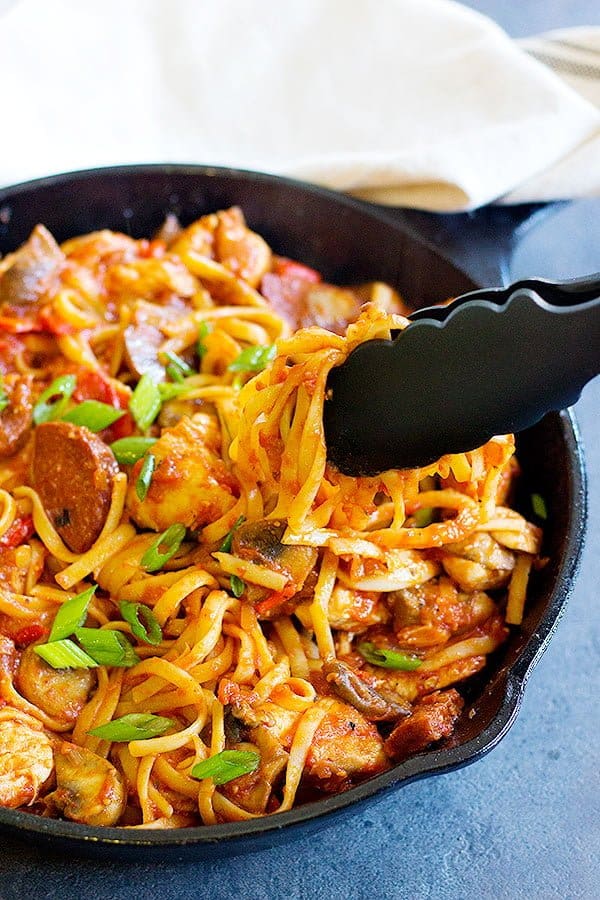 Spicy Pasta made in one pan
I always think of Cajun and southern food as family food, that is, food that's made with family for family. Even in restaurants, I've noticed that these cuisines are served family style, which means ten to twenty people who probably don't know each other sit around one table and eat together, experiencing the amazing joy of sharing food.
This easy jambalaya pasta is a recipe that I tested and developed when we had just come back from our annual southern trip (yes, that's a thing we do) and I'm very excited to share it with you. We love one pot dishes both for ease of cooking and to cut down on the number of dishes we have to clean afterwards!
Why this pasta recipe works
It's such an easy recipe that's made in one pan which means the pasta and other ingredients are going to be cooked in the same pan. What I love the most about this jambalaya pasta is that it's so easy to modify and adjust it to your taste and preference. Say, if you don't like bell peppers, you can just leave them out. If you want more Cajun flavoring, you can add more Cajun seasoning to the dish.
The same goes for the protein: you can easily leave the chicken out and use shrimp instead or just simply use both. It's going to be amazingly delicious!
Interested in making your own Cajun seasoning? Check out The Flavor Bender's Cajun Seasoning Recipe.
Let me tell you about this Cajun jambalaya pasta recipe. See, I love Cajun, Creole and southern food. It has so much flavor so much love in it that with every bite, you can hear the talking and laughter of people who were in the kitchen somewhere years and years ago when this dish was perfected. Isn't that magical?
How to make jambalaya pasta
Start with sauteing onions and peppers in a cast iron skillet over medium high heat. I love using a cast iron skillet for this recipe because it makes the dish taste so much better.
Once the onions are translucent and the peppers are shimmery, add in cubes chicken breast and and Cajun seasoning. Saute until the chicken pieces are golden brown on all sides.
Add the sliced Andouille sausage (I used chicken Andouille sausage).
Next, add in tomato sauce and tomato paste, linguine and some water or chicken stock.
Cover and cook until the linguine is cooked through, mix everything using tongs and that's it!
Easy, tasty and full of good ingredients!
This recipe makes me remember my family so much, perhaps simply because southern cuisine is so based on family and sharing food.
Creamy jambalaya pasta
To make creamy jambalaya pasta, or, as some call it, pastalaya, add ½ cup heavy cream to the pot once you add one cup of water. Add more water if needed.
Looking for more tasty recipes?
Notes and tips for this jambalaya pasta recipe
You can use any kind of pasta to make this dish. Cooking time and the amount of water used may vary.
I prefer fresh onions and peppers but you can totally use frozen if that's what you have at hand.
If you would like to use shrimp, add some to the pasta before you add the tomato sauce.
For more flavor, add chopped celery to onion and pepper.
If you like cheesy pasta, add ½ cup shredded cheddar before serving and let it melt on the pasta.
For a spicier jambalaya pasta, add two teaspoons of Cajun seasoning.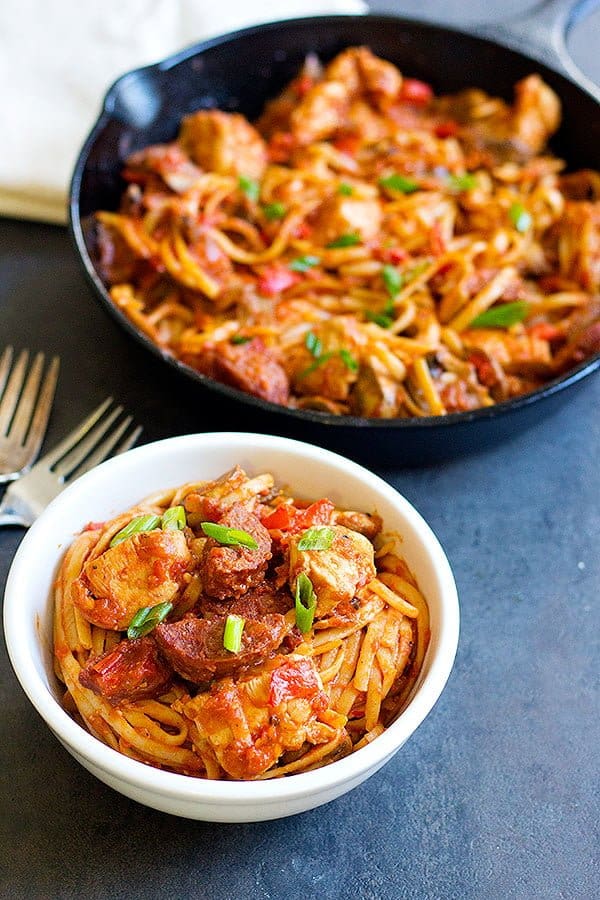 Step-by-Step Recipe
One Pan Jambalaya Pasta
Have a warm bowl of One Pan Jambalaya Pasta any day of the year - this dish is full of flavors and takes less than an hour to come together. Perfect comfort food!
Ingredients
2

tablespoon

vegetable oil

1

onion

minced

1

red or green bell pepper

diced

1

chicken breast

cut into small pieces

1

teaspoon

cajun seasoning

more if you like it spicier

1

teaspoon

salt

1

cup

cut spicy sausage

1

can tomato sauce

1

tablespoon

tomato paste

8

oz

linguine

1 - 1 ½

cup

water

more if needed
Instructions
Heat oil in a large pan over medium heat, saute onion until translucent.

Add in bell pepper and cook for 2-3 minutes.

Add in chicken breast. Cook about 10 minutes until all sides are golden brown.

Season with cajun seasoning and salt, add spicy sausage and mix.

Add in tomato sauce and tomato paste. Stir to combine.

Add in linguine and water, cover and cook for about 15-20 minutes until the pasta is cooked through, mix everything using tongs.

Serve warm.
Nutrition
Did you make this recipe?
Let us know how it was by leaving a comment and a 5-star review!