This caprese pasta salad is made with a few ingredients. Made with fresh mozzarella cheese and juicy tomatoes, this pasta salad makes a tasty meal. Learn how to make this recipe with our step-by-step video tutorial.
Pasta salads are the perfect side dish for summer. Some of our favorites are creamy shrimp pasta salad and tortellini pasta salad. This caprese pasta salad is such an easy recipe that you can make in no time and is perfect for any party or gathering.
When it comes to parties, a pasta salad is always a good idea. It can be made with many different ingredients and you can add different proteins and vegetables to it to make it tastier. As for the dressing and flavor, anything from a basic lemon and olive oil vinaigrette to balsamic or even pesto would work well.
The best caprese pasta salad
There are a few reasons why I call this the best caprese pasta salad out there
It's very easy to make.
The recipe calls for just five ingredients.
You can make it ahead of time and serve it later.
It's vegetarian-friendly and easily modified to other preferences.
What does caprese mean?
Caprese is a popular Italian salad made with mozzarella, tomatoes and basil with some olive oil, salt and pepper. This combination is so refreshing and can be made into different recipes such as caprese stuffed chicken breast, avocado caprese sandwich and caprese gnocchi which are easy dinner recipes perfect for a family weeknight dinner.
Caprese pasta salad ingredients
To make this recipe, you need the following ingredients:
Pasta - I used bow tie pasta, but you can use any other type such as rotini, macaroni or orecchiette pasta.
Tomatoes - Grape or cherry tomatoes work perfect for this recipe.
Fresh basil
Fresh mozzarella - You can either use mini mozzarella balls (bocconcini) or cut large mozzarella slices into small pieces.
Olive oil
Garlic
Pesto - Homemade or store bought would work.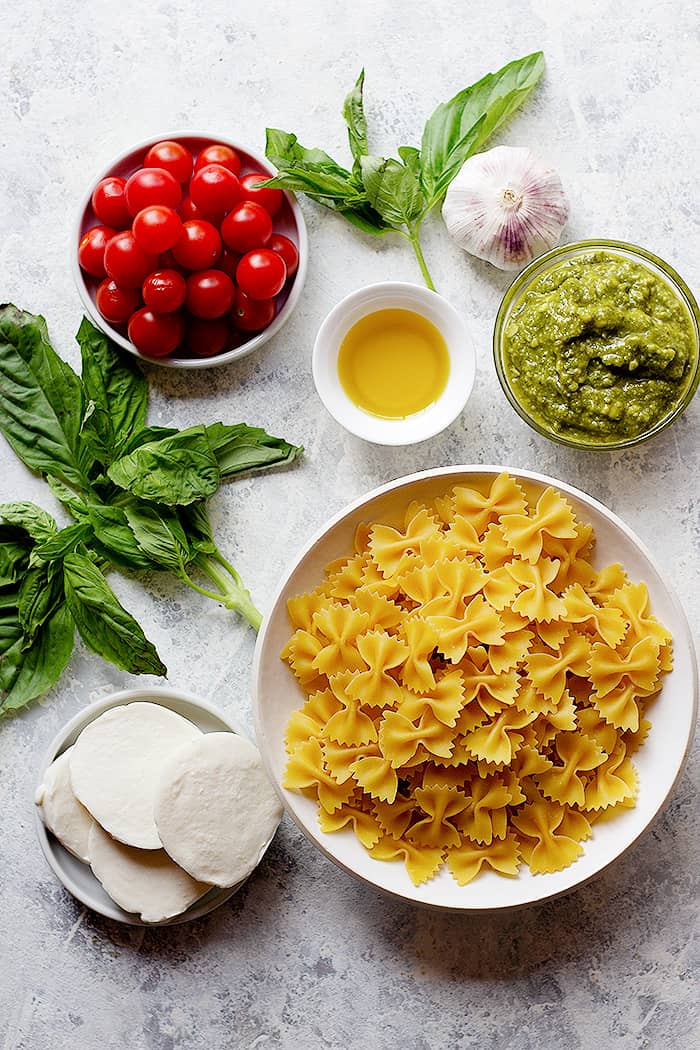 How to make caprese pasta salad
Make the pasta according to the packaging in salted water. Drain and let it cool completely. Place them in a large bowl.
Slice the mozzarella into 1-inch pieces and add it the bowl.
Cut the tomatoes in half and add them to the pasta.
Chop fresh basil and add it to pasta, tomato and mozzarella.
Add the olive oil, garlic and pesto to the salad. Mix well so all the ingredients are combined.
Cover and refrigerate for 30 minutes. Serve cold.
Pro tip: It's best to wait until the last minute to chop and add the basil since it browns easily.
Can I make pasta salad ahead of time?
It's possible to make this recipe ahead of time. I suggest you add the tomatoes at the very last minute before serving to prevent them from getting watery. But beside that, you can make the rest of the salad easily beforehand.
A little note: Add a couple tablespoons of olive oil and a dash of salt and pepper to refresh the salad before serving.
What to serve caprese pasta salad with
Cold pasta salad recipes like this one are perfect for summer barbecue parties. You can serve this caprese pasta salad with any kind of barbecued meat such as chicken shish kabob and shrimp kabobs. This is also a delicious vegetarian pasta salad for your friends who don't eat meat.
Want to jazz things up in this pasta caprese salad?
You can add the following ingredients to this basic Italian pasta salad for more flavor, or you can easily mix and match!
Chicken: add grilled chicken to this pasta salad to make it a full, delicious meal.
Spinach: Caprese pasta salad with spinach is one of our favorite alternatives.
Avocado: have a creamy pasta salad by adding chunks of avocado to this recipe.
Sun dried tomato: Fresh tomatoes are always delicious, but you can give this salad a kick by adding sun dried tomatoes, especially when fresh ones are not in season.
Shrimp: cooked or grilled shrimp goes so well with the rest of the ingredients in this caprese pasta salad.
Veggies: bell peppers, olives and peas add a little bit more flavor and texture to this summer pasta salad.
A few tips to make this recipe
Rinse the cooked pasta with cold water to stop the cooking process, and drizzle some olive oil on the pasta and stir it to prevent it from sticking together.
To make Caprse pasta salad with balsamic vinaigrette, swap basil pesto for a balsamic vinaigrette made with balsamic glaze, olive oil and a dash of salt.
You can use homemade basil oil instead of pesto for this recipe.
Making caprese pasta salad for a crowd? Simply double or triple this recipe and taste as you go to make sure it has enough seasoning.
To make a good pasta salad, always use fresh ingredients. Make sure your caprese pasta salad has enough dressing and if you feel it's a bit dry, add a couple tablespoons of olive oil.
Caprese Pasta Salad
Caprese pasta salad is a basic Italian pasta salad made with basil, tomatoes and pesto. It's the best pasta salad for summer parties and gatherings. This Italian pasta salad recipe uses just a few ingredients and is ready in no time.

Ingredients
1

lb

bow tie pasta

1 ½

cups

fresh mozzarella

cut into 1-inch pieces

2

cup

Cherry tomatoes

cut in halves

1

cup

fresh basil

¼

cup

olive oil

3

cloves

garlic

minced

½

cup

basil pesto

homemade or store bought
Instructions
Cook bow tie pasta according to the packaging. Rinse with cold water and drizzle with a little olive oil. Stir well to prevent sticking. Place the cooked pasta in a large bowl.

Add the mozzarella and tomatoes to the pasta.

Chop the basil leaves and add them to the pasta salad.

Mix the ingredients gently using a spoon.

Add the olive oil, garlic and pesto to the salad. Mix well.

Refrigerate for 30 minutes. Serve cold.
Notes
You can use any kind of pasta you have at hand such as penne, rigatoni, or macaroni.
You can add more or less mozzarella. You can also use mozzarella pearls for this recipe.
Add more pesto if you like your caprese pasta salad to have a stronger flavor.
Leave out pesto and add balsamic vinaigrette (balsamic glaze, olive oil, salt and pepper) if you're not a pesto fan.
Add a couple of tablespoons olive oil to the salad if it looks dry.
Nutrition
Did you make this recipe?
Let us know how it was by leaving a comment and a 5-star review!