Baked salmon in foil perfect for a weeknight dinner. This easy salmon recipe is ready in 25 minutes and is so delicious!
We love our seafood recipes and one of our favorite fish to cook with is salmon. Our salmon recipes are easy and great for any day of the week. From teriyaki pineapple salmon and salmon with olives and capers to grilled salmon shish kabobs and delicious salmon patties, we have something delicious for everyone!
Table Of Contents:
Benefits of salmon
Salmon comes with many benefits, beside being rich in omega-3 fatty acids and high in B vitamins, this fish is also a great source of protein and potassium and may reduce the risk of heart disease.
It's advised by The American Heart Association to eat a variety of fish at least twice a week. Eating oily fish such as salmon or tuna is very good for you and a recipe like this foil packet salmon will help you get your weekly fish serving without any hassle.
Why you'll love this recipe
Perfect dinner: If you're looking for a nutrition packed weeknight dinner, this salmon foil packets are the answer. They're so flavorful thanks to the honey lemon sauce and would make the perfect meal with a simple side dish such as our favorite Mediterranean salad.
Easy clean up: Cooking salmon in foil is a simple way to avoid washing extra dishes since the baking sheet would stay all clean.
Quick to make: With only 5 minutes to prepare, this healthy salmon recipe is perfect for busy days when you want to have dinner on the table in less than 30 minutes. As the salmon is baking in the oven, you can just relax and wait for just a few minutes to have a healthy and tasty dinner at the comfort of your home.
Picking a good salmon
Here are a few things you need to keep in mind when shopping for salmon:
Make sure the flesh of salmon is vibrant in color and doesn't have any brown spots.
It does not matter much whether you get fresh or frozen salmon, however, it's important that you trust your seafood source.
Depending on the recipe you're going to make, choose between fillets or a side of salmon.
It's always best to get wild-caught and sustainable salmon.
Ingredients and substitutions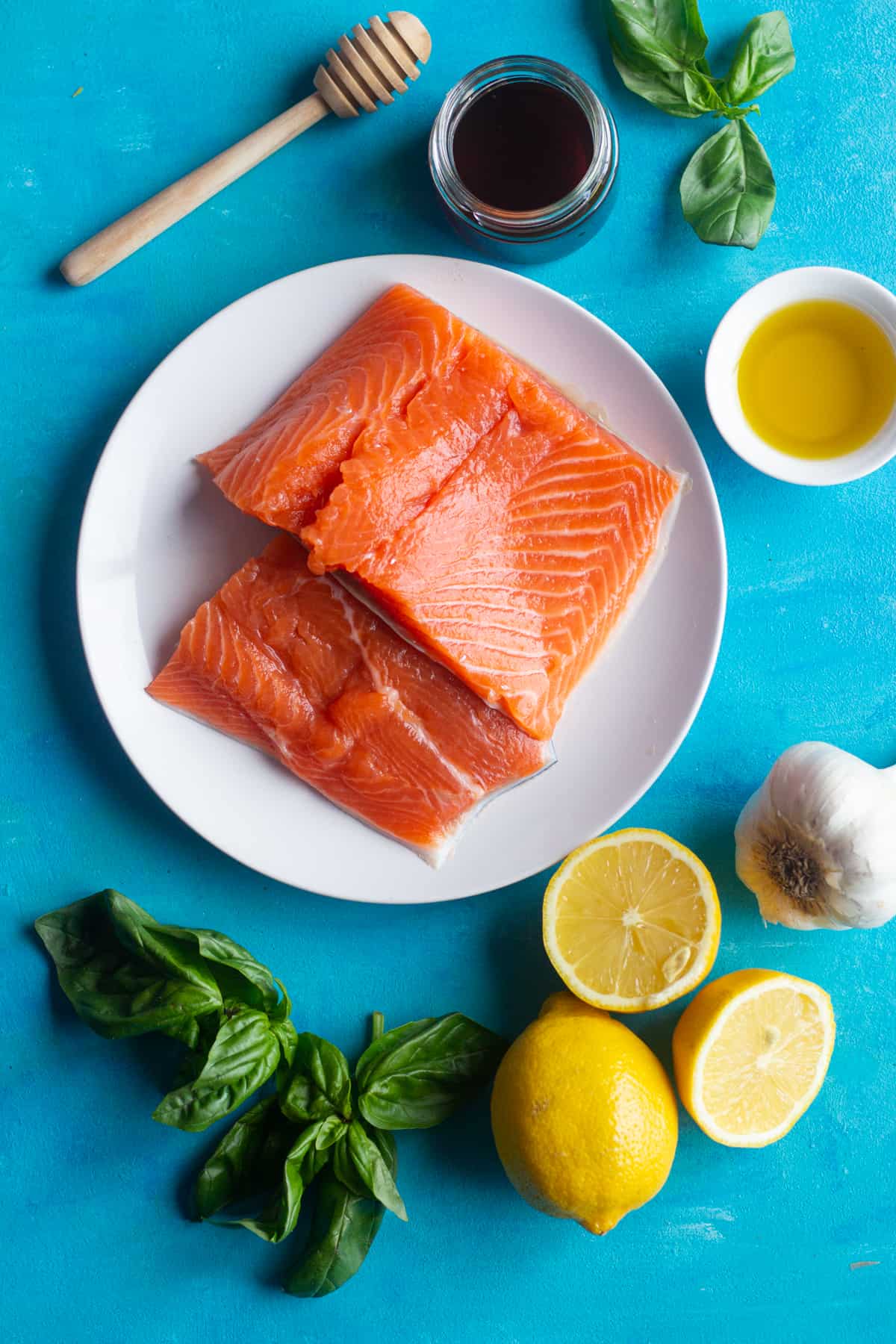 Salmon: This pink and tender fish is perfect for a simple nutritious meal. You can use a side of salmon for this recipe or a few fillets.
Honey and lemon: These would make a delicious sauce that will smother the fish and will give a lot of flavor to it. The acidity of lemon compliments the buttery texture of the salmon and balance the flavor of honey.
Garlic and olive oil: It's best to use freshly minced garlic and not garlic powder. Extra virgin olive oil would add a nice flavor to the dish as well.
Basil and onion: I love adding an herb and some vegetables such as onions to the foil packets to add more flavor. You can use other herbs such as cilantro or rosemary and other vegetables such as tomatoes or leek.
How to make salmon in foil
Preheat the oven to 400°F and place two pieces of aluminum foils on a baking sheet. Slice the onion and divide it between the foils and place the salmon fillets on the onions.
Mix olive oil, lemon juice, garlic and olive oil in a small bowl and brush it all other the salmon. Sprinkle some coarse kosher salt on the fillets with some black pepper. Top with chopped basil if desired.
Wrap the aluminum foils and leave the top a bit open for the steam to escape. Bake salmon packets in the oven until they're nicely done.

Seasoning the salmon
It's important to season your fish at any stage to make sure it's perfectly flavored. I usually season salmon fillets with salt and pepper and then make a sauce like the honey lemon sauce that I used in this baked salmon recipe.
Sometimes you can go as simple as this baked salmon fillet with lemon and use a slice of lemon to flavor the whole fillet. You can also season salmon with dried herbs such as thyme or oregano for more flavor.
Serving suggestions
Oven baked salmon in foil is an easy dinner recipe that goes well with many different side dishes. Here are some suggestions:
Potato side dishes: Mediterranean potato salad, Greek potatoes, Greek baked fries, Turkish potato salad
Rice side dishes: dill rice, herb rice, instant pot brown rice, Greek lemon rice, Lebanese rice with vermicelli
Salads: Green goddess salad, Turkish white bean salad, cucumber tomato avocado salad
Variations
The best thing about these salmon foil packets is that you can make them with different flavors. Here are some of the common and delicious flavors that you can whip up easily:
Lemon and garlic: Follow the recipe below and use parsley instead of basil. Leave out the honey to make a delicious lemon garlic sauce for your salmon.
Lemon and dill: Leave out the honey and basil. Use two tablespoons chopped fresh dill. This one is perfect when you have some dill sitting in the fridge that's about to go brown.
Lemon and butter: Perfect for the times that you have no herbs in the fridge. Swap melted butter for olive oil and mix it with some freshly squeezed lemon juice. Don't forget to sprinkle some salt on the salmon before cooking.
Garlic butter salmon in foil: Leave out the lemon juice and olive for this salmon recipe and mix minced garlic with melted butter. Brush it all over the salmon and finish with some kosher salt.
Teriyaki salmon in foil: Yum! Leave out the ingredients for the honey lemon sauce. Use a homemade or store-bought teriyaki sauce for this one. Brush it all over the salmon, add some sesame seeds and bake until done.
Baked salmon in foil with vegetables: You can bake baked salmon in foil with asparagus when it's in season. They're absolutely delicious. Simply trim the ends of the asparagus and place a few in the foil and then place the salmon on top. Brush with the honey lemon sauce and bake in the oven as instructed in the recipe. Other vegetables you can use in salmon foil packets include zucchini, yellow squash, brussels sprouts and tomatoes.
Frequently asked questions
How long to bake foil packet salmon?
Cooking time completely depends on the size of the salmon you're cooking. For individual fillets that are about 6oz, it takes about 16 to 18 minutes to bake them in foil at 400°F. If making a side of salmon (about 2 lb.) then bake it at 400°F for about 22 to 25 minutes depending on the thickness. Making baked salmon in tin foil helps with the tenderness of the salmon and won't let it dry easily.
How do I know if salmon is cooked?
Perfectly baked salmon has two obvious signs:
First, the color changes from translucent raw to opaque pink when it's done.
Second, cooked salmon flakes easily and it doesn't look raw or translucent inside.
It's important not to overcook salmon because it will be dry and not silky and soft anymore. Make sure that you cook the salmon just enough for it not to raw which usually takes about 15 to 25 minutes depending on the size of the salmon fillet you use.
How long does cooked salmon keep in the fridge?
I always prefer to serve salmon fresh and not to refrigerate it. However, if you have leftovers, store them in an airtight container and refrigerate for up to 2 days. Cooked salmon does not freeze well therefore I don't advise to freeze it.
More salmon recipes
Did you make this recipe? I'd love to hear about it! Please comment and leave a 5-star🌟 rating below. You can also follow us on Instagram, Facebook, Pinterest or subscribe to our newsletter to get a free e-Cookbook!
Step-by-Step Recipe
Baked Salmon in Foil Recipe with Honey and Lemon
Baked salmon in foil perfect for a weeknight dinner. This easy salmon recipe is ready in 25 minutes and is so delicious!
Ingredients
½

red onions

sliced

2

salmon fillets

6 oz. each

2

tbsp

olive oil

extra virgin

1

lemon

juice of

4

cloves

garlic

minced

3

tablespoon

honey

½

tsp

kosher salt

¼

tsp

black pepper

1

tablespoon

fresh basil

chopped

½

cup

cherry tomatoes
Instructions
Preheat the oven to 400 degrees F and place two pieces of aluminum foil on a rimmed baking sheet.

Divide the sliced onions between two foil and place the salmon fillets on them.

Mix olive oil, lemon juice, minced garlic and honey in a small bowl and brush over both salmon fillets.

Sprinkle salt and pepper on the fillets, add chopped basil on top and wrap the aluminum foils, leave the top a bit open for the steam to escape.

Bake in the oven for 17-19 minutes. The salmon is ready once it's opaque and flakes easily. Serve with your favorite side dish and top with tomatoes.
Notes
The baking time depends on the size and thickness of the salmon fillets.
You can use the same recipe for a salmon side (about 2 lbs), the cooking time will be longer.
Serve this dish with side dishes such as Greek potatoes, brown rice or Mediterranean salad.
Check out the post for several variations of the this recipe.
It's best to serve cooked salmon but if you have leftovers, store in an airtight container and refrigerate for up to 2 days. Heat in the oven or in a small pan over medium low heat.
Nutrition
Calories:
504
kcal
Carbohydrates:
37
g
Protein:
36
g
Fat:
25
g
Saturated Fat:
4
g
Polyunsaturated Fat:
6
g
Monounsaturated Fat:
14
g
Cholesterol:
94
mg
Sodium:
665
mg
Potassium:
1076
mg
Fiber:
3
g
Sugar:
29
g
Vitamin A:
317
IU
Vitamin C:
41
mg
Calcium:
61
mg
Iron:
2
mg
Did you make this recipe?
Let us know how it was by leaving a comment and a 5-star review!