This Chocolate Magic Cake has three layers with a custard-like layer in the middle, all made from one batter. It satisfies any chocolate cravings!
On this little blog of mine you can find so many chocolate recipes and the reason is clear, I simply can never have enough chocolate, and you love it too! This molten chocolate cake has been going crazy on Pinterest and my chewy double chocolate cookies vanish in no time!
I can never ever say no to chocolate. There isn't one day in my life that someone offers me chocolate and I'd be like "No thank you." And that's why I love this magic cake recipe because it fixes THREE of my chocolate cravings!
A magic cake that everyone loves!
I was going through my posts and realized we haven't talked about chocolate very much lately, right? This recipe is probably one of the few chocolate cake recipes I have on the blog to this day and I want to thank you so much for making this chocolate magic cake and loving it! You all are the best readers in the world and I can't wait to share many more recipes with you!
I've edited this post to add some notes and answers to questions that are being frequently asked about this chocolate magic custard cake. This magic cake is a favorite of ours and what I love mostly about it is that it's not overly sweet and with a little bit of powdered sugar dusted on top, it achieves a perfect balance of sweetness and decadence.
What is chocolate magic custard cake?
This is not the usual chocolate cake with frosting or icing on top. This is an indulgent cake that will wow anyone who tries it! Three layers of deliciousness all coming from one simple batter? That's something to wonder about! Chocolate magic custard cake is made with basic ingredients but it's the technique that makes it magic!
This chocolate magic cake recipe is pretty simple to follow and requires basic ingredients such as eggs, flour, cocoa powder, sugar and butter. The process of making this cake is also very similar to any other cake we've already made.
Chocolate magic cake has three layers: A fudgy layer at the bottom, a chocolate custard layer in the middle and a souffle-like, airy layer on top.
Wait, so what makes this chocolate magic cake special?
It's the ratio and measurements of the ingredients which give this cake a magical texture. This cake only has half a cup all purpose flour and ⅓ cup cocoa powder whereas it requires 2 cups of lukewarm milk which means the batter is going to be very thin. The thinness and the addition of egg whites beaten to stiff peaks make this chocolate magic cake divide into three layers with the top layer being airy, the middle layer having a custrad-y texture and the bottom being fudgy.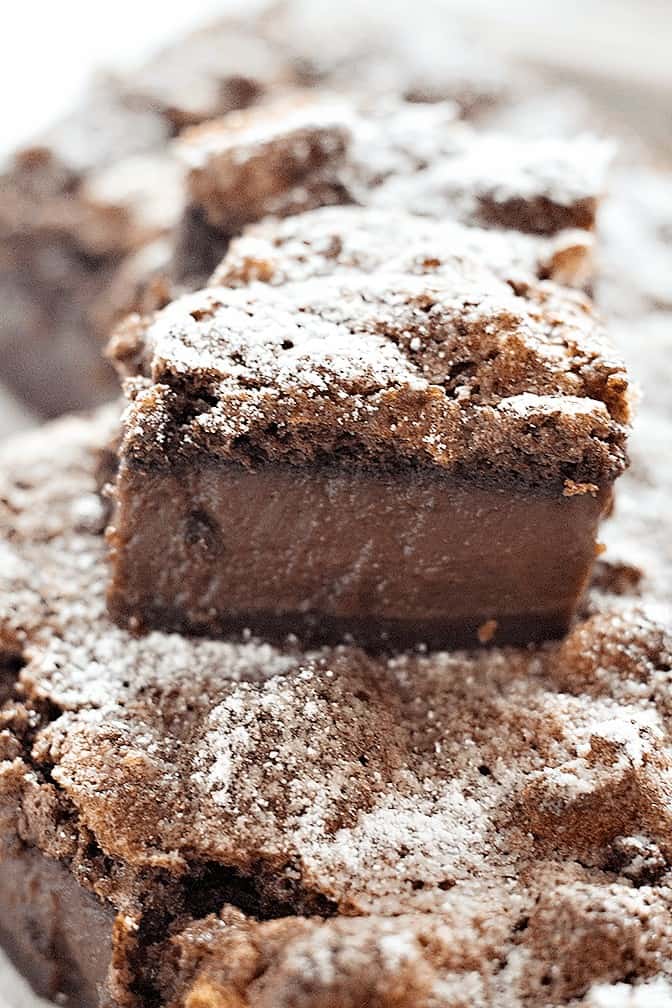 How to make chocolate magic cake
First of all, melt the butter and set aside to cool. Then beat the egg whites to reach stiff peak and set that aside as well. Now mix egg yolks, sugar and butter, add in flour and cocoa powder and mix until combined. Add in milk and once everything is mixed, fold in the egg whites gently and don't over mix. Bake the cake in the oven for about on hour until the center is firm but a little jiggly.
The most difficult part is to let the cake cool for some hours in the fridge. But I promise, it's worth the wait!
Now this isn't one of those recipes that are only pretty on the blogs and turn out to be a total disaster when you make it at home. This is a practical recipe that you'll enjoy making every time. However, a little bit of troubleshooting never hurts, right? This magic cake is all about the three layers of deliciousness so we must make sure they're coming out right.
My chocolate magic cake doesn't have all the three layers. Why?
There can be several reasons for that:
Egg whites: Make sure the egg whites have reached stiff peaks. That means once the beaters are lifted, the egg whites stand straight up. This is the point you should stop beating the egg whites. To reach stiff peaks faster, add a pinch of sugar to the egg whites while beating them. Aged egg whites also reach stiff peaks quicker.
Oven heat: Ovens are different and each oven gives a different result when it comes to baking. For this magic chocolate cake, you should start checking after 40 minutes of baking. For me, it usually takes between 50 to 60 minutes. The cake is done once it's slightly jiggly in the center but firm in other parts.
Mixing: Make sure you don't over mix the batter. Over mixing will result in deflated egg whites and that would make the chocolate magic cake lack the clear layers.
As this is not a common cake, there are question that might come up when you decide to make this cake. I have answered a few of the common questions here, but you can comment any other questions you have and I'll add them to this list.
FAQs about making chocolate magic cake:
Can I double this recipe?
Yes! This cake is made in an 8x8 cake pan. If doubling the recipe, you should use a 9x13 inch pan.
Do I need to refrigerate this cake?
This cake should cool in room temperature and then be refrigerated for an hour or two before serving. This cake is best eaten on the day its made but if you have leftovers, refrigerate them.
Can I use any type of milk?
Any type of dairy milk, yes. You can use whole milk, lowfat or non-fat milk that contains dairy. As for non-dairy milk such as almond or coconut milk, I have not tried them myself yet.
Should I use Dutch processed cocoa powder or regular cocoa powder?
Both would work perfectly in this recipe. But I prefer Dutch processed cocoa powder.
Can I make chocolate magic cake without eggs?
Unfortunately not to my knowledge. You need the eggs to have that airy, light texture on the top layer and the custard-y texture to the middle layer. So you definitely need the eggs.
How long should I whip the egg whites?
You should whip the egg whites until they reach stiff peak. You can read more about how to beat egg whites on The Spruce Eats.
Looking for more delicious chocolate desserts?
Don't forget to follow us on Instagram, Facebook, Twitter and Pinterest for more food goodness!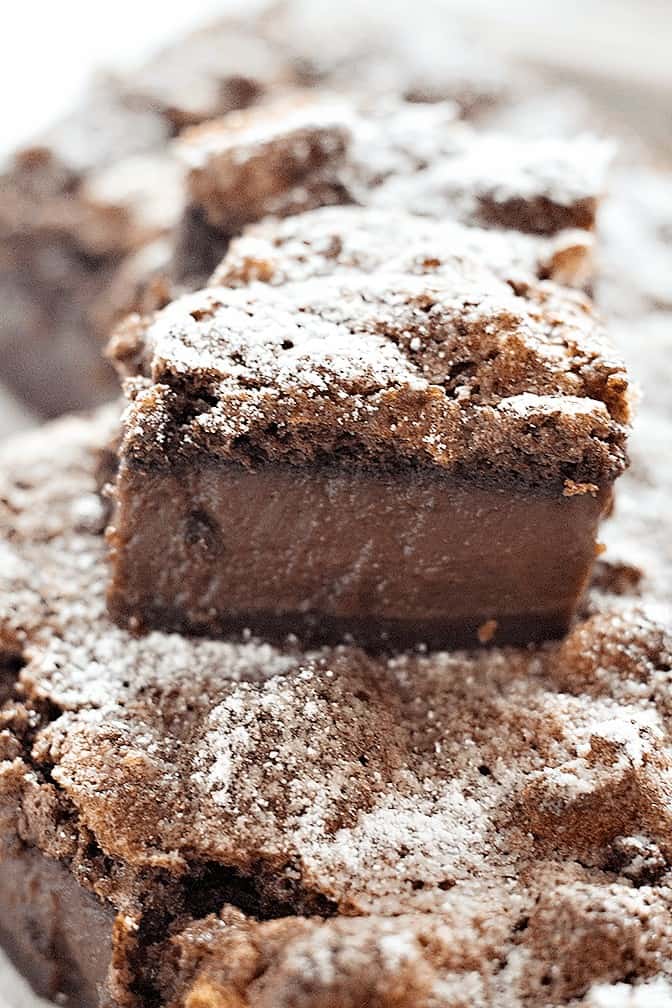 Step-by-Step Recipe
Chocolate Magic Cake
This Chocolate Magic Cake has three layers of cake, custard, and souffle, all made from one batter. It satisfies any chocolate cravings!
Ingredients
1

stick unsalted butter

4

eggs

whites and yolks separated, at room temperature

1

cup

sugar

½

cup

AP flour

⅓

cup

Dutch processed cocoa powder

I used Hershey's

2

cups

Lukewarm milk

Powdered sugar to top
Instructions
Preheat the oven to 320F.

Coat the bottom of an 8X8 inch baking dish with non stick spray. Line it with parchment paper and coat the paper with non stick spray.

Melt butter in a microwave safe bowl and set aside to cool.

Beat egg whites in a clean and dry bowl until stiff peak. Set aside.

In another bowl, mix egg yolks and sugar until light and creamy.

Add melted butter and mix until fully combined.

Sift all purpose flour and dutch processed cocoa powder into the batter and mix using a spatula until fully combined.

Add milk and mix well.

Fold in the egg whites one third at a time. Fold gently using a spatula and don't over mix.

Pour the batter in to the baking dish and bake for 60 minutes. Check after 40 minutes. The cake is done once the center is jiggles slightly but feels firm.

Let the cake cool in room temperature and then put it in the refrigerator for one to two hours.

Dust with powdered sugar and slice.
Notes
This cake is best served on the same day.
The batter will be very thin. Don't worry, that's how it should be. A few egg white lumps are fine, too.
Nutrition
Did you make this recipe?
Let us know how it was by leaving a comment and a 5-star review!
'