The best easy and cozy soup recipes to warm you up in the cold season. You can find vegetarian, vegan and gluten free soups here.
If you love soup as much as we do, make sure to take a look at our soup recipes! From Greek chicken orzo soup to vegan lentil soup, we've got you covered!
Favorite soup recipes
When the cold season starts, all I want is just a tasty bowl of soup and a blanket. Nothing beats a warm bowl of soup. There are so many ways to make soup using your favorite ingredients. You can make soup with almost any kind of vegetables.
To make a delicious soup, it's important to use quality ingredients. Adding fresh herbs is great for flavoring and also makes a nice garnish.
A little secret: Use fresh lemons instead of packaged lemon juice to add brightness to your soup and balance the flavors.
The best soup recipes
One Pot Curry Lentil Soup (Vegan)
Turkish Red Lentil Soup (Mercimek Corbasi)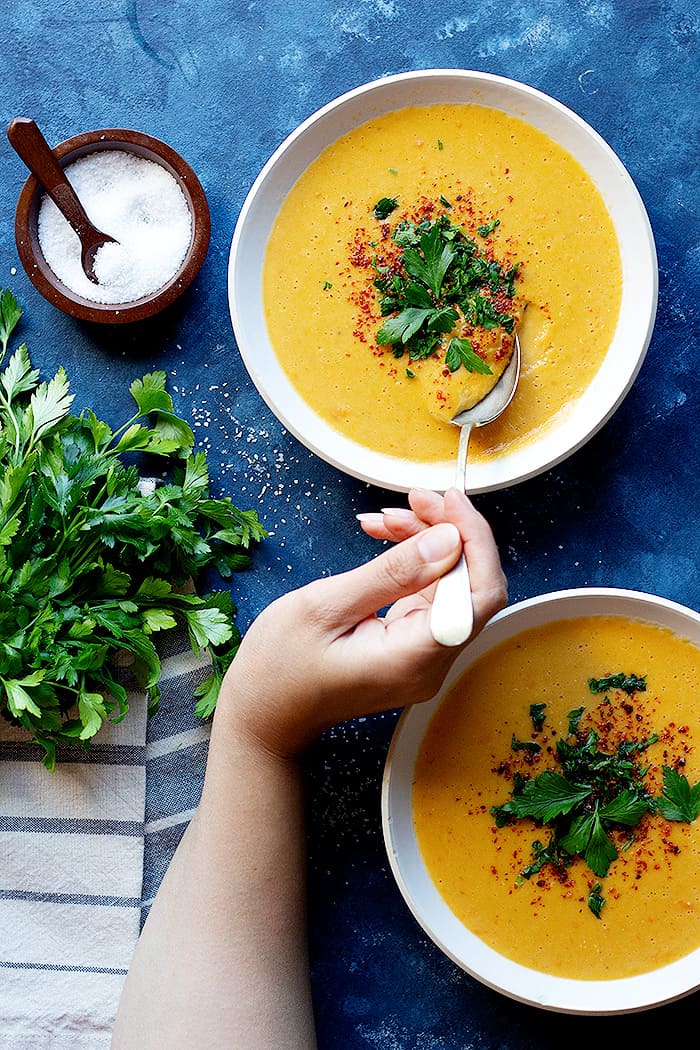 Turmeric Red Lentil Soup Recipe
Greek Lemon Chicken Orzo Soup Recipe

Easy Instant Pot Lentil Soup Recipe
Persian Eggplant Soup – Ash-e Bademjan
Instant pot creamy potato soup
Ash Reshteh (Persian Noodle Soup)
Easy Chicken Lentil Soup Recipe
Turkish Yogurt Soup (Yayla Çorbasi)
Easy Chicken Tortilla Soup (Slow Cooker, Stove top and Instant pot)
Easy Mediterranean Green Lentil Soup
Quick and Easy Sausage Gnocchi Soup
Saffron Roasted Butternut Squash Soup
Serving suggestions
I love serving soups and stews with some bread. Here are some of our favorites: