This is a great Middle Eastern eggplant recipe to always keep on hand. Perfectly roasted eggplant is served with a stunning tahini yogurt sauce and pomegranate arils. It's perfect as a side dish or an impressive appetizer!
If you've been a reader for long enough, you know we have a great collection of Middle Eastern recipes on the blog thanks to our roots and places we've lived in. From tasty and easy tahini sauce and manakish zaatar to our favorite falafel and Lebanese rice with vermicelli, we have you covered. Today's recipe is one of my all time favorites. This Middle Eastern eggplant dish is simple, and packed with so much flavor.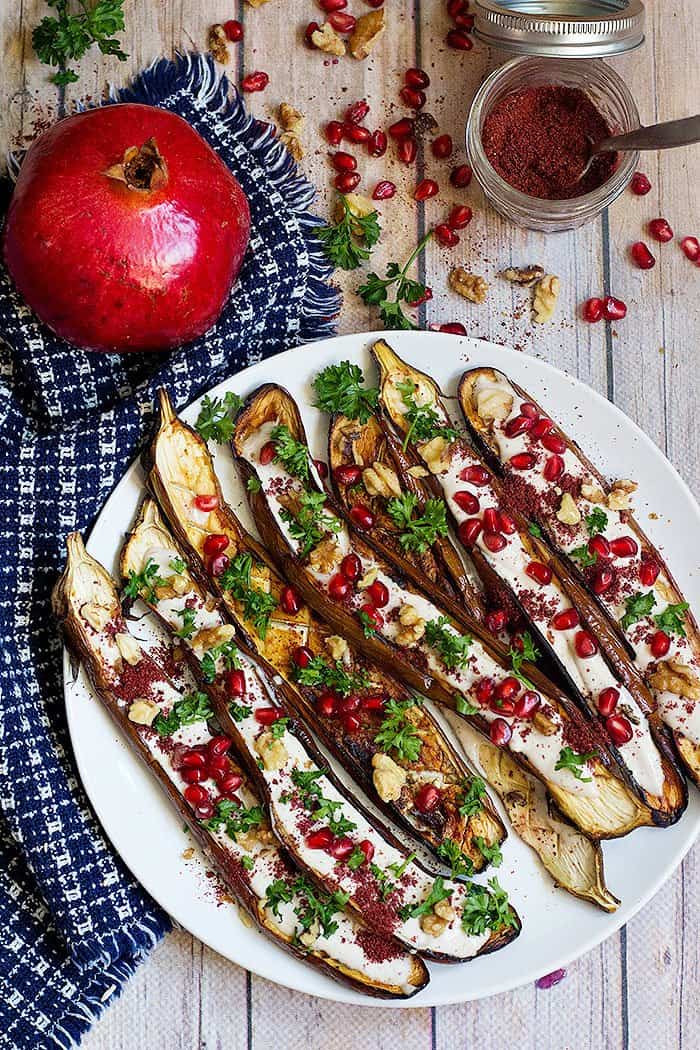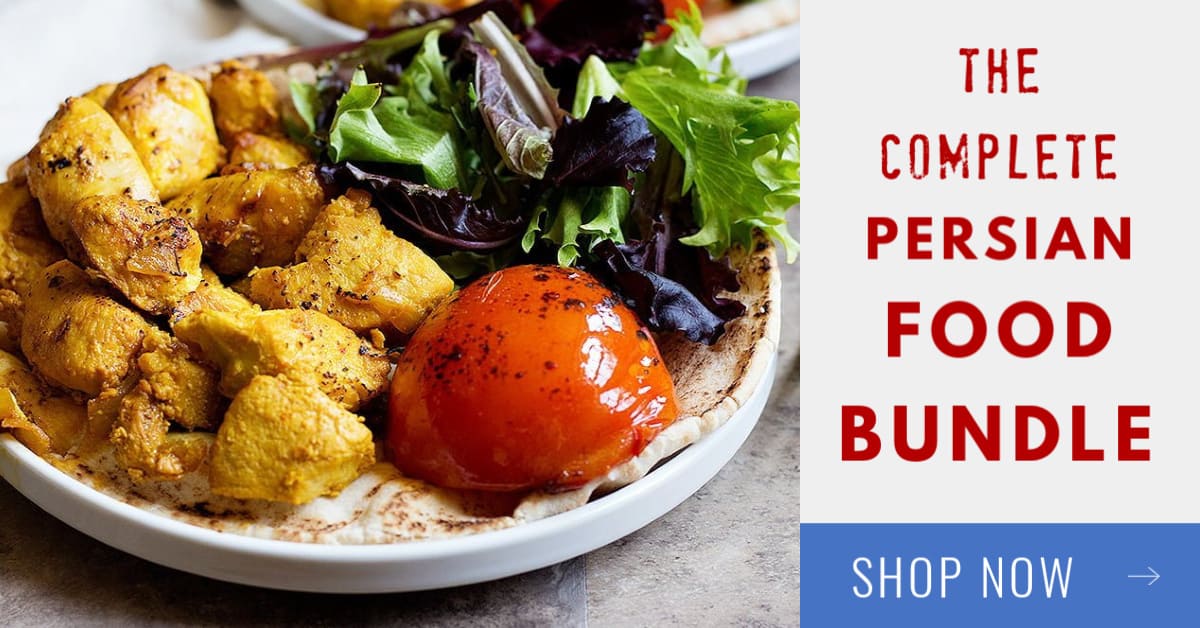 Eggplant, Middle Eastern style!
This recipe is a year-round favorite, bursting with Middle Eastern flavors such as sumac, garlic and tahini. We love this dish because it's:
Easy: As easy as cut, slit, roast and serve! Simple, yet absolutely delicious.
Healthy: Eggplants are roasted and not fried in this recipe, which means very little oil is used. It's also vegetarian and gluten free.
Perfectly delicious: The combination of eggplants, sumac, yogurt and tahini is delightful. The flavors go so well together and no spice is overpowering the others.
Ingredients
Here are the key ingredients for this recipe:
Eggplants: Make sure your eggplants are fresh and firm. If the eggplants have brown spots on them or are too soft in some areas, they're not suitable for this recipe.
Garlic: The more the merrier. The combination of garlic, olive oil and salt will give the eggplants a bold flavor.
Sumac: One of my favorite spices, sumac is has a tart flavor. It's made from sumac berries.
As for the yogurt tahini sauce, you need good quality tahini, plain yogurt, garlic, lemon juice, salt, sumac and olive oil. We use, and highly recommend, pomegranate arils as a garnish. This is a simple recipe that you can serve at a party or a simple family gathering.
Preparation instructions
Start with choosing the right eggplant. The eggplants must be fresh and without brown seeds. Cut the eggplant in half lengthwise and cut diamonds into the flesh.
Drizzle with olive oil, sumac, garlic and salt.
Bake in the oven at 400° for 30 minutes or until they're completely cooked and the flesh is soft and nice. (Please check out our tutorial on how to roast eggplant for some useful tips.)
Meanwhile, make the tahini yogurt sauce by mixing all the ingredients in a jar or a bowl.
Top the cooked eggplants with homemade tahini yogurt sauce, some pomegranate arils (if desired) and walnuts. You'll have the perfect texture and flavor combination in a very simple dish.
It's all about playing with flavors. Pomegranates and walnuts always go well together. So do lemon, garlic and tahini. As long as you're sure to test which flavors and spices work together, you're going to find yourself creating amazing dishes!
Serving ideas
I love serving this Middle Eastern eggplant dish with yogurt tahini sauce. However, you can also top it with other sauces such as tzatziki or Lebanese tomato sauce. You can serve this dish as a simple lunch or dinner or even an appetizer. Or, you can have it as a side dish to accompany mains like chicken shawarma or beef shish kabob.
An easy dish to serve at Yalda (winter solstice)
In a nutshell, Yalda night (Shab-e Yalda) is an Iranian winter solstice celebration. It's common to stay awake past midnight, read poems aloud, spend time with family and loved ones, and eat nuts, dried fruit, pomegranates and watermelon. In my family, we always have fish for Yalda night dinner. In the northwestern part of Iran (Tabriz and the surrounding cities), if a couple if newly married, families take decorated fruit and nuts and some gifts to the bride.
Tips, tricks and FAQs for this Middle Eastern Eggplant Recipe:
Q: Can I use any type of eggplant?
A: As a matter of fact, yes! You can use most types of eggplants for this recipe including Japanese eggplants, Chinese eggplants, graffiti eggplants, Italian eggplants or even the regular globe eggplants you can find in any grocery store. For this recipe I used Chinese eggplants as they're the closest match to what I used to use back in Iran, but I've made the same recipe using globe eggplants and the only change I had to make was roasting for an extra 10-15 minutes.
Q: What can I use instead of yogurt to make the tahini sauce?
A: You can use sour cream, or any non dairy yogurt as long as it's not flavored, i.e., plain. This middle eastern eggplant recipe is a very forgiving one and you can modify it to your preferences.
Q: Is this dish served warm or cold?
A: Both! You can make the tahini yogurt sauce a couple of days in advance and serve it on hot eggplants right out of the oven for a hot appetizer/side dish. Or, you can make everything before hand and top the eggplants with the sauce right before serving as a cold middle eastern eggplant salad. I personally prefer it served warm.
Q: I made too much tahini yogurt sauce, what should I do?
A: A lot of things! First of all, don't throw it out. This sauce stays good for almost a week in the refrigerator and here are a couple of things you can do with it:
Salad dressing: Add a couple tablespoons of water to the sauce and mix so it reaches the consistency of salad dressing. Use it on any type of salad.
Sandwiches: Use this tahini yogurt sauce as a spread instead of mayonnaise on different sandwiches. My favorite sandwich toppings to go with tahini sauce are grilled veggies and grilled chicken.
Dip: Grab a bag of pita chips and put the extra tahini yogurt sauce in a bowl. Place the bowl in the middle of the plate and place the pita chips around it. There you go. You now have a tahini dip for your party, too!
Looking for more Eggplant Recipes?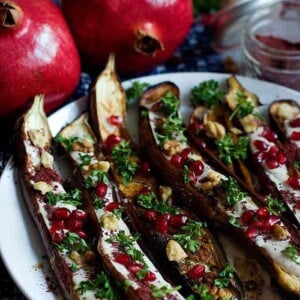 Middle Eastern Eggplant Recipe
This is a great Middle Eastern eggplant recipe to always keep on hand. Perfectly roasted eggplant is served with a stunning tahini yogurt sauce and pomegranate arils. It's perfect as a side dish or an impressive appetizer!
Ingredients
4

Chinese Eggplants

4

tbsp

Olive Oil

4

cloves

Garlic

Minced

1

tsp

Salt

2

tsp

Sumac
Tahini Yogurt Sauce:
¼

cup

Tahini

¼

cup

Plain Greek Yogurt

2

cloves

Garlic

Minced

2

tbsp

Lemon Juice

¼

tsp

Salt

½

tsp

Sumac

1

tbsp

Olive Oil
Topping:
½

cup

Pomegranate Arils

¼

cup

Walnuts

Chopped

¼

cup

Parsley

Chopped
Instructions
Preheat the oven to 400F. Line a baking sheet with parchment paper.

Cut the eggplant into halves lengthwise and place them on the baking sheet. Using a knife, cut diamonds into the eggplants, make sure you're not piercing the skin.

Drizzle the eggplants with olive oil and rub the minced garlic on them. Sprinkle salt and sumac on the eggplants.

Roast in the oven for 25-30 minutes until the flesh is soft and cooked completely.

Meanwhile, make the tahini yogurt sauce:

Tahini Yogurt Sauce:
Mix all the ingredients in a bowl. Taste and add more salt if needed.

Once the eggplants are cooked, top them with tahini yogurt sauce, pomegranate arils, walnuts and parsley.
Notes
If planning to serve this middle eastern eggplant dish as a cold eggplant salad, then top the cold cooked eggplants with tahini yogurt sauce and toppings right before serving.
Nutrition
Calories:
255
kcal
Carbohydrates:
16
g
Protein:
5
g
Fat:
21
g
Saturated Fat:
3
g
Cholesterol:
1
mg
Sodium:
497
mg
Potassium:
478
mg
Fiber:
6
g
Sugar:
8
g
Vitamin A:
245
IU
Vitamin C:
11
mg
Calcium:
50
mg
Iron:
1
mg
Did you make this recipe?
Let us know how it was by leaving a comment and a 5-star review!