Milkshakes are perfect any time of the year. Learn how to make a thick and creamy milkshake in 5 minutes with many flavor options!
Milkshakes, MILKSHAKES! Everyone loves them. What's not to love? They're creamy, thick and indulgent. The flavors are endless and you can modify them however you please. Today we're going to dive into the world of milkshakes and I'm going to show you how to make any milkshake you like without a recipe!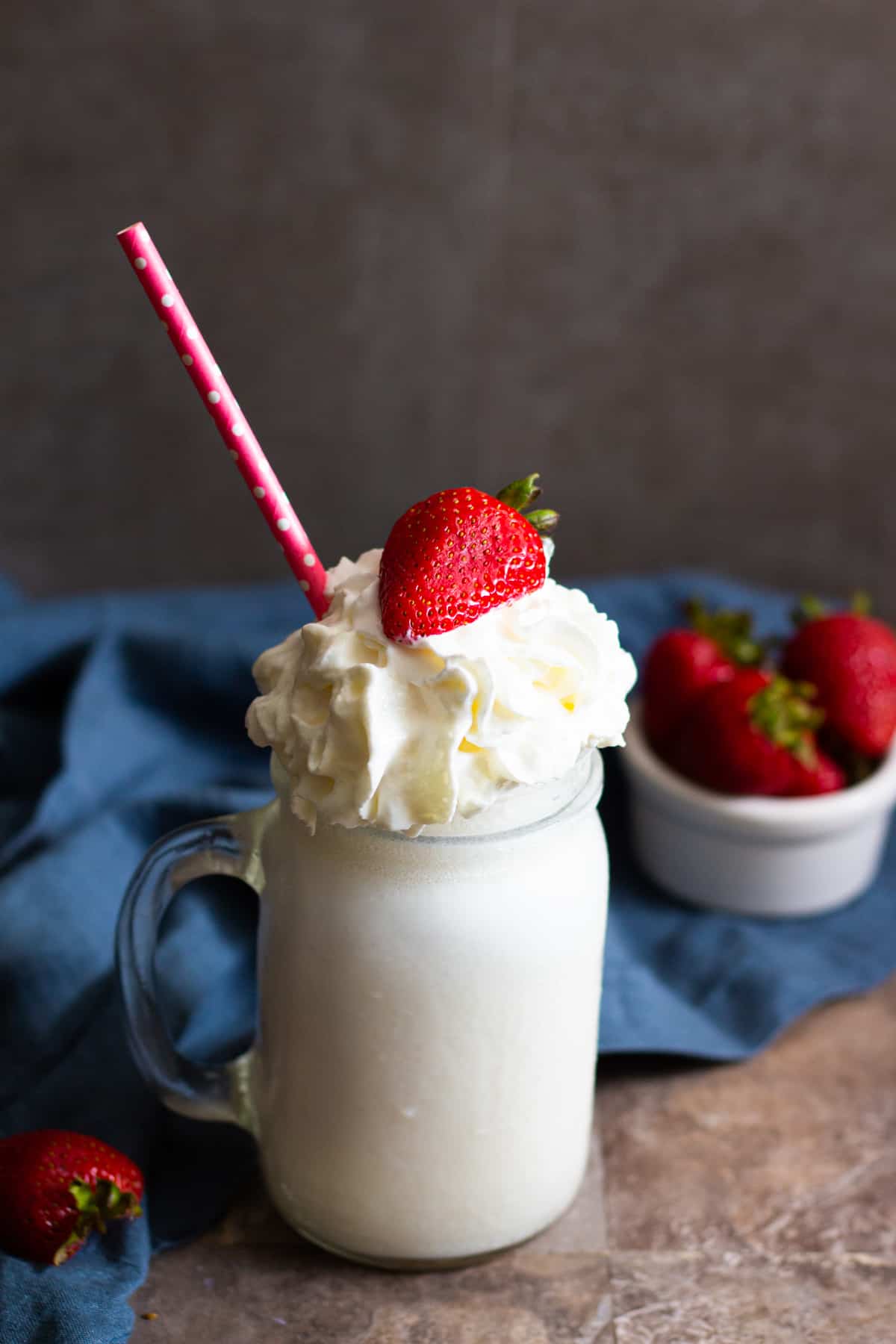 Table Of Contents:
The ice cream
Any good milkshake starts with a good ice cream. It's best to choose a quality ice cream that has a high fat percentage. This would give you a creamy milkshake that's indulgent and delicious. You don't need to get artisan ice cream, but it's best to make sure it's good quality.
The amount of ice cream used depends on your preference and how creamy you like it to be. I usually use about one cup ice cream per serving. It's best to let the ice cream sit outside the freezer for about 10 minute to soften a bit before you start making the milkshake.
If you're looking for dairy-free options, there are a lot of them out there these days and many of them work for a good milkshake. Again, make sure they have a good fat content even if they're dairy-free.
Lastly, if you're looking for a healthy option, you can use frozen yogurt. The result won't be as creamy and indulgent as when you use an ice cream with high fat percentage, but it'll be good still.
The milk
To have a creamy milkshake, I suggest using whole milk because it has a higher fat percentage. Now if you want it to be super thick (like the ones you have with a spoon instead of a straw), you can use heavy creamy instead. Make sure the milk or heavy cream you're using is very cold. As for dairy-free options, I suggest using oat milk because it's so creamy.
Whether using dairy or non-dairy milk, you need about ¼ to ⅓ cup milk for one glass. Again, this depends on how thick you want the milkshake to be.
Flavor variations
What I love the most about making a milkshake at home is that I can make it with any flavor I want! The possibilities are literally endless. Fancying fruity one? Add strawberries, blueberries, or mango. Looking for chocolate indulgence? Chocolate ice cream and fudge sauce are here for you! Feeling simple and fuss free? A classic vanilla milkshake is always a good choice! No matter what you crave, you can add that flavor to your milkshake. Here are a few of our favorite flavors:
One quick tip for the best milkshake!
This might seem like a small tip, but it changes everything! Placing your serving glasses in the freezer for 10 to 20 minutes would make the milkshakes even colder and they will keep cold for longer. If you have the time, don't skip this step, it makes all the difference!
Frequently asked questions
Can I make milkshake ahead of time?
Milkshake is best served right away so I don't recommend making it ahead of time.
How to make a milkshake without a blender?
You can use a food processor or an immersion blender. If none is available, simply place the softened ice cream in a bowl and mix it using a spatula and then a whisk. Add a splash of milk if needed.
What can I use as toppings?
Great questions! The options are endless. The classic milkshake topping is of course, whipped cream. In addition, you can also topped it with crushed cookies, candies, fruit slices, nuts and sauces such as chocolate, strawberry or caramel.
Did you make this recipe? I'd love to hear about it! Please comment and leave a 5-star🌟 rating below. You can also follow us on Instagram, Facebook, Pinterest or subscribe to our newsletter to get a free e-Cookbook!
More milkshake recipes
Step-by-Step Recipe
How To Make A Milkshake
Milkshakes are perfect any time of the year. Learn how to make a thick and creamy milkshake with many flavor options!
Ingredients
2

cups

ice cream

½

cup

whole milk
Instructions
Leave the ice cream out for 10 minutes to soften a bit.

Place the ice cream and milk in the blender. Add extra ingredients such as cookies, fruit or sauces if desired.

Blend on low for 1 to 2 minutes until fully combined and creamy.

Divide between two chilled glasses and top with whipped cream and your desired toppings.
Notes
You can add different flavor add-ins such as mango, strawberries, blueberries, bananas, chocolate sauce, fudge sauce, caramel sauce and cookies to the milkshake.
Chilling the glasses in the fridge or freezer before serving the milkshake will keep them extra cold.
For a thicker milkshake, use heavy cream instead of milk.
Nutrition
Calories:
598
kcal
Carbohydrates:
90
g
Protein:
12
g
Fat:
23
g
Saturated Fat:
7
g
Cholesterol:
56
mg
Sodium:
331
mg
Potassium:
353
mg
Sugar:
48
g
Vitamin A:
690
IU
Calcium:
258
mg
Iron:
1
mg
Did you make this recipe?
Let us know how it was by leaving a comment and a 5-star review!