Ready in 25 minutes, this Dijon salmon recipe is a family favorite. Tender salmon is topped with dijon and herbs, making it super delicious!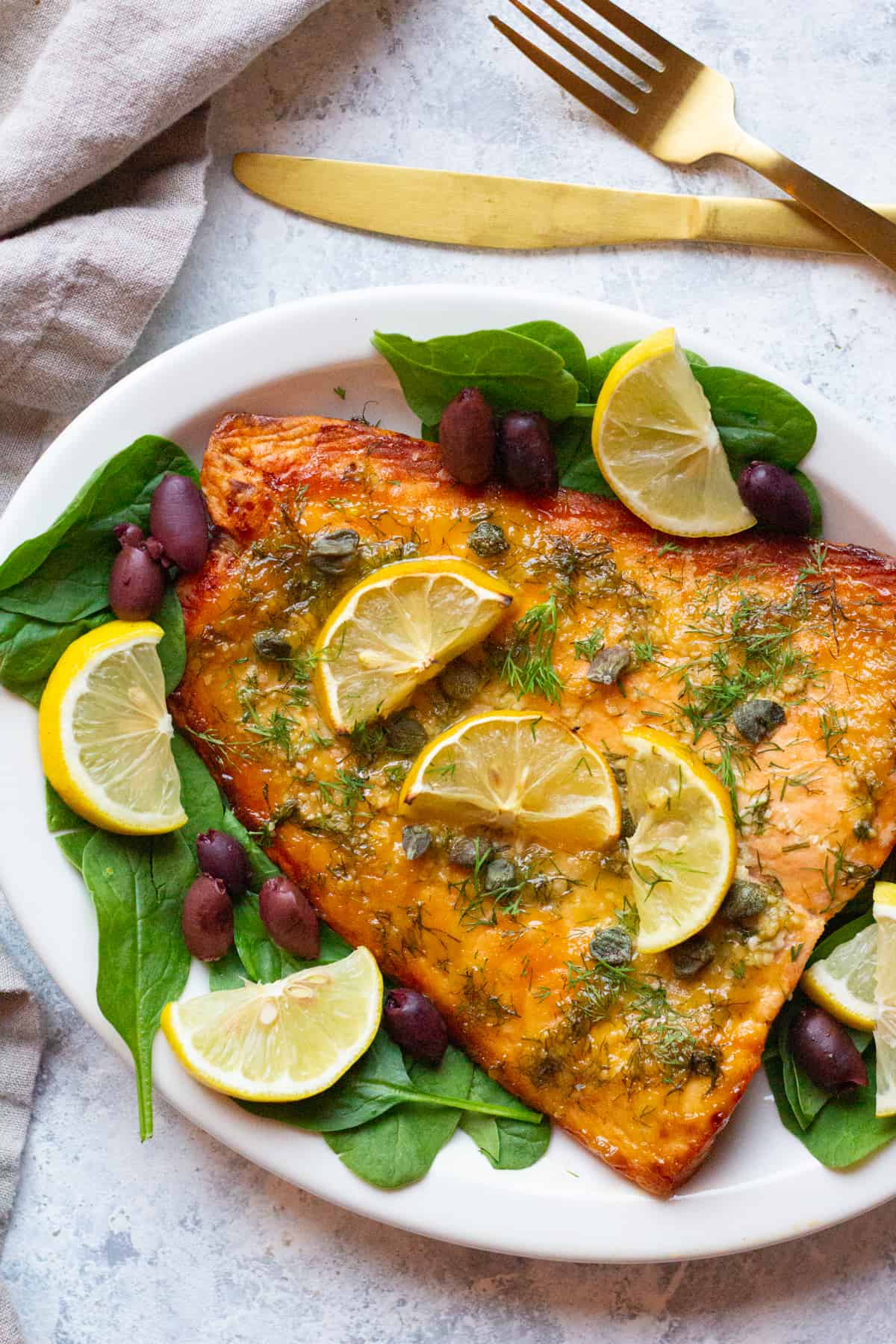 We love salmon recipes because they're simple, easy and super quick. Some of our popular baked salmon recipes are honey lemon baked salmon in foil, oven baked salmon with olives and capers and easy baked salmon fillet with lemon. This Dijon salmon recipe is another favorite recipe of ours that's so flavorful thanks to Dijon mustard and fresh dill.
Table Of Contents:
Why This Recipe Works
Perfect for dinner or gatherings: This 30-minute baked salmon recipe is one of our favorite seafood dishes because it's simple enough for a weeknight dinner and tasty for gatherings and parties.
Easy to make: If you're looking for an easy and healthy salmon recipe that comes together in just a few minutes, then this dish is totally up your alley.
Best flavor ever: The combination of dill and dijon mustard is perfect on salmon. After baking, it forms a nice crust on the salmon which keeps it moist and flavorful.
A healthy choice: This salmon recipe is a healthy dinner option that even the picky eaters would enjoy. Salmon is a nutritious protein that you can cook in many different ways such as broiled, baked, pan seared, smoked or grilled. I love making baked salmon recipes because with just a few simple ingredients and less than 30 minutes of my time, I can make a delicious meal that's nutritious, healthy and delightful.
Ingredients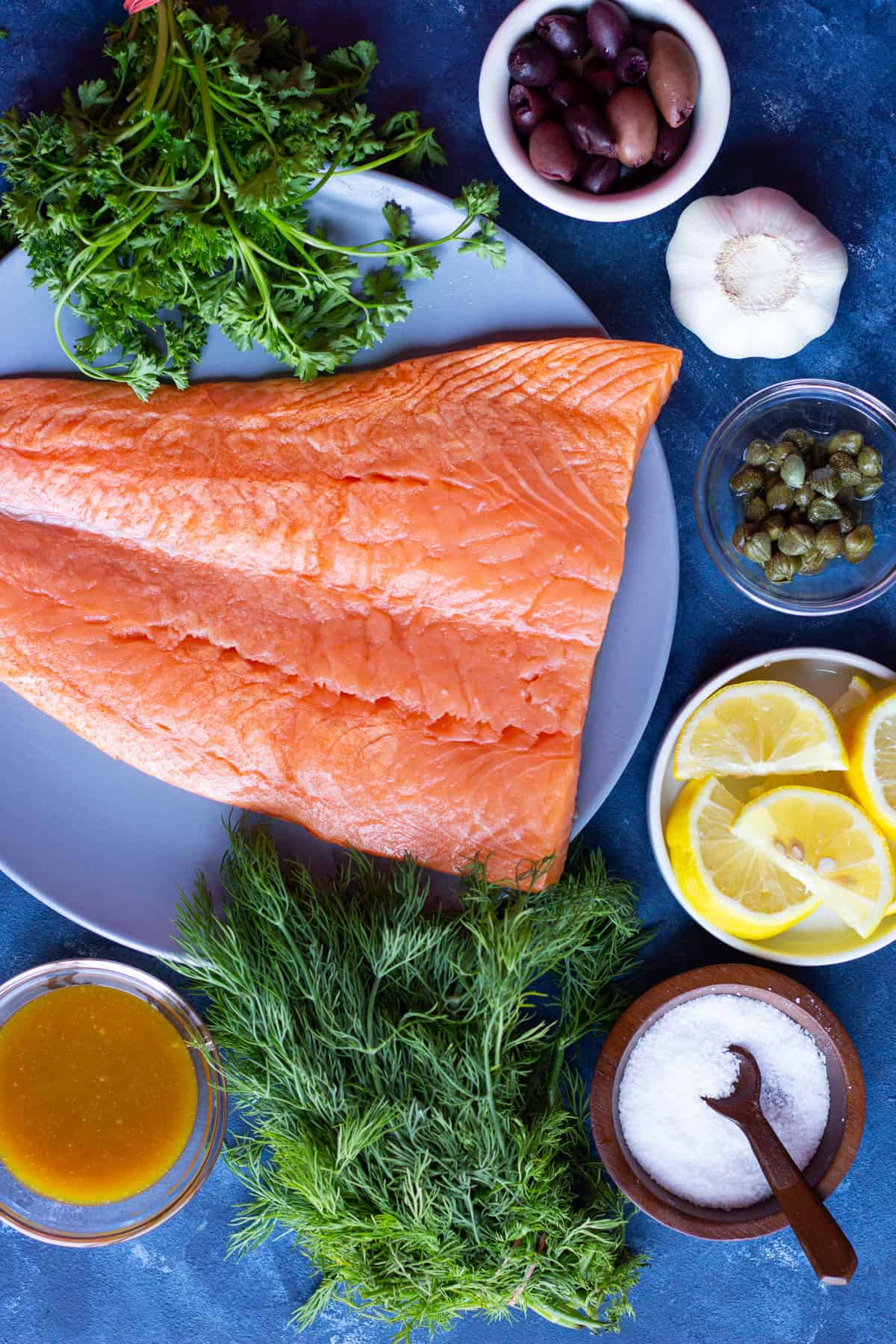 Salmon: You can use either a side of salmon or a few salmon fillets. The cooking time will be the same since salmon bakes pretty fast in the oven. I usually go with a side of salmon when I cook for a gathering because it looks so pretty on a dinner table.
Dijon mustard: Use whole grain or creamy mustard for this recipe. You can also use honey Dijon mustard.
Lemon juice: Skip the bottled juices and use freshly squeezed lemon juice.
Finishing touches: Use salt, fresh dill, garlic and capers to add more flavor.
Choosing The Right Salmon
It's best to get wild-caught salmon when you shop for salmon. My favorite types of salmon for baking are coho, king, and sockeye because of their color and flaky texture.
You can ask the person at the seafood counter at your local supermarket to help you with shopping for salmon to make sure the salmon you're getting is high quality and fresh. Please check out this chart for salmon recommendations from the Seafood Watch Program to learn more about each type of salmon.
How To Make Dijon Salmon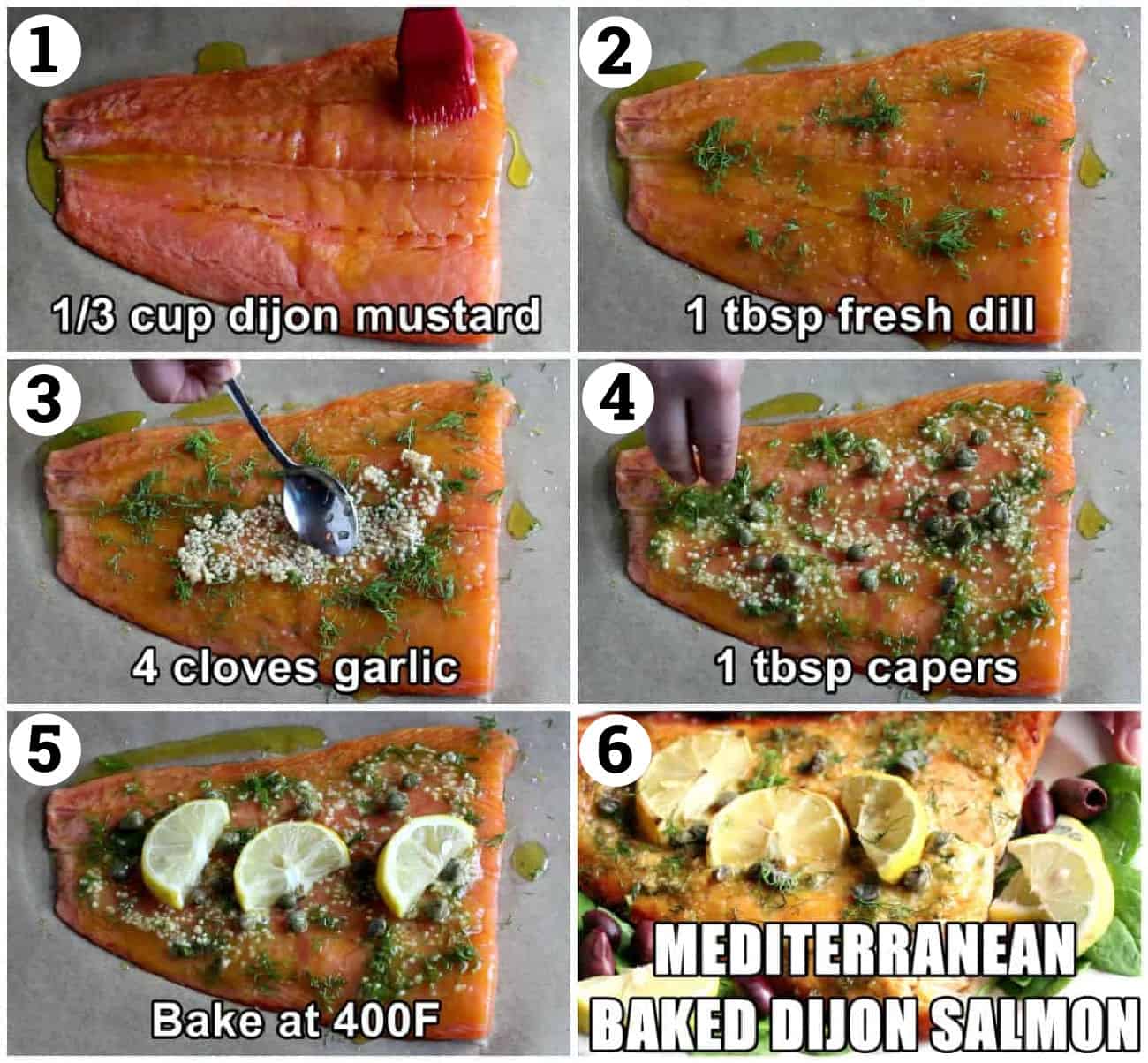 Preheat the oven to 400 degrees F.
Place the salmon on a baking sheet lined with parchment paper. Brush with olive oil and dijon mustard. Then top with lemon juice, salt, dill, garlic and capers.
Top with a few lemon slices if desired. You can bake it directly or let it sit in the fridge for 30 minutes before baking it.
Bake the salmon in the oven for 25 minutes until it's opaque and flaky. Serve with your favorite side dish.
Cooking Time
This completely depends on the size of the salmon you're cooking. It usually takes between 18 to 25 minutes to bake a side of salmon. Make sure not to over bake the salmon because it will become dry.
I try to under bake my salmon by a minute or two since it will keep baking on baking sheet when it comes out of the oven as the baking sheet will stay hot for a few minutes. When salmon is baked properly, the internal temperature will register at 145°F. Its color will be opaque and it will flake easily with a fork.
Serving Suggestions
We love having this delicious salmon dinner with different side dishes sides such as Greek Potatoes, Mediterranean oven roasted vegetables, roasted radishes, briam, or even Persian dill rice. If looking for salads as side dishes, you can try Mediterranean salad, Turkish white bean salad and Mediterranean potato salad .
Leftovers
Salmon is best to be served and eaten right after it's cooked. However, if you have leftovers, store them in airtight glass container and refrigerate for up to 2 days. You can add the leftovers to a green salad or turn them into tasty salmon croquettes or salmon patties with a Mediterranean twist.
Frequently Asked Questions
Can I grill this instead of baking?
Yes, you can easily grill marinated salmon. Heat the grill to about 450°F and prepare the salmon, it's best to use skin-on salmon for grilling. Be sure to brush some oil on both sides of the salmon.
Place the salmon, skin side down, on the grill and grill for about 8 minutes until the fish is light in color. Flip once and grill for another 4 minutes and check for doneness.
You can also use grill mats to make grilled salmon if you want to make sure it won't stick to the grill. They're very easy to use and also easy to clean.
Can I make this ahead of time?
You can marinate the salmon with the Dijon and olive oil mixture 30 minutes to 4 hours before you're ready to bake.
Can I use frozen salmon for this recipe?
Yes, you can use frozen salmon fillets to make this recipe. Make sure they are fully thawed before you start making the fish.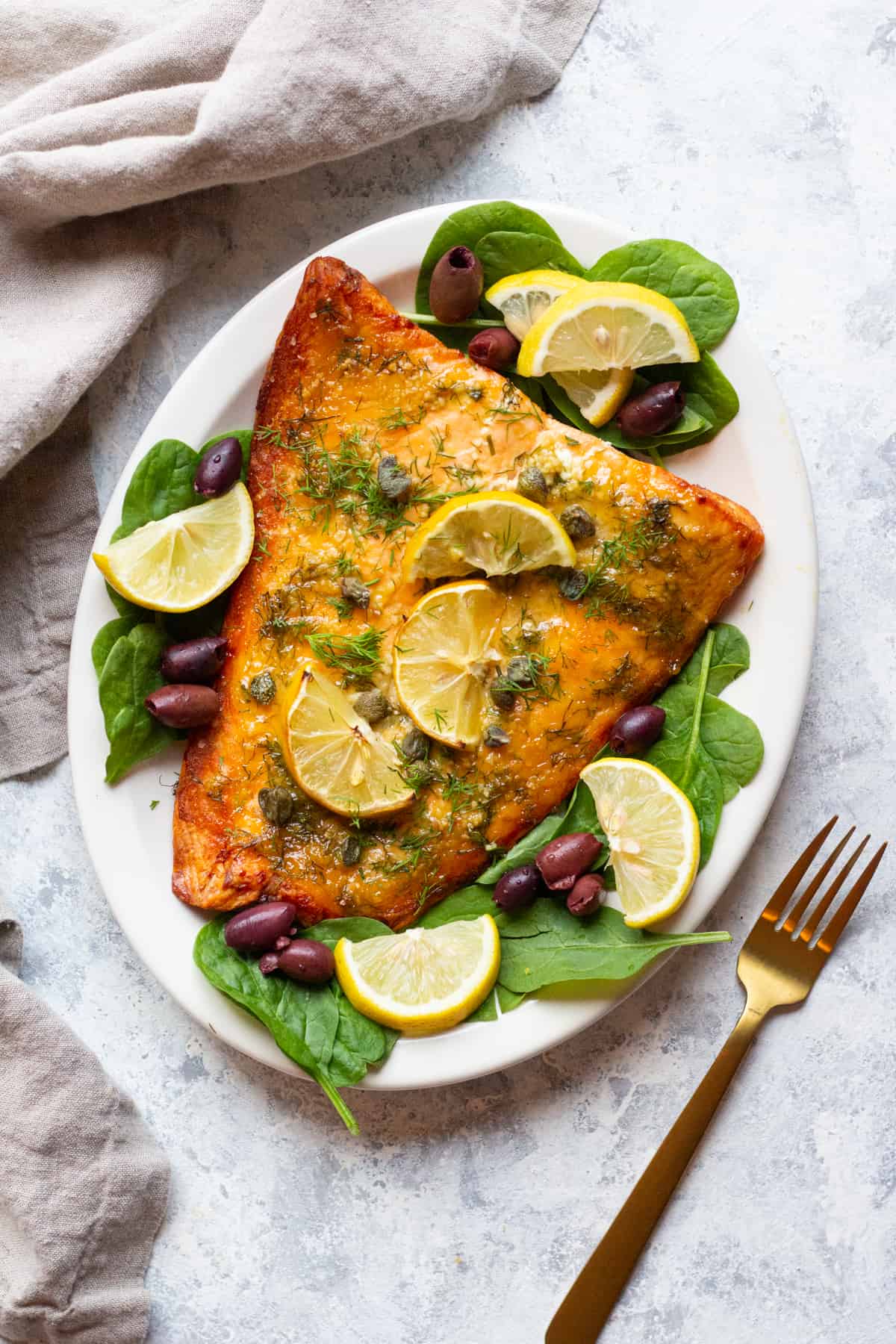 More Salmon Recipes
Did you make this recipe? I'd love to hear about it! Please comment and leave a 5-star🌟 rating below. You can also follow us on Instagram, Facebook, Pinterest or subscribe to our newsletter to get a free e-Cookbook!
Step-by-Step Recipe
Mediterranean Baked Dijon Salmon Recipe
An easy salmon recipe with so much flavor, this dijon salmon recipe is a family favorite. This baked salmon is juicy, tender and very easy to make.


Ingredients
1.5

lb

salmon

⅓

cup

dijon mustard

1

tablespoon

olive oil

2

tablespoon

lemon juice

¼

tsp

salt

1

tablespoon

fresh dill

chopped

4

cloves

garlic

minced

1

tablespoon

capers

1

lemon

sliced
Instructions
Heat the oven to 400F and line a baking sheet with parchment paper.

Place the salmon skin side down on the baking sheet.

In a small bowl, mix dijon mustard, olive oil, lemon juice, salt, dill, garlic and capers.

Slather the salmon with the dijon mixture using a silicon brush. Top with a few lemon slices if desired.

Bake dijon salmon in the oven for 18-23 minutes depending on the thickness of the fish. The salmon is ready once it's light in color and flakes easily with a fork.
Notes
Make sure not to over bake the salmon otherwise it'll become very dry. Salmon is completely cooked when it's opaque and an instant thermometer inserted in the thickest part registers at 145ºF.
You can serve this dish with salads such as Mediterranean salad or with starchier sides like Mediterranean potato salad or Persian dill rice.
It's best to consume the salmon the day you cook it. However, you can store the leftovers in an airtight container and refrigerate for up to 2 days. You can use the leftover salmon in salads.
Nutrition
Calories:
301
kcal
Carbohydrates:
5
g
Protein:
35
g
Fat:
15
g
Saturated Fat:
2
g
Cholesterol:
94
mg
Sodium:
512
mg
Potassium:
911
mg
Fiber:
2
g
Sugar:
1
g
Vitamin A:
83
IU
Vitamin C:
18
mg
Calcium:
45
mg
Iron:
2
mg
Did you make this recipe?
Let us know how it was by leaving a comment and a 5-star review!