Try these 15 delicious recipes for Father's Day! From tasty and fun breakfasts to kabobs and dessert, we have an indulgent collection of recipes for you to try! These are simple yet delicious recipes that dad's going to love. You can even get his help firing up the grill to make the kabobs!
Father's day is right around the corner and we're so excited to share some amazing recipes with you to make for the dad in your life! If he likes grilling, we have some of those and if he's looking for comfort food, we've got you covered!
These Father's Day recipes are easy to make. They call for wholesome ingredients and inspired by Middle Eastern and Mediterranean cuisines, these recipes are packed with so much flavor and are meant to be shared with your loved ones. We have everything you might be looking for: From simple breakfast dishes and bread to grilled kabobs and ice cream!
Easy Persian Barbari Bread
Nan barbari is a classic Persian bread that's easy to make. With a nice crust and soft inside, this recipe results in a tasty homemade bread suitable for breakfast, lunch or dinner!
Check out this recipe
Menemen - Turkish eggs and tomatoes
Menemen Turkish Eggs and Tomatoes Recipe
Menemen is a traditional Turkish breakfast recipe made with tomatoes and eggs. Learn how to make it at home with a few ingredients.
Check out this recipe
Mediterranean breakfast hash with tahini sauce
Mediterranean Breakfast Hash
An easy potato hash recipe that's perfect for breakfast and brunch. Make this easy breakfast hash recipe using just a few ingredients.

Check out this recipe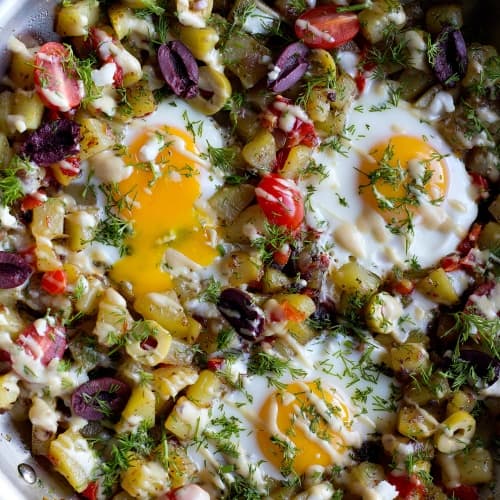 Mediterranean spinach omelette
Mediterranean Spinach Omelette
Ready in 20 minutes, this spinach omelette with a Mediterranean twist is perfect for breakfast. It's packed with vegetables and flavor, and is very easy to make.
Check out this recipe
Turkish Simit Recipe (Step-by-Step Tutorial)
Turkish simit is a delicious sesame crusted bread that you can have for breakfast. Learn how to make traditional simit recipe at home with this step-by-step tutorial.

Check out this recipe
Easy Chicken Gyro Recipe (Super Juicy!)
This chicken gyro recipe is easy and exceptionally delicious. The marinade makes the chicken extra flavorful and juicy. Stuff it into a pita with fresh veggies and homemade tzatziki for a fabulous Greek deliciousness!
Check out this recipe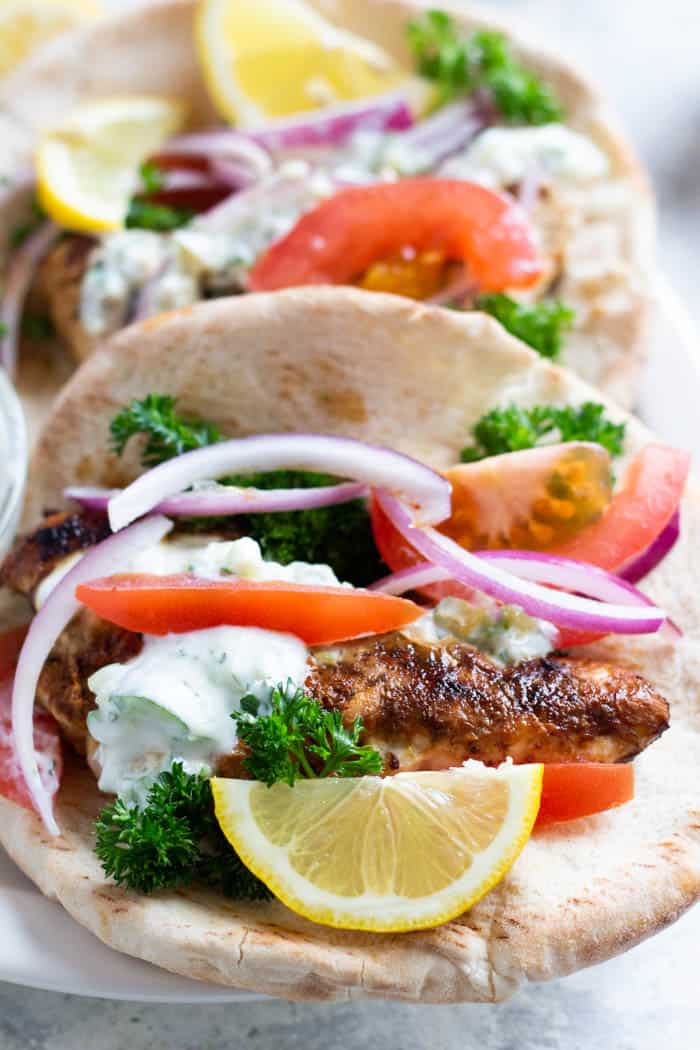 Mediterranean style marinated salmon
Best Salmon Marinade Mediterranean Style
This salmon marinade features bright flavors and doesn't require a long list of ingredients. You can use this marinade for baked or grilled salmon.
Check out this recipe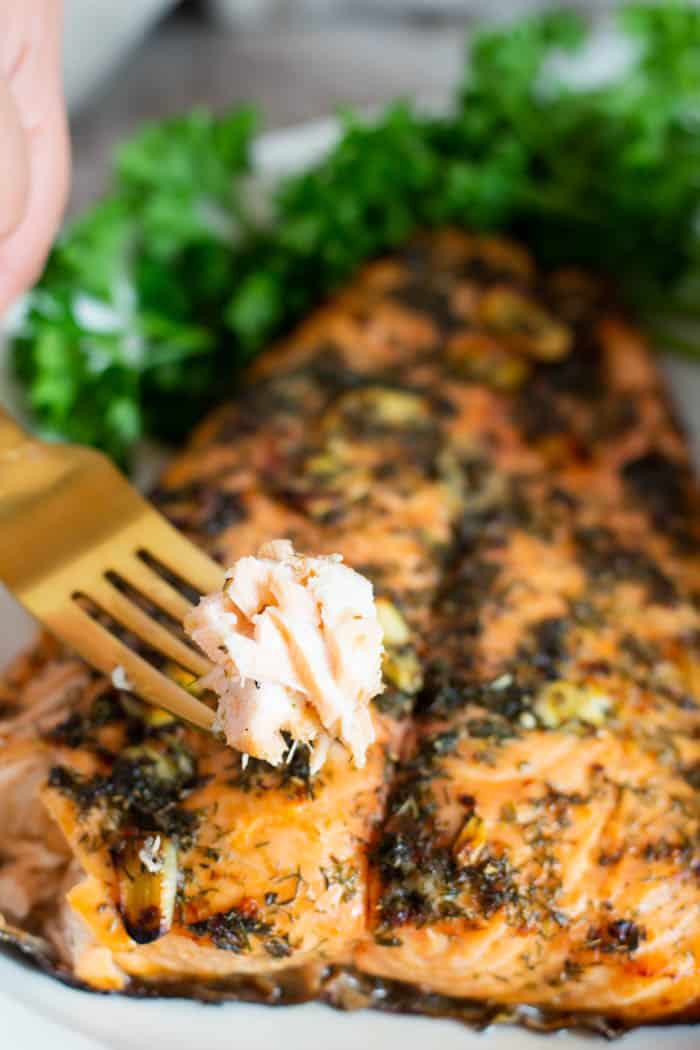 Easy Greek Chicken Souvlaki Recipe
Try this easy recipe for homemade Greek chicken souvlaki. Made with a delicious garlic and lemon marinade, this classic street food is packed with amazing Mediterranean flavors and served with creamy tzatziki sauce.
Check out this recipe
Kofta Kebab Recipe (Video Tutorial)
Kofta kebab is a classic Middle Eastern ground beef recipe that's packed with flavor. Learn how to make kofta kebab with my step by step tutorial and video.
Check out this recipe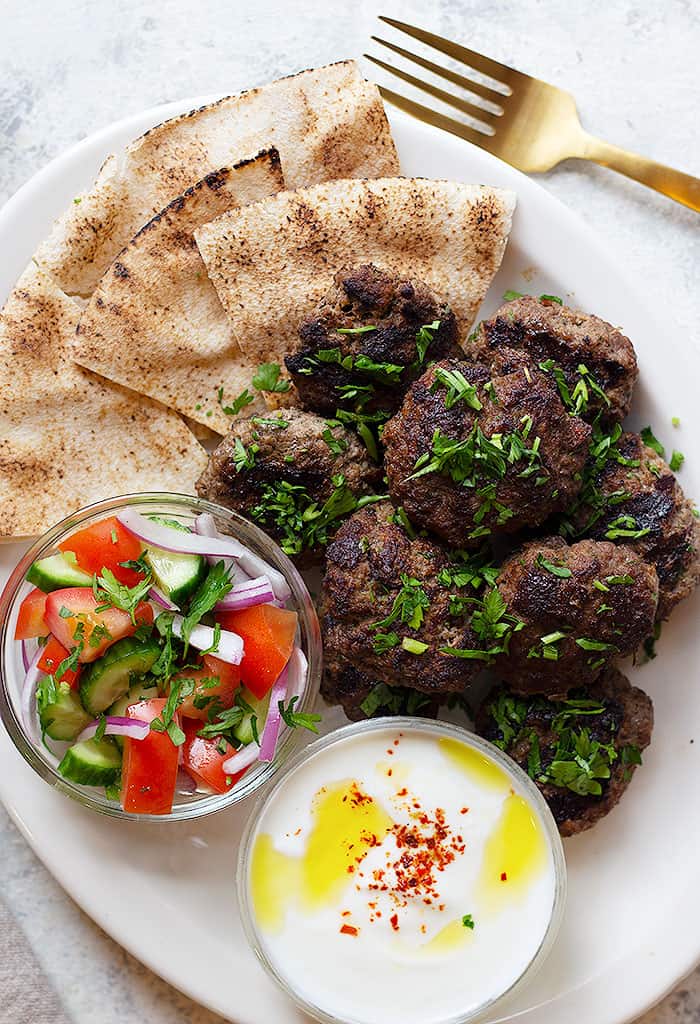 Joojeh Kabab (Persian saffron chicken kabobs)
Joojeh Kabab (Persian Saffron Chicken Kebab)
Joojeh kabab is a classic chicken kebob recipe from Iran. Chicken pieces are smothered in a delicious saffron chicken kebob marinade and have such delicious flavor thanks to saffron and lemon.
Check out this recipe
Persian No Churn Saffron Ice Cream
This no churn saffron ice cream is the best. Delicious homemade ice cream made with saffron, cardamom and pistachios is the perfect treat.


Check out this recipe
Best Ever Coffee Milkshake
Coffee is an ideal milkshake flavor for grown-ups. Made with real coffee and ice cream, this delicious homemade milkshake is perfect for summer. Ready in 2 minutes!
Check out this recipe
The Best Oreo Brownies Recipe
This is the one and only Oreo brownies recipe you'll ever need. Fudgy brownies stuffed and topped with Oreos are so good, you won't be able to stop eating!
Check out this recipe
Sour Cherry Galette
Sour cherry galette is one of my favorite summer treats! Galettes are free form tarts that can be filled with any fruits that are in season!
Check out this recipe
S'mores Brownies
Two favorite desserts in one! S'mores Brownies are going to be your new favorite. Delicious graham cracker crust topped with brownie batter and finished with ooey gooey marshmallows. What's not to like?
Check out this recipe
I bet you can find something on this list that the dad in your life would love to try! You can even add a couple of salads from our top summer salad recipes to your menu since it's going to be pretty warm!
What I love the most about these recipes is that they all call for simple wholesome ingredients that you probably already have on hand. Most of these recipes take less than one hour to make and are pretty easy, too.
Don't forget to check out our top summer grilling recipes if you know that dad likes his food grilled and nice!