Winner winner, chicken dinner! Today I'm going to share my top chicken recipes for dinner. From quick chicken recipes that are ready in 30 minutes to sheet pan chicken and skillet chicken recipes to one pot chicken and rice to classic Mediterranean chicken recipes, there is a little something for everyone.
I've also included sides such as salads, bread, rice or potatoes that go well with these chicken recipes for dinner. These easy recipes are ready in a short time, making them the perfect option for a weeknight dinner!
Table Of Contents:
Chicken recipes for dinner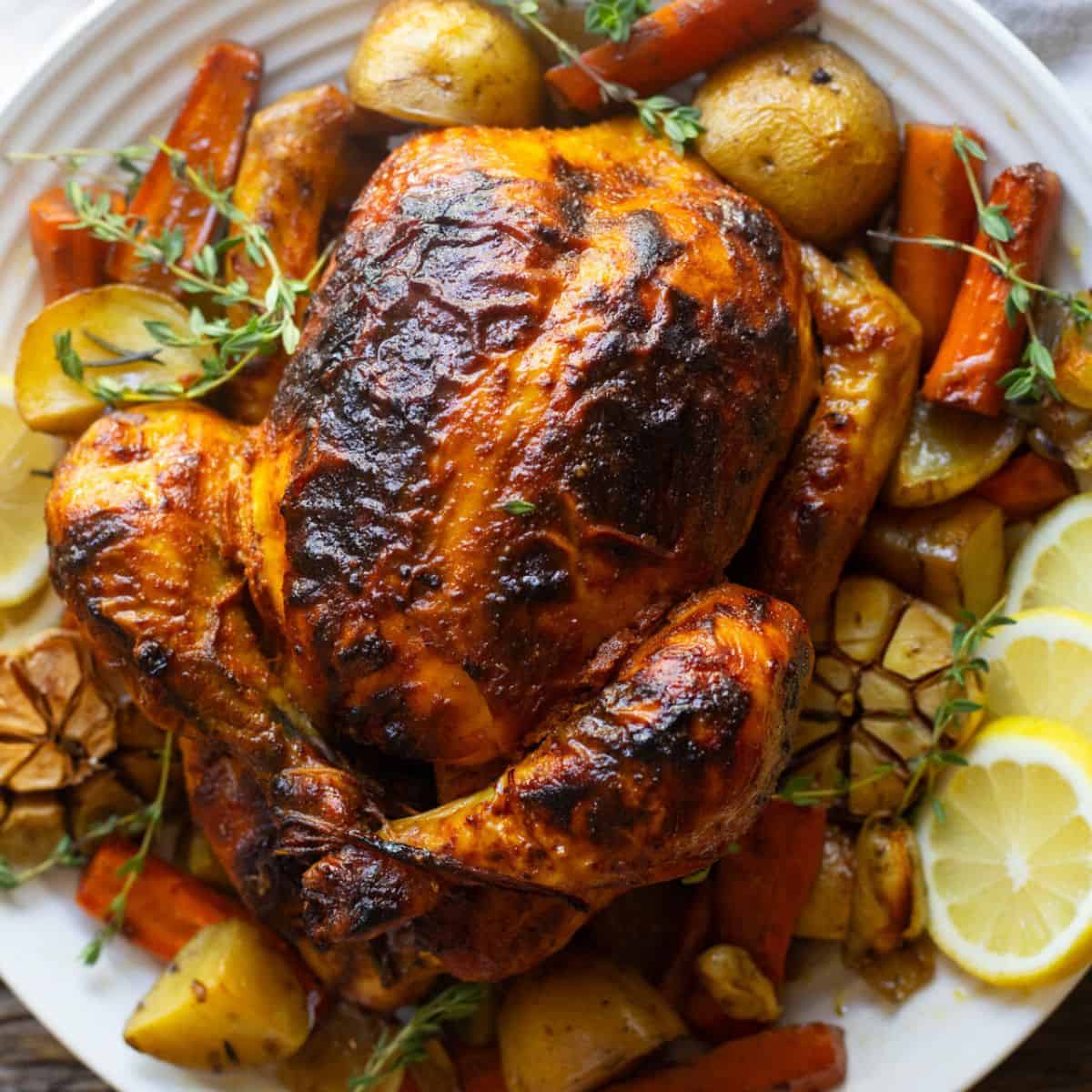 Baked chicken legs with garlic and sumac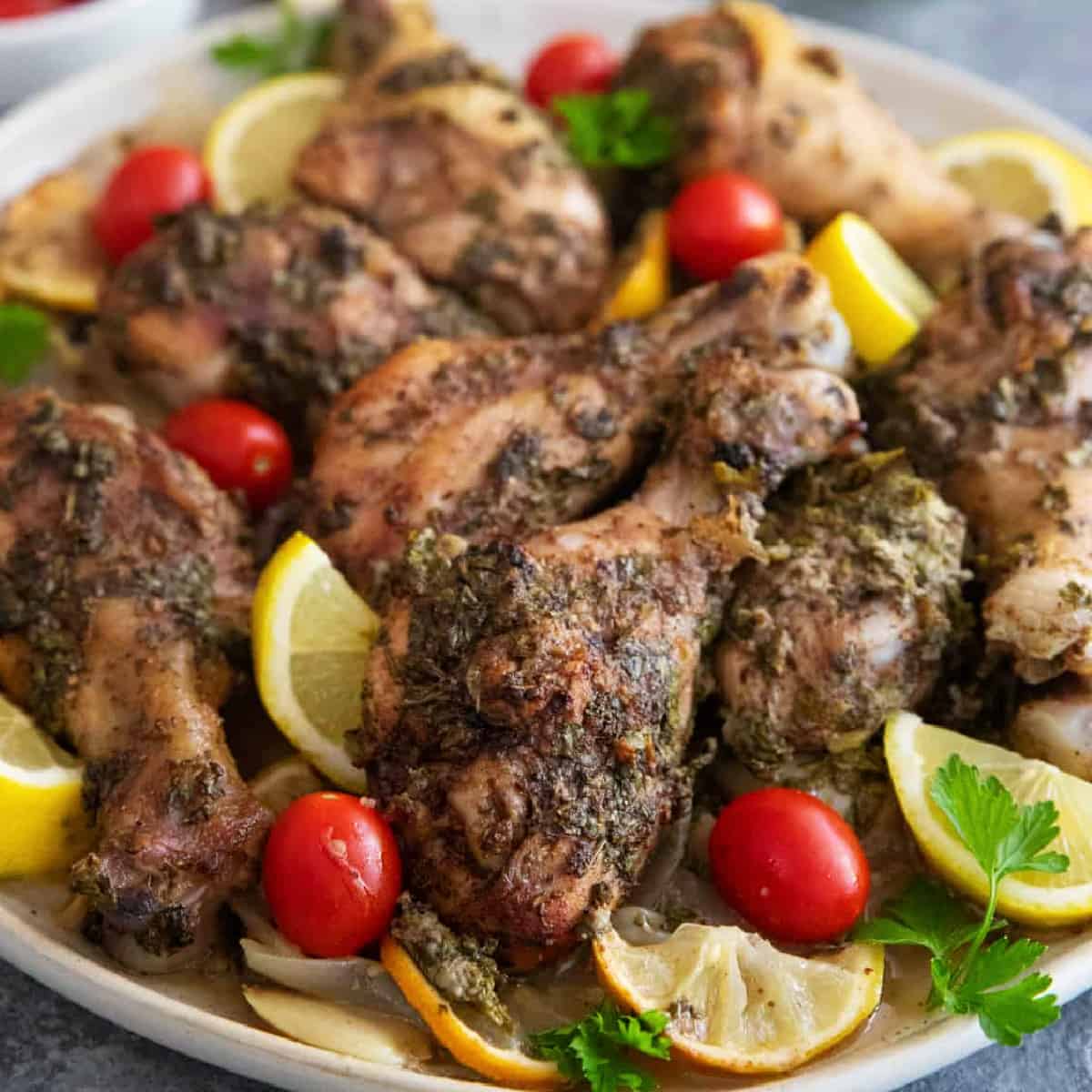 Serve with Mediterranean salad and Turkish bulgur.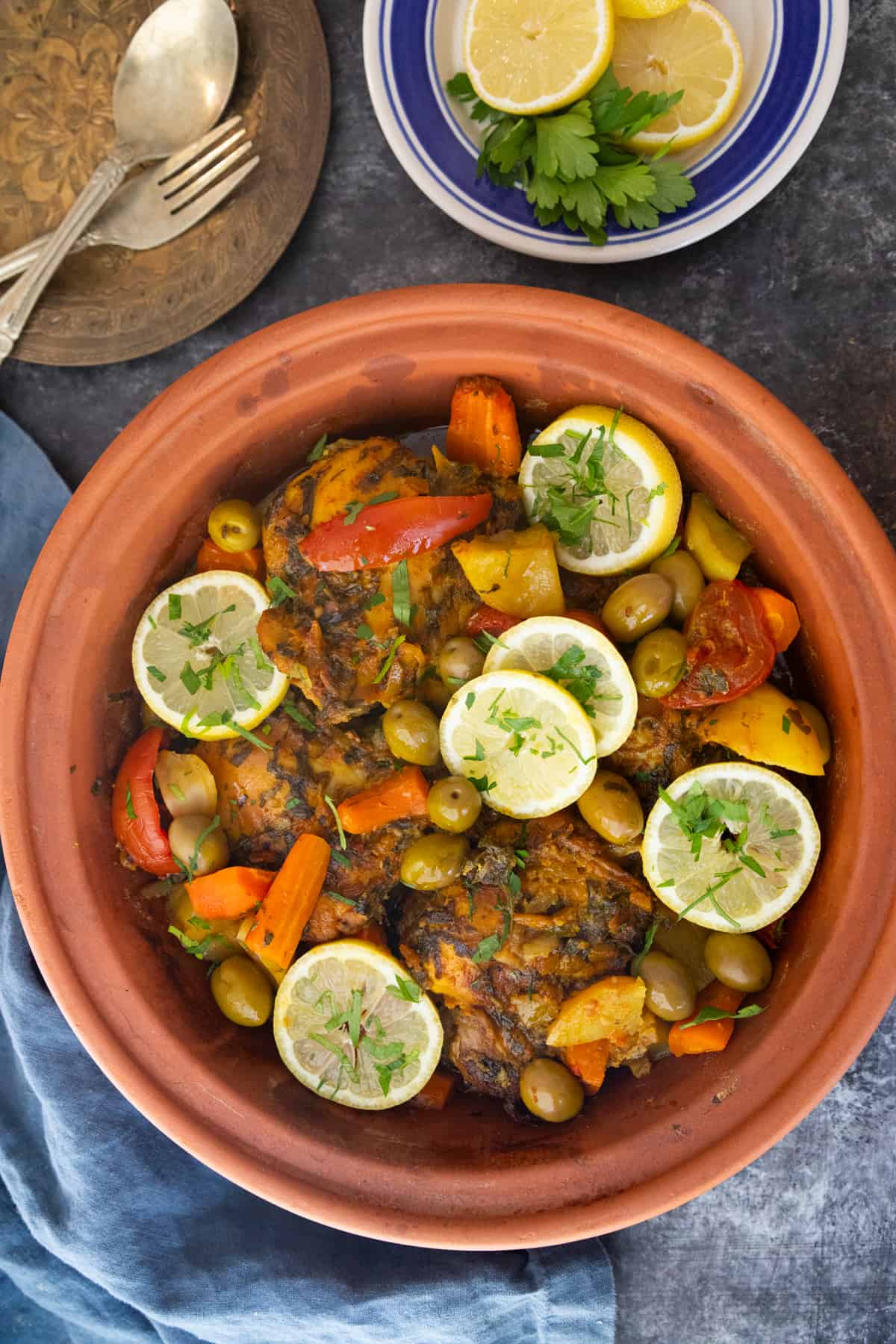 You can serve it with pita bread and tzatziki.
This dish goes well with Briam (Greek roasted vegetables).
Harissa garlic grilled chicken thighs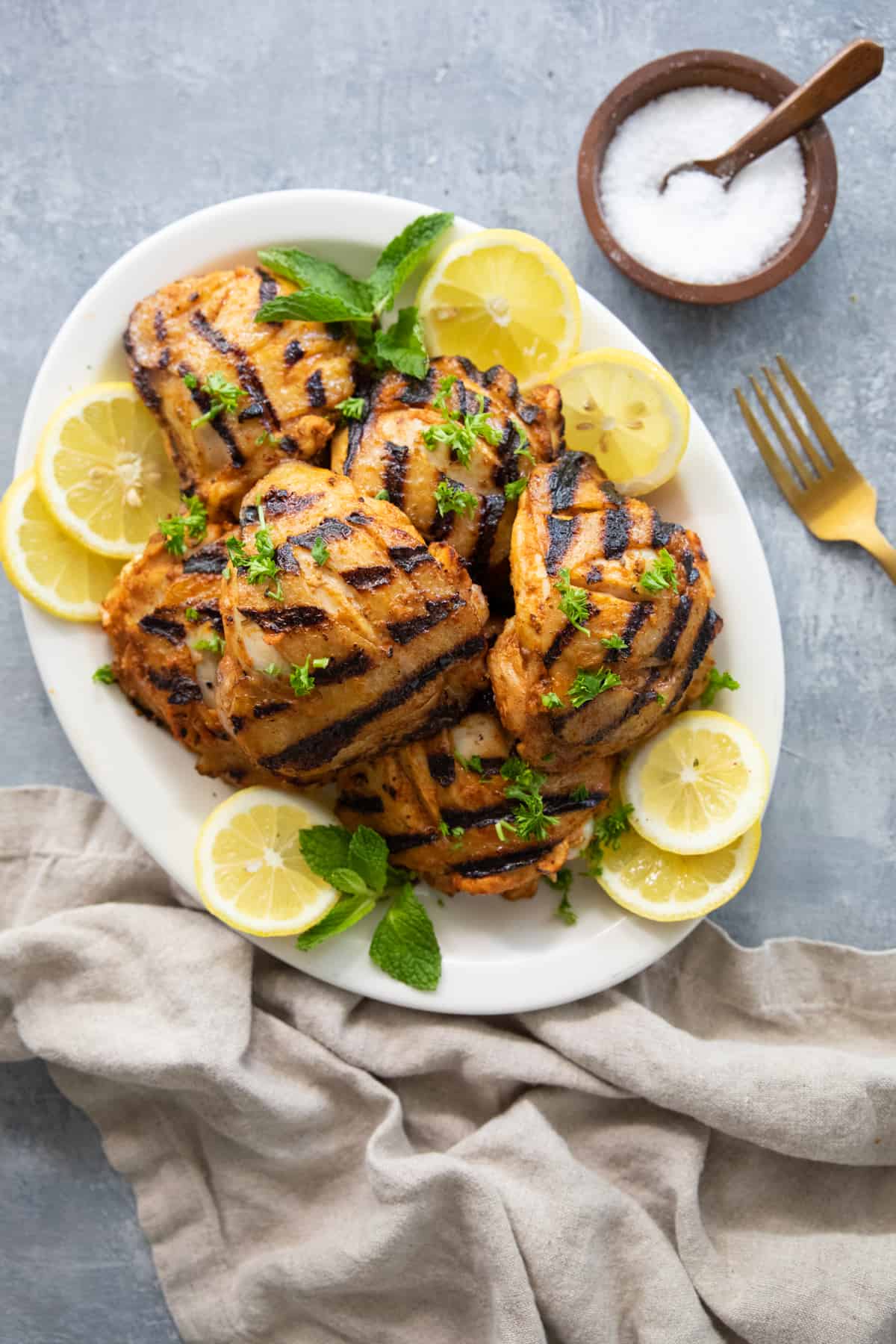 Mediterranean sheet pan chicken recipe
My favorite! Enjoy it with pita or lavash and tahini sauce.
A one pan dish that's full of bright Mediterranean flavors. It's a complete meal on its own and you can enjoy it with a simple Greek salad.
Packed with a lot of flavor, this dish goes so well with some couscous and some cucumber tomato feta salad.
A delicious way to grill chicken in summer! Turn it into a meal with some fattoush and pita!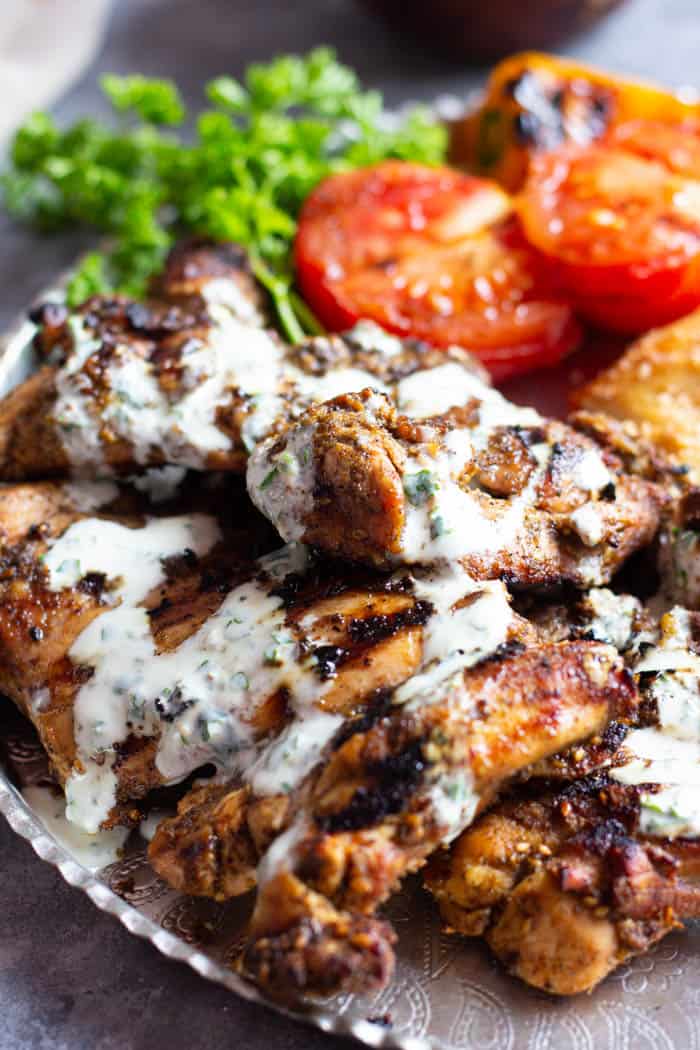 Mediterranean Grilled Chicken Sandwich
Harissa chicken with saffron couscous
Mediterranean shish kabob recipe
The marinade is everything! Enjoy this dish with a Middle Eastern salad such as tabouli, white rice and some homemade hummus.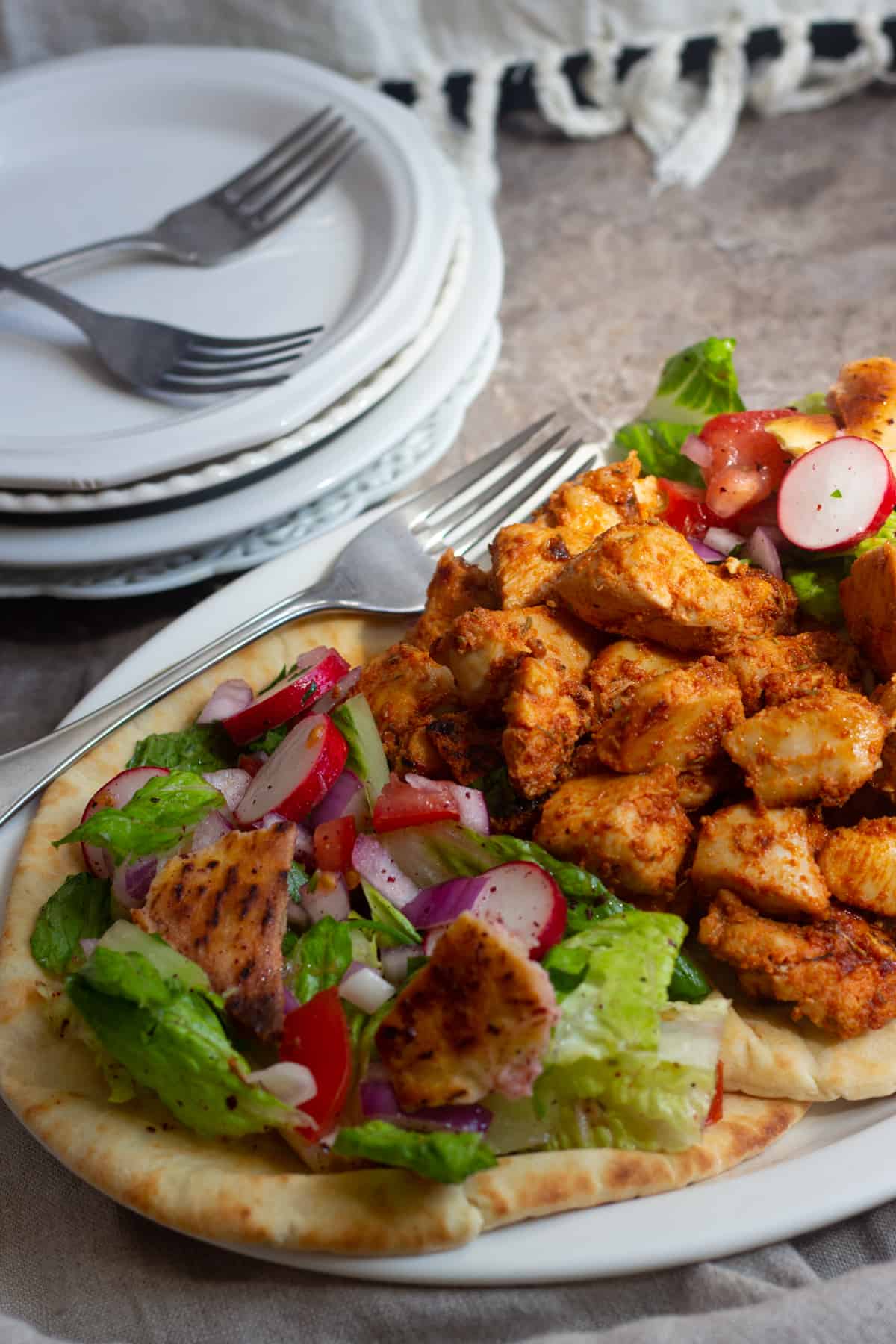 Caprese stuffed chicken breast recipe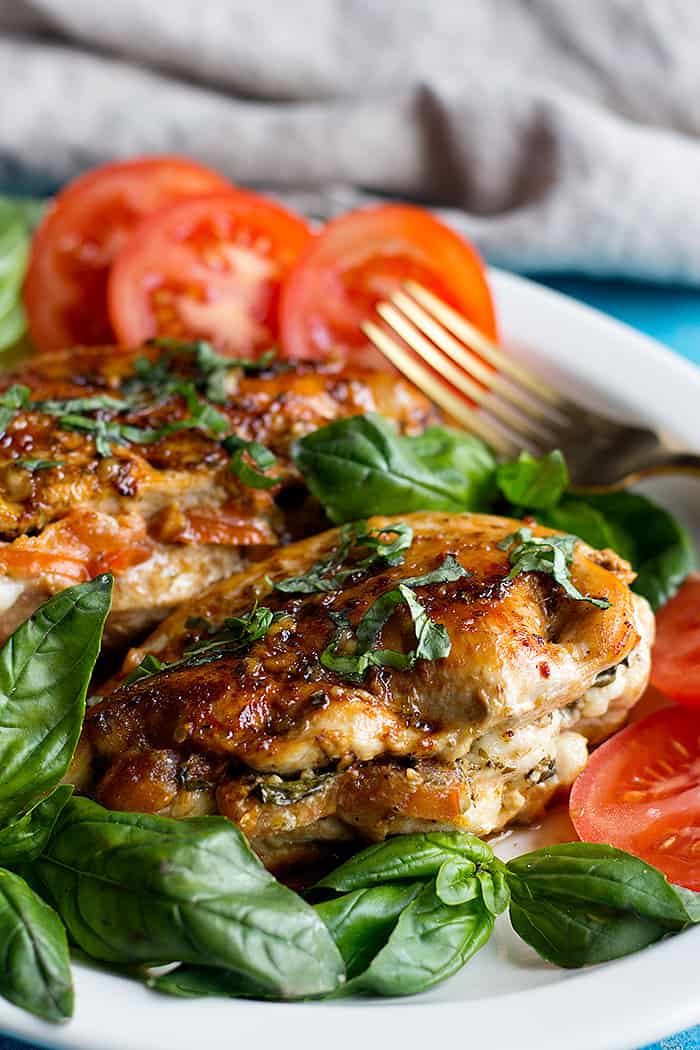 One of our favorite chicken recipes for dinner. You can make it in the pan or over the grill. Serve with some pita, Greek salad and tzatziki.
Sheet pan honey balsamic chicken
One pan and easy to make, serve with caprese salad or caprese pasta salad. The combination of honey and balsamic vinegar makes this dish super tasty!
Our favorite summer chicken recipe with so much flavor in every bite. We love serving this chicken with Turkish potato salad, Greek potatoes or Persian herb rice.
An easy chicken recipe for dinner. Turn it into a complete meal with Greek salad, homemade pita bread and freshly made tzatziki(Greek yogurt and cucumber sauce).
Quick lemon chicken
Simple ingredients with mighty flavors! Suggested side dishes are white rice, dill rice or Greek baked fries.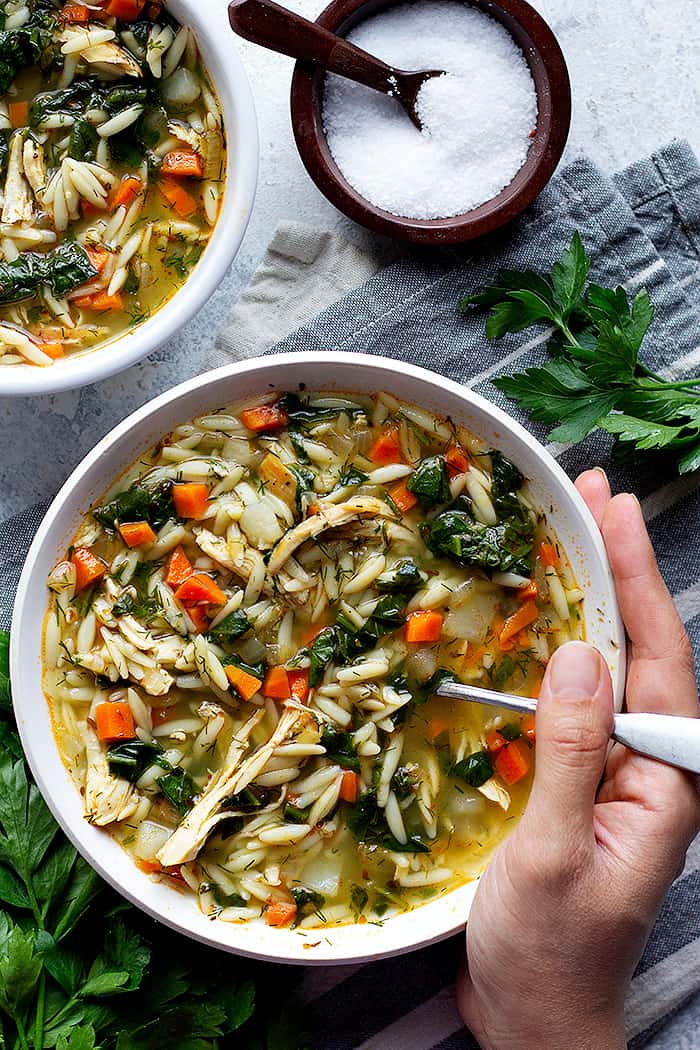 Greek one pan chicken and rice
Am easy dinner idea that is perfect with a bowl of Mediterranean salad or Greek salad.
Skillet chicken recipes
Italian skillet chicken recipe
Super easy and perfect for a quick weeknight dinner. Try it with some caprese salad or Mediterranean roasted vegetables.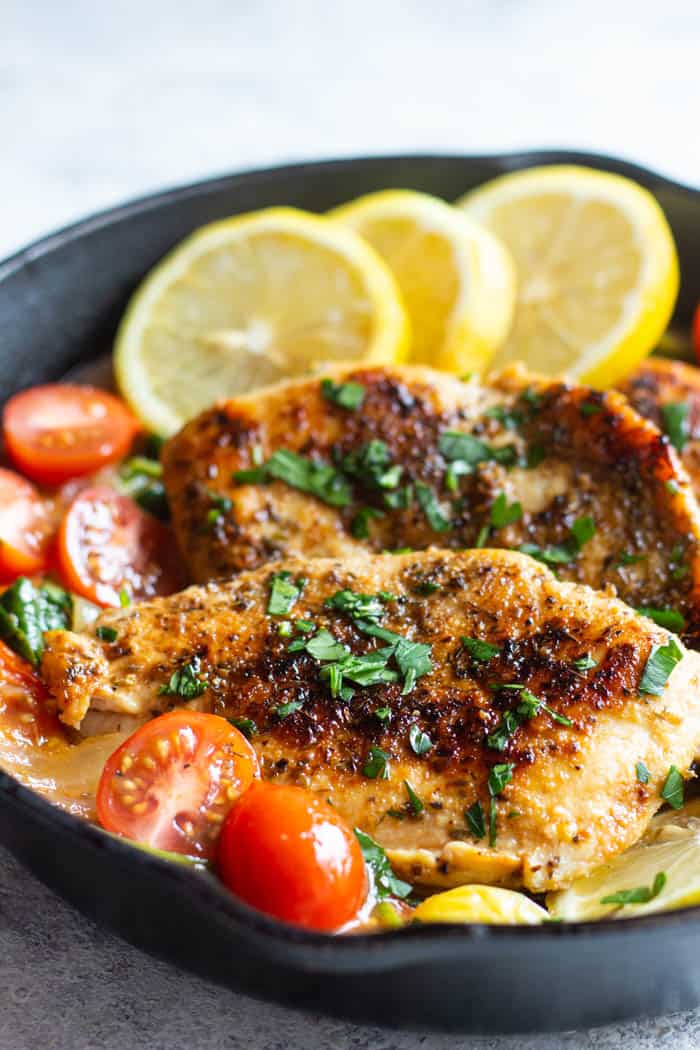 This quick chicken recipe is ready in 30 minutes and you only need 4 ingredients! Serve with roasted potatoes or brown rice.
Skillet chicken and butternut squash
Perfect for fall and the holidays! Try this dish with some cucumber tomato avocado salad or rice with vermicelli.
Chicken asparagus stir fry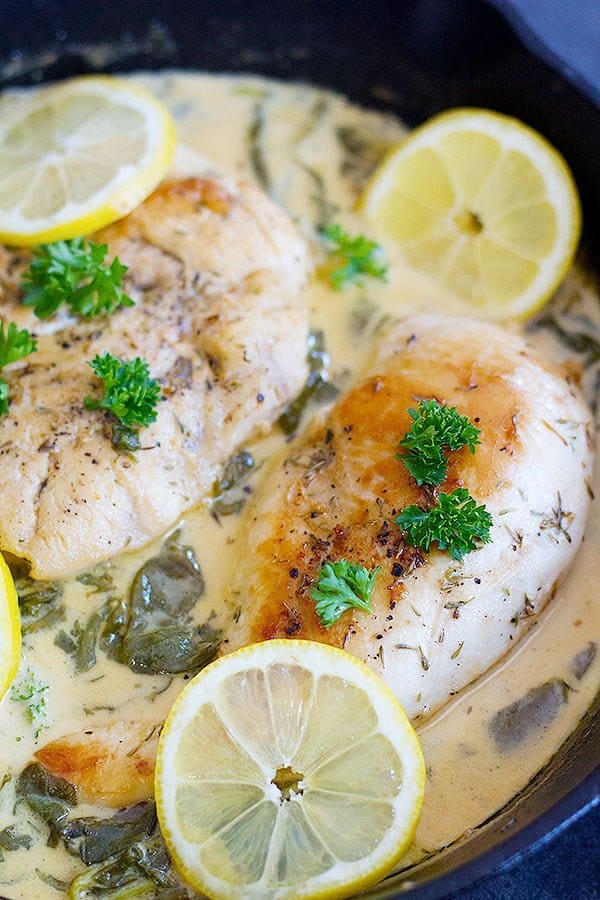 Persian style chicken recipes for dinner
Grilled chicken wings Persian style
My favorite way to eat chicken wings, especially with some fresh lavash, saffron rice and salad shirazi!
Persian barberry rice and chicken (Zereshk polo morgh)
Looking for a Persian chicken recipe to try? You're going to love this Persian style chicken and barberry rice with a side of mast o khiar (yogurt rice) or torshi (pickles).
Joojeh kabab - Persian grilled saffron chicken
Fesenjan - Persian pomegranate and walnut stew
Instant pot chicken recipes
This is the easiest way to make poached chicken! Use it in salads, soups or with rice.
Juicy instant pot chicken breast recipe
If you're looking for a new recipe to try in your instant pot, this is it! Super easy and perfect every time. Make it into a complete meal with some Mediterranean potato salad or instant pot brown rice.
Love your instant pot? You've got to try this recipe and serve it with a simple tomato salad.
Instant pot chicken soup
This comforting chicken soup with Middle Eastern flavors is a family favorite, especially when served with some fresh bread.
Chicken sandwiches
Chicken parmesan grilled cheese sandwich
An easy way to use up leftover chicken.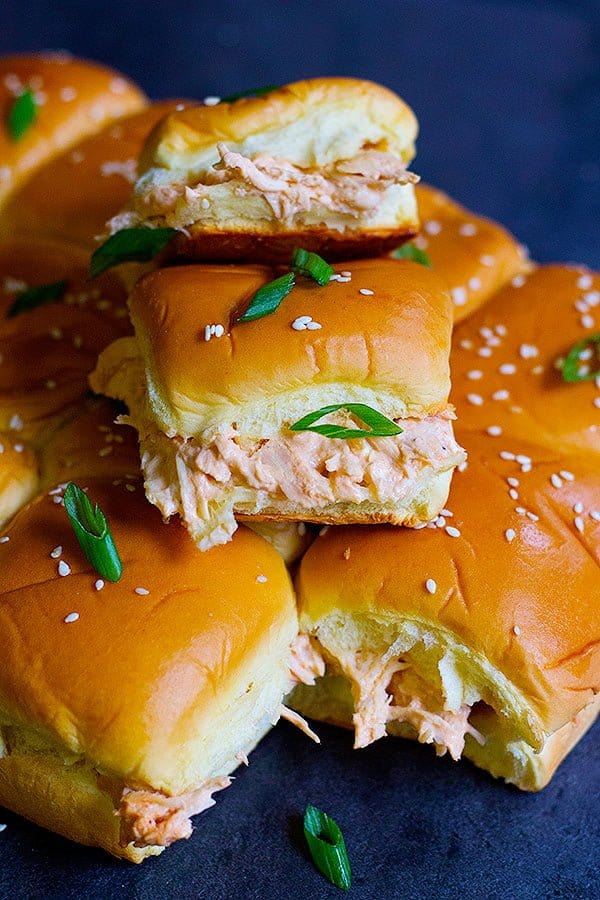 Loaded gourmet chicken sandwich
More delicious chicken recipes
Cranberry orange glazed cornish hen
Readers' favorite during the holidays! These small birds are perfect for small parties and gatherings!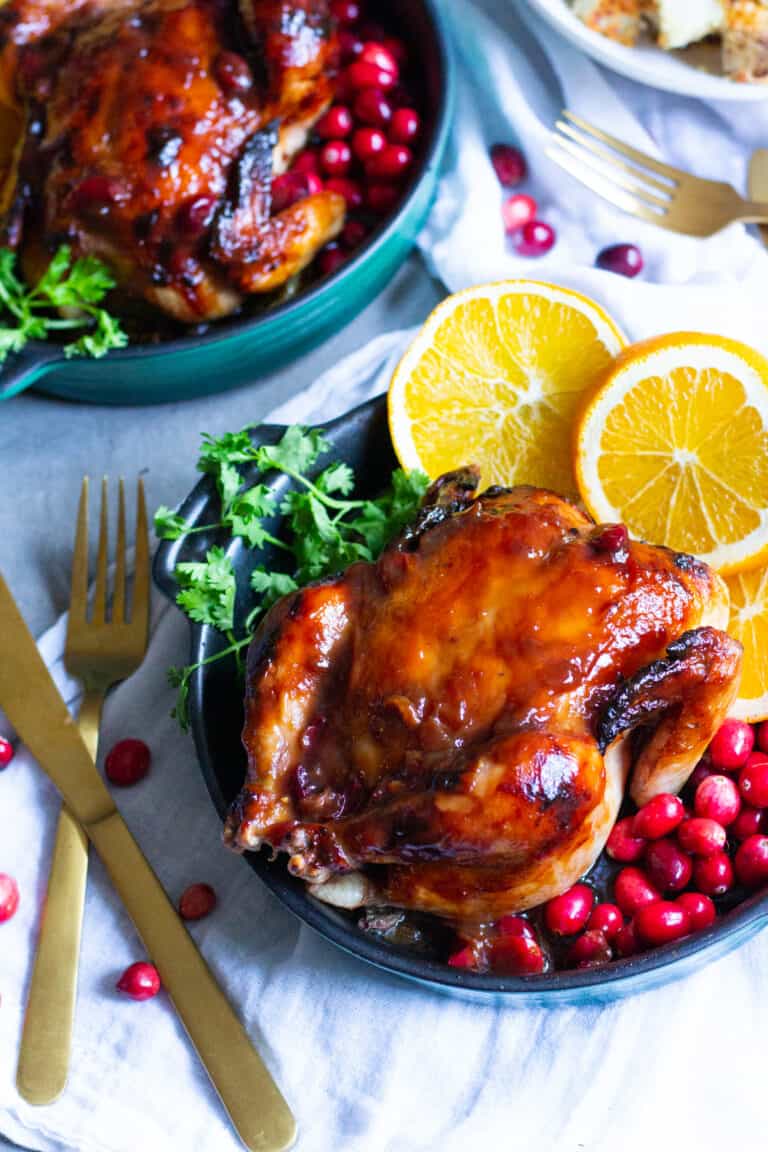 Skillet chicken and rice with veggies
Slow cooker chicken tortilla soup
A little bit of heat and a lot of flavor. These wings would pair well with a homemade potato salad or some grilled vegetables.
Healthy chicken salad with walnuts and dill
Turn it into wrap using lettuce or lavash or enjoy it as a sandwich with some crusty bread.
Garlic lemon cheese stuffed chicken breast
Easy to make and you can serve it with mashed potatoes, Greek potatoes or tortellini salad.
Slow cooker honey garlic chicken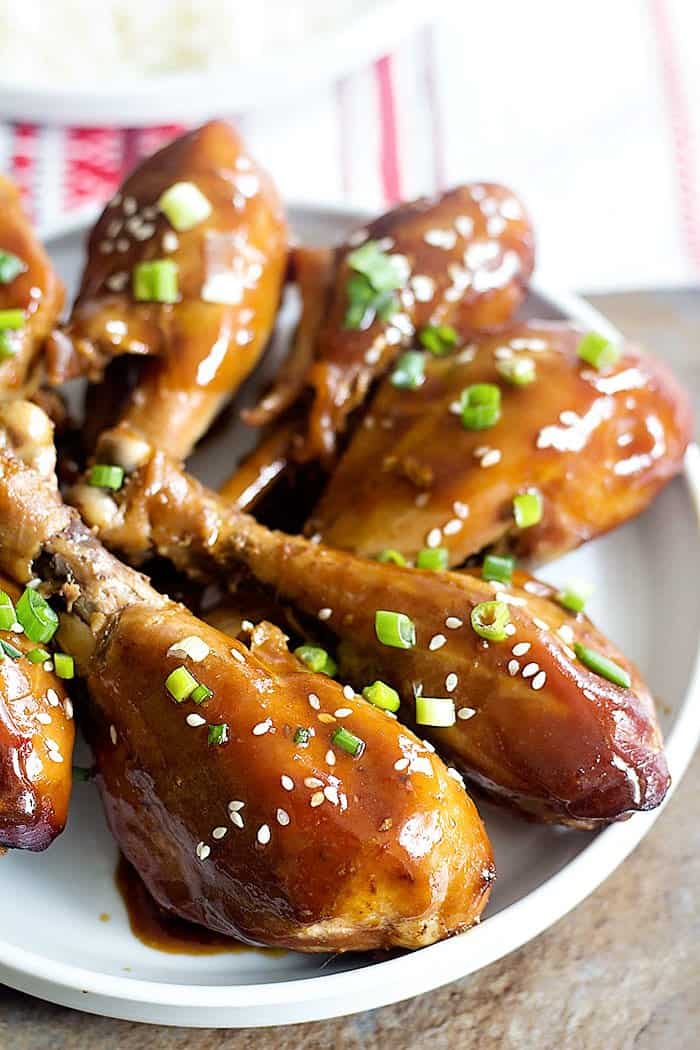 Garlic parmesan chicken tenders
These are oven baked so they're on the healthy side. Suggested side dishes are baked fries or a homemade coleslaw.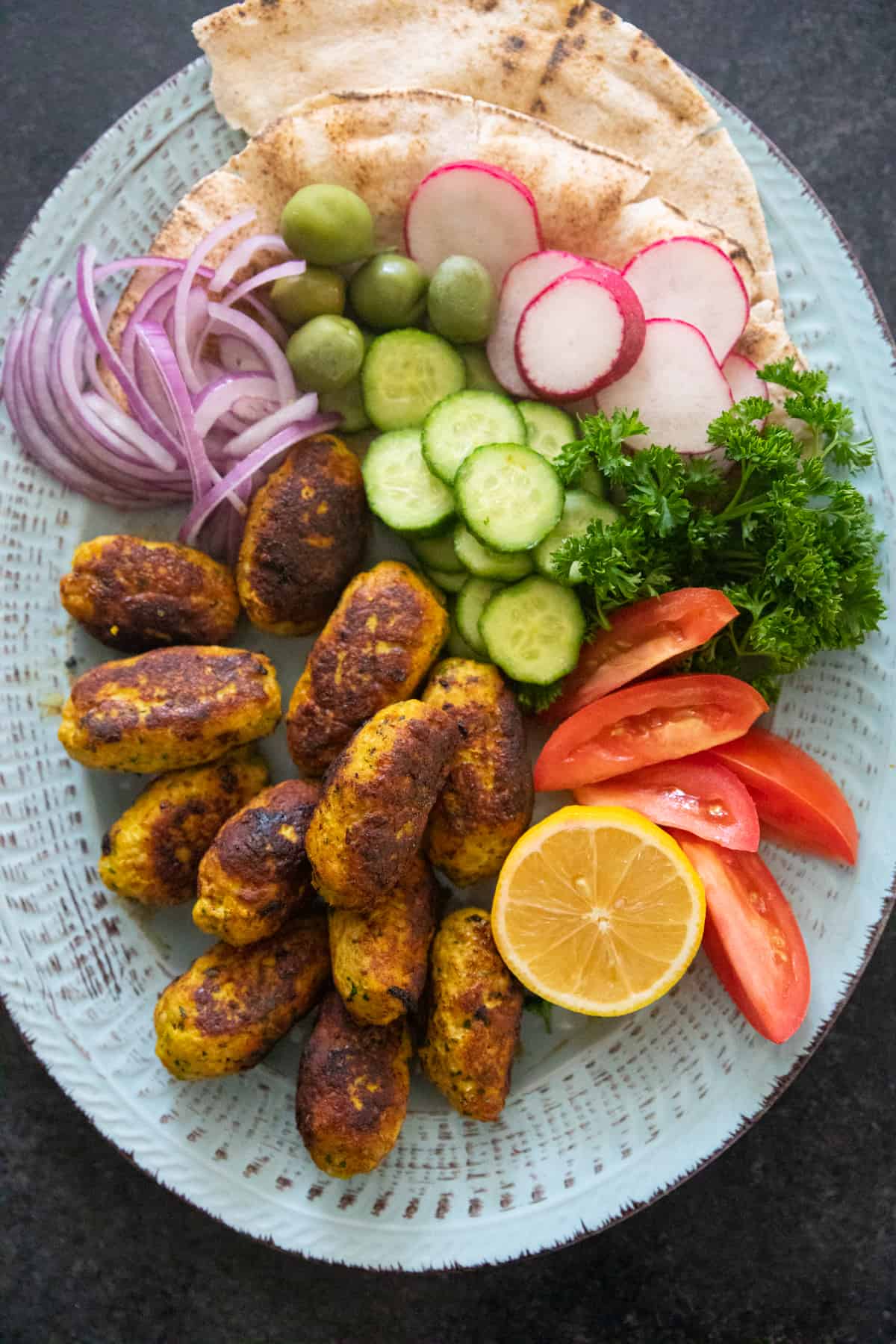 Ginger garlic chicken meatballs
A delicious way to use up ground chicken, it's best with some steamed broccoli or roasted potatoes.
Thai chicken skewers with spicy peanut sauce
Best served with instant pot white rice or brown rice.
Perfect with some corn salad for a quick weeknight chicken dinner.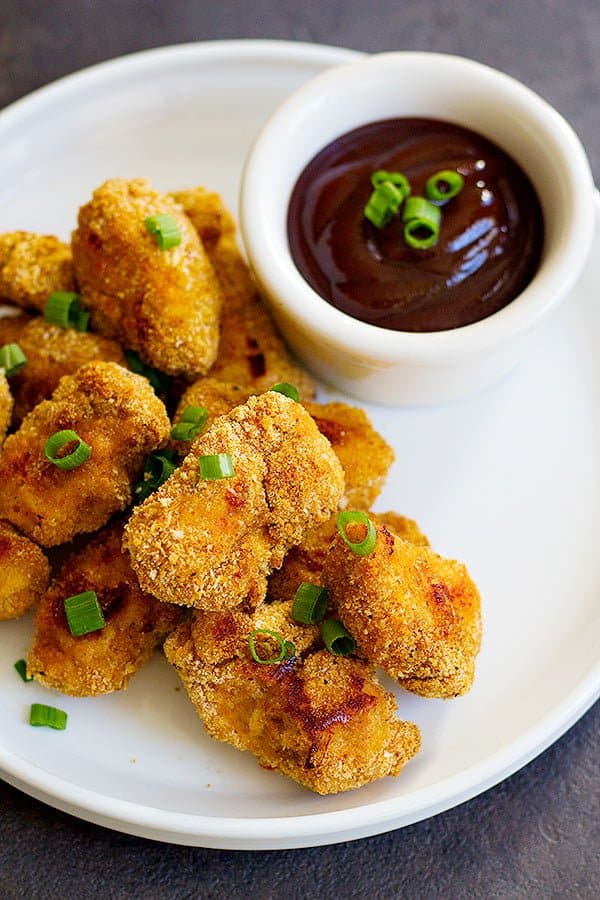 4-ingredient Baked honey mustard chicken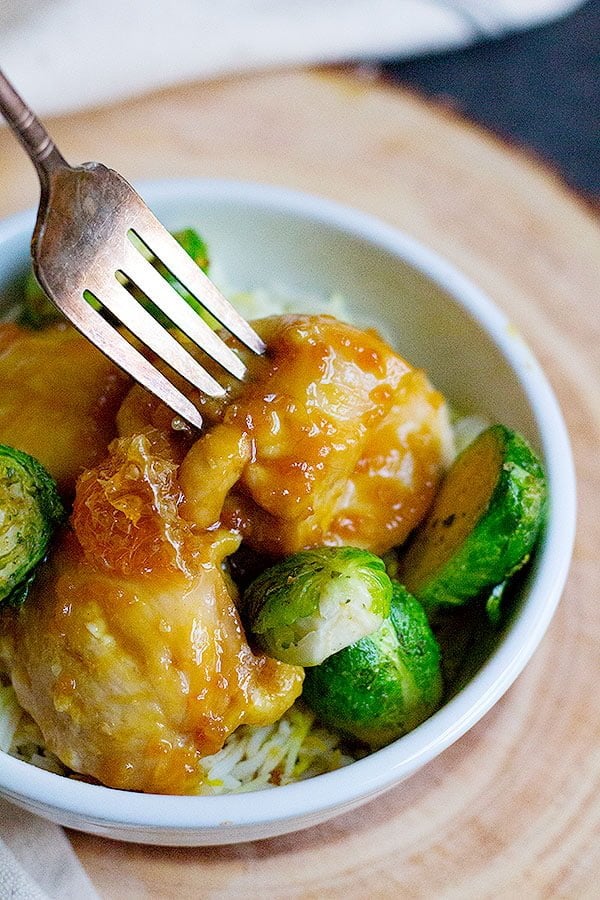 Storage and reheating instruction
Store the leftovers in an airtight container and refrigerate for 3 to 4 days. To reheat, place the leftovers in a pan or a saucepan and heat over medium low heat for 10 to 15 minutes until heated through.
These chicken recipes are also freezer friendly and can be stored in the freezer for up to 3 months. To serve, thaw the dish in the fridge overnight and then heat in a pan over medium low heat.
More recipe collections
Did you make this recipe? I'd love to hear about it! Please comment and leave a 5-star🌟 rating below. You can also follow us on Instagram, Facebook, Pinterest or subscribe to our newsletter to get a free e-Cookbook!
Step-by-Step Recipe